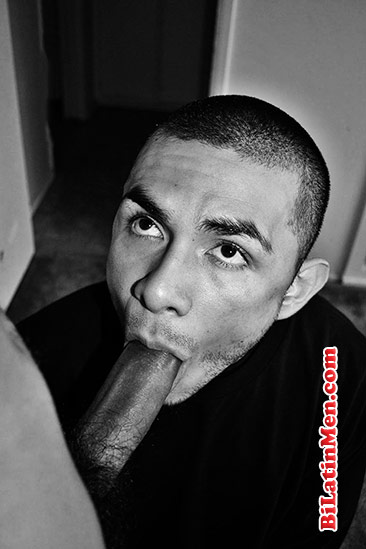 Hey, everybody. My name is Nacho, and I wrote the story "My Straight Neighbor." Click here to read my first story:


http://www.nakedpapis.com/erotic-%20stories/erotic_story_213.html

This is another true encounter with my straight Latino fuck buddy, Danny. A little about myself: I am 5'7", fit, with a 6.5" inch thick dick. Danny is tall probably around 5'10" and fucking fine with a big 8" uncut dick. He lived next to me with his girl and his baby boy. This happened a few years ago.

After our very first hot encounter, Danny was hooked, as was I. This straight and masculine Adonis loved my dick. He loved sucking it. But he loved when I was deep inside his ass the most. He craved it. And I was happy to oblige. I had grown fond of topping him. There was something about his desire for my dick that really turned me on because before I was usually a bottom. But for Danny, I was always his top daddy from now on.

I never knew when Danny was gonna just pop up. He rarely called. It could be any day of the week, any time of night, and he would just show up. But I didn't mind. This one night I was fast asleep as I had work in the morning. I was woken up by a knock on my bedroom window. I was scared to be honest because I had no idea why someone was in my back patio. Keep in mind that my patio had a fence around it that was at least 6" tall. As I peek through the blinds, there stands my horny neighbor, Danny, craving for me to bury my dick in his ass.

Danny was always either drunk or high or both whenever he came over. It was probably his way of being ok with everything. I didn't mind. He began undressing as soon as I let him in, and his cock was standing at full attention already. I went to town. I've always been proud of my deep throating skills, and Danny definitely approved.
As he sat on the couch, I swallowed every single inch of his 8" meat. Oh how he loved it. He was moaning and holding on to my head so he could keep me all the way down. He said it was the best head he ever had – way better than his girl's. I always liked when he told me that. I pleasured him for a long time, but he didn't want to shoot just yet so we switched gears. It was his turn.

He was still new to giving head, but damn if I didn't give this boy an A for effort. I've never really had a blow job I truly enjoyed, but the way he craved my dick had me on the edge the entire time. His mouth was so warm, and I could feel the intensity in his sucking. He tried his best to get as much in as he could, but before long we had to stop. I was on the verge of erupting in his hot mouth.

Danny was ready. He always took charge, and he commanded me to go get the Vaseline. I rushed to the restroom, and as I smelled the cocoa butter, I was immediately transported to our very first encounter. That smell filled me with such lust for him that I was instantly ready to dive in to his tight ass. He moved into the bedroom. There he was this masculine macho man with his ass in the air ready to give his pussy to his daddy.

I couldn't resist anymore. I grabbed some Vaseline and started coating his tight hole. He loved that. I rubbed some all over my dick as we both laid down on our sides. He always took charge and guided my dick to his hole. He took his time because he was very tight. My thick mushroom head was the hardest part, but he loved it.
When the head finally got it, I thrusted the rest of my dick inside him and he yelled from the pain and the pleasure. Oh how I love the feeling of my dick in his ass. It is so warm and tight. I start pounding him, forcing my dick in and out of his ass. He's in complete ecstasy as I drill his hole. He presses against me so he can get every inch inside his body. With every thrust, I'm getting closer and closer to going over the edge.
While still inside him, we switch to doggie. I love seeing my dick going in and out of this straight boy's hole. It's more than I can take. I start pounding him faster and faster. His moans are getting louder and more intense. I tell him I'm getting close. He says, "Give me your load, daddy. I want it deep inside me."
With one final thrust, I dig my dick deep into him and shoot my load deep into his guts. I stay there frozen for a few seconds as my body starts to come down from the explosive and intense orgasm. He starts rocking back and forth trying to coax any last sperm from my dick as it softens.
As I try to pull out, he stops me, and presses against me tight. We both laid down on our sides again in an embrace. Still connected. He doesn't want it to end just yet. He loves the feeling of being filled up.
After a few minutes, I told I need to pee, and he tells me to go right ahead. I did as I was told, and filled him up with my hot piss. He loved every second of it. Danny was a real freak in the sack. And I couldn't ask for a better fuck buddy.
We cleaned up and called it a night. He walked out the back door, climbed the fence, and walked back to his apartment…until the next time we would see each other again.