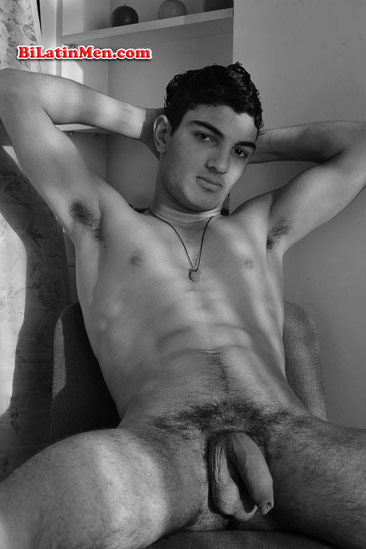 My name is Nacho, and this happened to me about a year ago. I'm Mexican, 5'7", 33 years old, fit, with 6.5" cut and thick verga.
I was living in an apartment, and one day I noticed a new neighbor had moved in. They were a young couple with a baby. The dude was fucking fine. We'll call him "Danny." He was tall and very fit and handsome. He was thuggish and carried himself with such confidence it drove me crazy. But of course I knew nothing could ever happen between us. Our schedules never allowed us to even talk to each other, so I admired from a distance.
Then one night - it was a Monday - I remember it like it was yesterday - I was woken up at 3 in the morning by the door bell. To be honest I didn't know who would be at my door that late at night, so I ignored it. But the door bell just kept on ringing and ringing.
Finally I got up to look through the peep hole, but I couldn't see the guy's face. I was scared to open it. But this dude was relentless, ringing the bell. Finally I opened the door just to shut him up, and it was "Danny." He comes right up to the door and says the words I always wanted to hear - "You wanna suck my dick?"
I was in heaven. I said yes and let him in. He dropped his pants, sat on the couch, and I went to work. His dick was 8.5" uncut and thick. It was beautiful. I went to town on him, deep throating that shit. He was loving it, face fucking me. He moaned in pleasure and told me I gave the best head he'd ever had. Better than his ruca chick).
Then he told me, "I knew you were a faggot when I saw you the first time staring at me, that's why I came to get sucked. I'm high as fuck right now."
I sucked him for what seemed like a long time and then he said he wanted to fuck me. He said he had never fucked a guy before but there was a first time for everything.
We moved the fun to my bed where I laid on my stomach. He got on top of me and rammed his big cock in me with no mercy. He was still wet from the blow job so it wasn't too bad, but it still hurt. But damn, his cock felt so good in my ass. He said I was tighter than his girl and that it felt so good.
I was moaning with every thrust. I think my neighbor could hear me. He picked up the intensity, and I could tell he was gonna shoot. I told him to cum in my ass. He was going harder and faster without mercy, and with one last thrust he drove his cock as far in me as he could go, and I felt every blast of his load coating my insides. Damn, it felt good. He collapsed on top of me and laid there breathing heavily. He told me my ass felt so good.
What he said next really surprised me. He said he wanted to know what it felt like to get fucked. I'm more of a bottom and didn't have a lot of experience topping, but damn if I was gonna turn down this hot Latin boy from what he wanted.
He quickly took charge. He turned me over on my back and my dick was sticking straight up in the air. He said he had never sucked a dick before but tonight was all about firsts. It was cute because he was nervous that he wasn't doing it right, but there was nothing this boy could do wrong. Danny did surprisingly well for his first time, but he was ready to get fucked.
He was very nervous about the pain, so he asked if I had any Vaseline. I went to the restroom and pulled out my cocoa butter Vaseline. He got it and went to work, lubing my dick with his hand. This boy was eager. He got more Vaseline and coated his ass.
As I laid there on my back, he squatted down and slowly descended onto my hard cock. He went very slow, and I could tell it hurt him by his face grimacing. But he was insistent on getting fucked.
Once the head was in, the worst was over. He started riding me like a pro. His virgin ass felt fucking fine. I don't know why I hadn't topped before, but seeing this hot thug riding my dick really turned me on. It wasn't long before I had to shoot. I told him I was gonna cum and he said he wanted it in his ass. As I came, he sat down on my dick and let me be inside him all the way. He collapsed on top of me again, and we just laid there covered in sweat.
Well, that wasn't the end of it. We laid there, talking for a while as we caught our breath. I started playing with his dick again. Thank God for the horniness of youth. He was hard again and we went at it several times that night.
We took turns sucking and fucking each other the rest of the night. I even had to call in to work for the morning because I was too exhausted to go in.
We still meet up every once in a while. I moved, but he still comes by. I mostly fuck him now. He really likes taking it in the ass, and he calls me his daddy. And the smell of cocoa butter always gets me hard now.