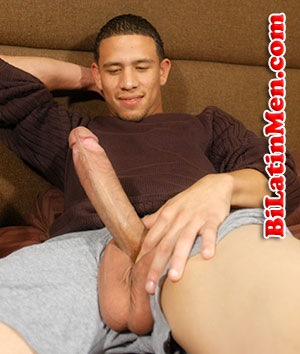 Me and Poncho were just done fucking.

"Mijo you have the finest ass ever, you take this fat dick like nothing," he said trying to catch his breath.

"Always," I said.

Then his brother walked in while we were both naked on his bed. Me and poncho almost had a heart attack cuz we were just caught by Mario, his brother.

"What's going on?" Mario said.

"Nothing, me and Sergio were bout to get in the shower," Poncho said.

"The both of you," mario said with a question mark on his face.

So then he walked out. Poncho and I looked at each other with the look in our faces of, Will he tell anybody, but he didn't.
Later that evening, Mario called my house and asked me to go over to him because he needed help fixing the toilet, so I told him I would be there in a hot second. Mario looked good. He was 21, with a thin muscular body, nice ass, and he was good with the ladies too. He always had a girl in his car.

We were fixing the toilet, putting some long stick in the middle to hold something, and I made a joke like, "This tube looks like my dick."

" No it doesn't," Mario said.

" I saw it," he laughed.

"Oh, right," I told him.

Then he asked to go in the room and get his tool box. We finally fixed the toilet, and he said he wanted to pee. He pulled out his dick in front of me, and I saw a brown thick cut dick. Wow, did I want to suck it.

"You sucking my brother's dick, huh ?" he said.
I told him I was. Then he looked at me and asked me if I would suck his dick. I responded by going right for it

"Now I know why my brother was letting himself," he was moaning and moaning as I went up and down his brown thick shaft and licked his big head.
I played with his balls, then I took my clothes off and he took his off. He took me to his room, and he laid on his bed with his dick in the air, it grew up to 9 inches and I persisted on sucking his dick even more. Then I sucked his hairy balls and went down to his ass crack. He went crazy and started moving in circular motions.

"Fuck me, Mario," I told him. He said he has never fucked a guy before, but he paused and told me to lay on my stomach. He got on top, and he spit on my butt hole. He asked me to slobber on his dick one last time. His dick looked shiny and wet, ready to go in my ass.

"Don't scream, Sergio. This will only hurt a little," he whispered in my ear. I felt his thick head, knocking on my ass hole. It went in. I loved it, and then he shoved the rest with a hard force that felt like I was shot in the ass.

"You like cock, don't you?" he told me and fucked me harder.

"Oohh fuck, huh oohh Mario, fuck this ass," I screamed. He was fucking me really good , then he turned me around with his dick still in my ass and now I had my legs on his shoulders, and his thick cock just kept on sliding in and out of my ass,

"FUCK MIJO CAN YOU TAKE IT DOGGY STYLE?" he said.

I told him I did, so he got up, and I got on the doggy style position. Then he slammed his dick in my butt hole and was banging his balls on my ass. He was moaning with pleasure, holding my waist and just thrusting his cock in me.

"You like dick, huh ? You little bitch, now take this like a man, you fucking faggot," he yelled and slapped my ass twice, then he told me was about to come,

"Ooohhh fuck, I'm bout to come, ooohhh shit," he said, and I felt his dick splatter inside my ass. I pushed my ass into his dick, so I felt his whole cock inside him.
Then he was sliding his soft dick in and out until he took it out and told me that he has never felt so much pleasure and that we have to do this tomorrow morning. So I stayed over, and the next morning he let me have it hard.

To read Part 1 - click here.