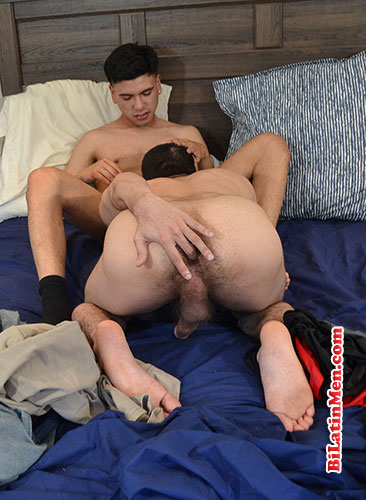 About two weeks ago I went out with some friends to a club in DTLA. For some reason it was a short night. I was mad as fuck because I really wanted to stay out late, but I guess that was why that night was one of the best.
So I'm the one that wrote the story "that ass is mine." I don't want to describe myself again but just know that I am very good at providing good oral services.
Back to the story.
I got home like at 12:30 a.m. from a club, one of the shortest time I have been in a club. I was not sleepy when I got home, so was just watching t.v. and kinda enjoying the show I was watching. Soon my phone would vibrate and there it was: his sign of having some time to spend alone with me.
I replied with a what's up message and he said, "I need a massage, I'm very sore from the gym." Of course I knew he was not at the gym that night but who cared. I wanted some action and whatever reason he gave me go over was as good as that.
He tells me to take lotion for the massage, I agreed. I am getting ready to leave when I get another message from him and he says bring some lube for the massage. Got it, he wants to get fucked.
I get to his place and he tells me to go upstairs and open his door. This night was cold, I would say one of the coldest so far this year. We went to his room. I've already wrote about him in my previous stories. He's a mixed muscled guy, very well built in all places, nice big chest, ass, shoulders, dick and balls. I melt every time I get to see him naked. So he took everything off and jumped on to his bed facing down. He was expecting that massage on his back first, but my intentions were to go right on to eating that fat firm bubble butt. He started pushing his ass towards my face while I dug my tongue into that sweet brown hole of his. His ass has the right amount of hair around his ass that is just crazy. He smells really good and his man scent drives me crazy.
There I was eating that ass away like it was my last supper. I would feel him quiver and twitch from the pleasure he was receiving. I would hear his moans and "oh yeah, mmm, right there" come out of his mouth. He would perk up his ass, making me fuck his ass with my tongue. He has one of the best asses I have eaten. I spanked it here and there and licked his butt cheeks to make sure all his ass got some love. I kid you not, I was enjoying that ass for about 40 Mins, of course he was not complaining. I then started to grab on to his rock hard uncut 8 inch dick, pre-cum was oozing out, so I rubbed his juices all over his dick head and had him twitch from the feeling he was getting both ass and dick.
I decided to rotate him and started sucking on his nipples and worked my way down his 6 pack and then down to that nice tamed bush he had of dark hair. I love some hair on either men or female, but they have to be neat, you know what I mean. Hate when I have to get them out of my teeth. lol back to the story.
There I am pleasing this stud of "friend." I sucked his rock hard cock, deep throating it. It's not that easy to deep throat his 8 inch dick, but somehow practice has made me an expert. Yeah he enjoyed me giving him that sloppy head and having his every inch invade my mouth while I played with his hole and balls.
15 minutes passed and I was getting tired, my jaw was hurting lol but hey I enjoyed it. I get back to eating his ass and lubing my dick up and lubed his ass even more. I started to put my dick head in his asshole, and when I did it I guess it hurt him so much that he rolled over in pain. He wanted me not to try that again. I eased his pain up by giving him head again for about 5 mins, then went back to that ass and slowly plunged my dick inside him. He was facing down ass up nice and perky, thick legs. Damn is he hot.
There I go, nice and slow, feeling his warm tight ass squeezing my dick. I feel him move to the motion of the ocean and push his ass back at me. That gave me the "go" to thrust him harder and harder. We were both enjoying this time of intimacy. I swear I think we were making love at a moment instead of having sex.
While inside him, I would caress his back, play with his nipples and bite his ears, slapping and squeezing those cheeks.
I decided to turn him around and see his facial expressions, but he covered his face with a pillow. I was able to see him bite his lips every time I would pull out and shove it back in. I had his legs on my shoulders. Drilling my dick in that nice warm hole was making me hornier every minute.
We had to take a break from me fucking him to catch some air since it was getting so hot in there. I grabbed his dick and stroke it, noticed it was rock hard and decided to take it down my throat again.
Then he said, "My turn to smash."
Now I have never gotten fucked by him and his dick was thicker than the ones that have fucked me before which only has been about 2 people. I said, "Yeah sure let's do it."
He asked me if I was able to take it, which I replied to, "There's only one way to find out."
So I lubed my ass as much as I could and he lubed his dick. He placed me doggy style on the edge of his bed, probably not the best position to start since it had been years since my last fuck. He started to put his HUGE head in. I felt like he was splitting my ass in half. I demanded he go in slowly, but as soon as his head went in he slammed the rest of his dick in me, making me hurt like a bitch. I guess he paid me back from earlier.
His dick was still in me. Then I felt him thrusting his hips in and out and the pain became pleasure. Every inch in every side was somehow giving me a good feeling. I wanted him to go harder which he did. I could feel him spreading my ass open more with his hands and plowing my ass with his huge uncut cock.
He was sure smacking my ass and beating that ass up, making me beg for more. I took every stroke he gave me. Fuck, do i want him again. He ended up cumming inside me. Shit, that was one of the best feelings ever. It was a great night after all.
Hope you guys enjoyed it.