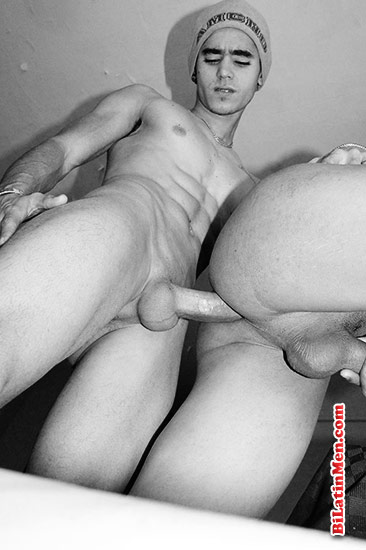 A few weeks ago I got stranded at work. It didn't help that it was pouring rain, my car wouldn't start and the nearest bus stop was about a 15-minute walk. Anyway, so I called up my homie "Issac."
Me: "Aye bro, you busy?"
Him: "Not really, what's up?"
Me: "I'm stranded at work, my car won't start!"
Him: "Your battery played out! Huh? I told you to get that shit replaced! I can be there in like 30"
Me: "Foshoo!"
Him: "Click"
Me: Rude ass mf
True to his word about a half hour later, I see this blacked out beamer come gunnin' down the boulevard into the lot. He pulls up next to me and says, "Que pasa!". Issac (22) is a Puerto Rican mix, 5 foot 8, dark brown eyes, wavy hair, and has a medium complexion. He weighs somewhere between 150 and 155 lbs with a muscular build. Me (21) on the other hand am Mexican, 5' 7" 140 lbs, brown eyes, black hair, average build with a bubble butt.
After we figured out what to do with my car, I decided I would stay at his place. When we got there he asked me if I wanted to shower and gave me a change of clothes. I came out the bathroom to find him chilling on the couch, watching some crazy sci-fi shit on Netflix. I joined him and noticed he had a slight bulge in his joggers. To be honest, I've low key fantasized about fucking around with him before. I say gay shit to him all the time and he throws it right back. I went out on a limb and took a chance. I asked him if he was dating anyone and he replied no. I hit him with the basic filler questions like "why not?" and "what happened to..". Eventually, I blurted out, "Ever thought of being with a guy?". In short, he said yes and told me about a few of his encounters. Stunned, he then looked me dead in the eyes and asked if I wanted to fuck. Caught off guard, my heart fluttered and he added: "Don't be scared I'll be gentle!"
I followed my would be daddy to his bed. Shoving his cock into my face, he ordered me to strip down and suck his dick. Pulling his chonies down revealed a thick 7.5 inch piece of uncut meat. I quickly went to work, slurping him from tip to balls. His cock grew rock hard and soon I began to taste his precum. It was kinda sweet, reminded me of mango and pineapple. Shortly afterward, he grabbed my hair and began to face fuck me. My eyes began to water, but I couldn't help but gag and slobber all over his dick and balls. After one last powerful thrust, he pulled me up and told me lay on my stomach.
Suddenly, I felt his warm tongue dart between my cheeks, licking my hole as if it were ice cream. He alternated between lightly biting and tongue fucking me. He then gripped my ass and told me to bite the pillow. I had to remind this guy I never had anything in my ass before. I felt his thick head poke my hole. After a lot of pain, he had all of his manhood up my ass. I felt like I needed to take a shit, but he told me it was normal. That night he fucked my brains out. I got fucked doggy style, reverse cowgirl, and at one point I got both arms pinned behind my back. I couldn't help but moan and beg him for more. "Harder papi, harder!" I yelled.
He pulled out and then flipped me on my back and grabbed my neck and fucked me in the missionary position. With one hand he smacked me and asked me if I wanted his milk. Yes, give it to me daddy I said. Soon I felt his body tense up and his dick pulsating, with each contraction, I felt a squirt of cum fill my ass. It was too much for me to handle and I ended up shooting my load between us.
I caught my breath and we ended the night by making out til I dozed off in his arms. The next morning my ass was sore and still loose from the pounding he gave me. I let him hit before we got up to repair my car. We agreed I'd be his bitch on the DL and not to tell anyone.
If anyone likes this story and wants to hear about us fucking in his whip hmu.