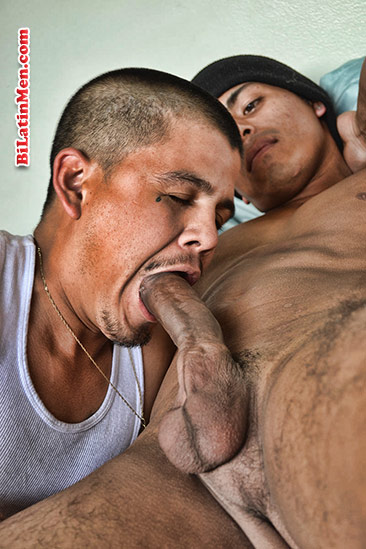 Not long ago I was living in Mexico. Being a gringo, I drew the wrong attention. The policia noticed me and before long I found myself in a Tijuana prison. There were many sad and horrible aspects to this experience, but I will tell you about the best side of being in prison.

I had a pension, prior to my detention, so I had money while I was incarcerated. This saved me from a lot of the hardships that others have to go through. It also opens opportunities. At the time of my incarceration, the prison was literally run by the prisoners and drug lords. It was possible to rent an apartment, eat at restaurants, and make inappropriate propositions. I struggled with learning Spanish.

Few of the prisoners wanted to help me, except the kind soul named Armando. This young man was extremely handsome. He could be a top competitor to any of the hot models on this WEB site. Never before was I intimidated by anyone's looks but Armando was so beautiful that I was shy around him.
You see, I always believed that life was too short to dance with ugly men, so I never felt the least bit tongue-tied when I met someone I wanted to play with. Armando was different. His clear eyes, muscular body coupled with an angelic face of clean complexion intimidated me too much for me to initiate my well-practiced program. Often we would study Spanish with him being the patient teacher.
We would sit close to each other during these sessions. His natural, freshly showered smell, would intoxicate me. Concentration would go away just as quickly as my dick would get hard. In gratitude of his kindness and his patience, I would invite Armando to join me at one of the many restaurants inside the prison. He never had much money if any at all. His mother was old and alone with more children at home. So she couldn't support him.

Our first contact was only my worshiping his cock. I deeply inhaled his man scent. I buried my face and tongue in his hole as far as that ample buns-set would allow without being too pushy.
I did not want to do anything that might discourage Armando or displease him. I did not want to scare him with the barely controlled power of my desire for his body. He instinctually understood that when I returned my attention to his seven inch rod of maleness, that I wanted him to let loose a load in my mouth. He was eager for release also. I could see that his bountiful lips were now ruby red and as fully engorged as his dick was.
But all of my ministrations were not getting him over the edge, and then he did something that totally astonished me again. He reached for my hand and stuck two of my fingers deep into his hole.
I am not new. I know that means that this man really likes his ass to be worked on. I filed that into my memory for later use.

The window was open now. My shyness had evaporated. The knowledge that Armando liked dick was ever present.
The next time was going to be different. I paid him a little more than he had originally asked for. Americans often make the mistake of over paying, but I was not new nor was I going to do that either.
I waited an eternity of two days before I asked Armando for his "Servicios Especial." He said yes. I knew he needed the money too.
He had gotten in trouble with the guards and made the mistake of paying his way out of it. In prison as in elsewhere that only makes you a mark for corrupt guards or police. I had waited so I could hear any more chismes, but no one was talking.
I prefer to keep my Gay side to myself. We rented another room. I found a better one. It cost me three dollars and fifty cents an hour. Once inside I almost pounced on Armando. It was difficult to slow myself down. But I wanted to savor this moment forever, so rushing things would make it all seem less special. I asked him to stand in front of me while I proceeded to remove his clothing. I kissed each newly exposed part of his body as soon as his clothing was laid aside. Again his natural man scent was intoxicating me. After I got him nude, I had to tell him what he already knew.
I told him how beautiful he was. I requested that he stand there and model his body for me. Then I got on my knees and lifted his right foot. I licked his toes and between his toes. I sucked on his heel and lapped my way up one leg to his manhole. I paused long enough to bury my nose there; letting both plump cheeks come up around either side of my face.
Then I started down the other leg repeating the process in reverse order on the other side.
With his feet firmly on the floor again, his hard rod was pointing, invitingly at my mouth. I opened my mouth wide and consumed him to my choke point. I paid no attention to the tears that were flowing down my face. I repeatedly swallowed his dick till my nose was mingled with his pubic hair.
Honestly I could not get enough of Armando, but I was going to try my best. Eventually I had to stop and breathe. I used this moment to see that Armando had entered that other world of pure sexual pleasure. His trademark lips were almost bursting in fullness and glowing in their crimsoned color. I knew that I was pleasing this man at a level that he was not used to. 'Armando turn around, por favor.' Now I was going to see just how far I could force my tongue into his surprisingly hairless manhole.
I parted each cheek with my hands and tried to climb inside his hole, tongue first. I can never describe with true justice the feeling of his hairless cheeks firmly gripping my face as I lathered his insides with my tongue. But I can tell you once I had gone into the depths of his crevasse I could not see around those cheeks. Some time you can describe a nice butt as melons. His were beyond that description. That clean Armando man smell was intoxicating. I almost lost my sense of perfect sexual timing. As you know, when having great sex, timing is important. I knew he was ready for something more, and it would be ME!
It's time I tell you about me. I am a man, butch type, and former military. I got medically released and pensioned because of a bad leg break. I can't run a mile any more but I am physically fit.
I am a top. I tell you I never met a true top that has a belly. If you are working it, you get the six-pack abs as a result. I was a porn star. At that time I wished it wasn't true, because when the police discovered my Gay porn movies it did not help my legal case one bit. Well the women did treat me with difference. I once lived in Boys town.
That's what we called West Hollywood, CA. Later I moved to Hillcrest neighborhood of San Diego, The Swish Alps as it is nicked named. I have this magnetism that tells people that I love to fuck, without me saying a word. I know what I am doing. Most say that I am good at what I do.
I am older now, but I still get cruised. In fact I was just given that longing look just now as I took a break from writing this story, and went out to the front of my apartment to enjoy the warm night. The kid is cute but I am busy writing this story. There will be others at a time more convenient. I am eight inches, and once hard it is there to stay.
Imagine the hassle I have every time I masturbate then try to sleep on my stomach with this log under me. It just takes its own time to go down. I explain this so that you understand that when I began to fuck Armando, he was going to get a good ride.
I am five feet eleven inches tall. Armando is five feet seven inches. It would be impossible for me to comfortably fuck him standing up. Still on my knees I backed him onto the bed so his ass was hanging slightly off of it and before I raised his legs I handed him a condom to put on me. This technique silently says I play safe and now you are sure of it.
He eased the condom on me as though it was going on a dildo. Damn. He snapped it. His ass was mine for sure. Normally I ask for some service on my dick to get me wet. But this was all about Armando. So I supplied my own saliva then used my tongue to copiously apply more to his winking hole. Yes it was winking.
His blood pressure was up enough for his sphincter to pulsate. I started in. I wanted to feel each of his inside folds slowly flatten out around my cock. Armando had another idea. He reached and took hold of my waist and pulled me into him hard and fast.
If that is how he wanted it, who am I not to comply. I buried myself to my short hairs. I am still on my knees. I am in heaven, so was he. I paused to allow myself the totality of feeling this beautiful man surrounding my dick.
Timing like I said is everything, so I continued with a quick retreat to his hole's muscle, leaving my dick head inside. It was followed be several hundred of these piston-ing motions. I can still recall each and every magnificent feeling. We rocked together in perfect unison.
It seemed as though we had done this for years. We were made to be a team. I was the pitcher. Armando was the equally skilled catcher. I like different positions. I was not to be denied the sensation of burying my dick between those muscular buns so I rolled him over onto his stomach and climbed back in. I sawed and sawed some more.
I could feel the wall at the end of his hole. Each punch against it drew a gasp from Armando's sweet plump lips. Timing. He was reaching the end of his endurance so I rolled him over on top of me and had him sit up. He took charge and scrubbed is butt onto my dick with a lusty hunger that made me mimic his gasping sounds. On and on he went, proving himself to be just a physically fit as I am. I needed relief from his vigor.
I motioned that he should spin around on my dick so that we were face to face. He complied. Over my head went one leg as he did so. Our hour was coming to an end so I knew we should go for a conclusion. Armando was now balancing himself on his feet and bouncing up and down on my dick.
I used this momentum to work his dick. It was as though he was fucking himself and jacking off at the same time. He looked at me. His eyes were glazed. Then it started. The first ejaculate kicked me on my forehead.
Then he eased off of me as the next sprayed my face, centering on my nose. My mouth, now wide open was ready for the next. Damn it! I did not even have the chance to taste that shot because it went straight down my throat. The final three were to be my reward.
The after-glow was breathless and silent. Then there was a knock on the door. Our time was up; did I want to pay more? I said yes.
I had just been baptized in Armando juice. That man was more copious than I have ever seen, even on video. I had some cleaning up to do. His sperm was still falling out of my hair as I tried to talk through the closed door. Imagine. This was just our first fuck, of many to follow.
I miss Armando and the prison won't let my letters go to him since I too was a prisoner. This type of communication is strictly forbidden. Thank God we had the time that we had. Although others tried, Armando showed me the very best side of caged prison heat.