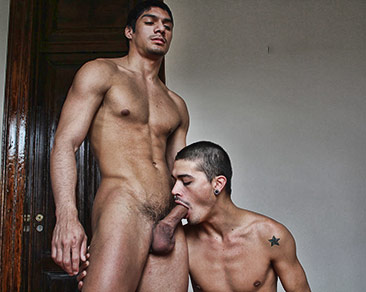 Here is my newest story. By the way, I wrote the story El Vego and El Compa.
I met a Latino homie. Let's call him Junior. He was 18 and a senior in h.s. I'm a lil older. We met online, you know those ads looking for an encounter.
We met at a local place by the named Aloha motel. He wanted me to start giving him a blow job. Homie was fine as fuck, 5'7", 18 yrs, old basketball player's body. He had a lot of muscles, shoulders and arms that looked muscular and cut in his tank top. He was dark skinned, darker than me.
He pulled down the waist of his shorts, and that big old cock popped out. He had a hairy bush too, just like I like them (natural). I grabbed that fat cock and I got so horny, just jacking him off in my hand. I pulled the foreskin back and his dick smelled clean like he just took a shower. The dick head was a little lighter than his shaft and it looked real smooth, lickable.
I started by placing my tongue on the round head. His dick was fucking around fat dick and I had to stretch my mouth to let it go inside my mouth. Then I started sucking like a desperate whore. He love it, grabbing my head with both hands and mouth pumping me. He made me chock but he didn't get he kept mouth pounding me.
I told him he was my papi and he enjoyed that. He slapped his cock on my tongue and said, "Yeah faggot, suck that cock. Suck it better than my hyna."
I love straight guys, so I sucked him even better than before. I made sure I sucked him better than his hyna, his girl, and so while I moved my mouth and tongue real fast around his cock, I tickled his big ball sack to give him more sensations. I was competing with his girlfriend, so I wanted to make sure I gave the better blow job.
After a while he smoke somed herb. While he mouth fucked me, he lit up a joint and smoked getting high. As I deep throated his cock, he would blow the marijuana smoke in my face. I loved the smell of weed in my nose and the taste of uncut Latin cock in my mouth at the same time. The smell of weed made me deep throat him even better, deeper. I made that shit go into my throat past my tonsils. He loved it and moaned louder.
Then he flipoed me over and said he was gonna fuck me like a bitch. He put me doggy style, spit on his cock and started fucking me. Fuck, it hurt like hell. It hurt like he was sticking a metal pipe up my ass. All pain. Then after a while it started to feel better, like I was full of pleasure. It felt like my bladder was filling, but not with piss, with pleasure. It was so fucking good having that big ass dick stretching out my asshole and my guts.
Damn that boy could fuck. He fucked me like a bitch, he fucked me like a girl. He love my tight ass. He kept massaging my smooth asscheeks and palying them them, saying they were soft like a girl's as.
He fucked me so good for a while. I told him I wanted him to bust inside me. We continue to fuck. He got me to dress up like a girl and put on a mini skirt, and he would pretend to be my papi. One time he made me suck his asshole. It was so nice and clean. I couldn't stop licking it.
That shit would get him all horny. Sometimes I would blow some gclouds and he would get even more horny. He knew how to handle a tight ass. He would fuck me for hours. I became his bitch.
For many months we would fuck in the momo or his garage or his room. The good thing about this homie is that he's always down to fuck.
Sometimes we go back to Aloha momo just to remember old times. That 8" verga fo sho had fun with this ass.
Thanks for reading. Hit me up I stay in 714. Juanpasivo84@gmail.com