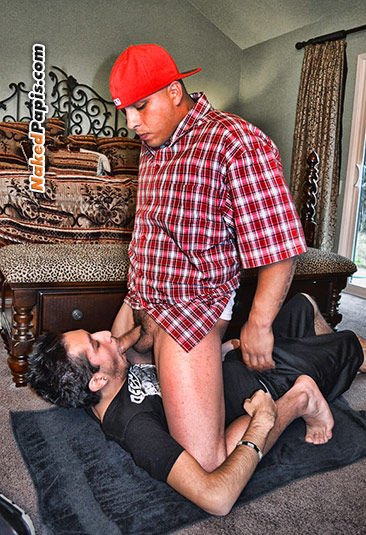 The name is Tony, but my straight homies call me "tOnes."
We all know that sometimes gay guy as myself get horny and we like to mess around with straight guys.
Well I had a cholo "straight" friend. I mean that fool was straight up gangster. Pelon all tatted up, and really buff, fine as fuck!
Well we began to hang out pretty much every day. One night as we were chilling, he asked if I wanted to watch straight porn. I didn't think twice I said, "Fuck it, why not?"
Oh I knew right away were this was definitely heading to ( hahaha )
As we were both lying on the bed, he started to get undressed all the way down to his boxers. The papi was so turned on, I could see his big chorizo making a big ass tent in his boxers.
Out of nowhere he told me to suck him off. He didn't have to tell me twice. I rolled over on my stomach and put my face over his crotch. I opened up the hole in his boxers, and his big thick uncut verga came out. It was so fucking thick and smooth, and there was hair all over the place. I like when masculine guys are natural. I opened my mouth wide and put his uncut verga in my mouth. He was real horny, so he pushed my head down on his cock and started mouth fucking me.
I started moaning like a little bitch cause he was choking me and making me feel so food at the same time.
Oh man, I sure did suck his well hung verga good. I deeped throated that brown cuck going down all the way to his nice big huevotes.
Then I told him to get doggy style, and he did. And I pulled his assheecks apart and ate his all the way down to his hairy culito. I tongued fucked him. He pushed his asshole into my face and I jacked off his big fucking cock at the same time. His cock got even harder.
Then he told me, Faggot suck me some more.
So he turned around and sat up in bed and went back to sucking him, moaning desperately cause he kept fucking me really hard, pushing both my head and my neck down on his cock.
My papi started moaning. I made him bust a nut in my month! And I obviously had to swallow every drop of his leche he he he he...
From that day on, he become my cholo lover. I suck him all the time and he loves fucking me doggy style and calling me a faggot as he drills my asshole deep and hard. The fool is married as well.
I guess it was all good in the game, the bad thing is I have fallen for him crazy . :"(