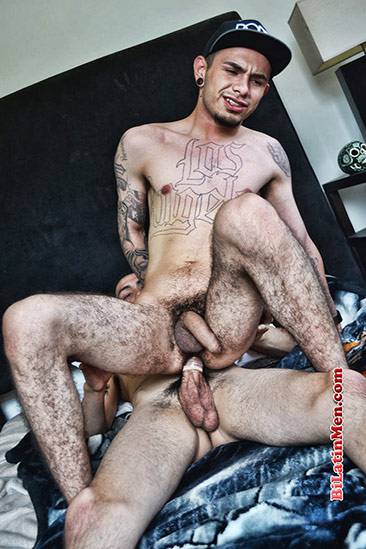 Hey Guys. My name is Roberto, 19 yrs old, big booty Mexican bottom.
So I started going to the gym to "work out," but really I was going to check out any hot guys. Right away when I walked in I saw this sexy cholo muscular guy working out.
I seriously could not keep my eyes off him even If I tried. I would look at him & try not to get caught cause I didn't want it to be obvious.
I started going to the gym almost every day & at the same times when I knew the sexy cholo was going to be there.
I started to free ball to the gym and also shower there. Even though I would always leave before him.
One day the perfect opportunity came
. That day I went into the locker room & I started getting undressed to shower. Then sexy cholo came in! We made eye contact, but we both looked away (I had caught him looking at me doing squats before).

I made sure I took longer to undress just to see him, He took everything off except his underwear! He was wearing boxers but I could see his big chorizo swinging in there.

He then went to pee & I followed him but I was completely naked! I stood right next to him to use the urinal. He kind of laughed when he saw I was naked!
But then the unthinkable happened. I was obviously was staring at his fat verga and he saw me staring. His dark verga started to inflate. He said, "You wanna help me or what?"

I just shook my head yes.

Then he told me to follow him and he told me to go in a stall. He went into one restroom stall, and I walked into the stall right next to his stall. So only a partition separated us now. We both got on our knees and he took out his big verga! That shit was beautiful and hard as fuck. I started by jerking it & exposing his big cock head, moving the foreskin back and forth on his cock head.

I had wanted this fine motherfucker for so long, I couldn't believe he was giving me his verga. I bent down and sucked on his dick head. He thrust his hips and put more of his verga into my mouth. Before long I was deep throwing him underneath the restroom stall. I was going all the way down to his hairy pubic bush until I gagged, and then I would pull back up, suck on his dick hard, and twirl my tongue around his hard dick head.

We took little breaks when we would hear someone come into the restroom stalls near us. Then that person left, the cholo would kneel again under the restroom stall and I went back to sucking him off, fast and furious.
Thank god, we had a couple minutes without interruptions, and I sucked him so good and deep and hard, that he nutted a big load in my mouth! His warm cum tasted so good! He came so much some of the cum was spilling out of my mouth.

Then we both cleaned up & as I showered he went home.