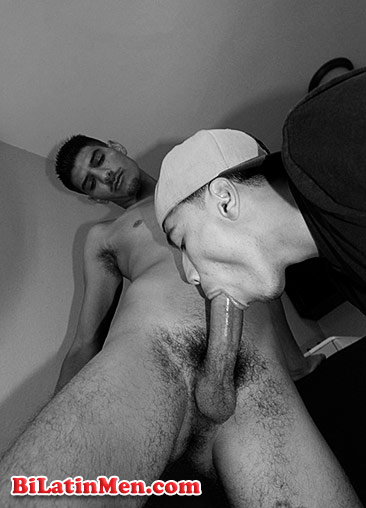 This happened when I was younger. I was 18 and I was visiting my grandparents in Mexico with my uncle. We stopped by my aunt's house for a few days. My aunt has a friend named Jaime that lives with her. He is 22 years old. He is about 5 foot 8 inches with an average body and a cute face with an uncut dick that's 7 inches long and thick..
Well anyways me and Jaime stayed in the same room and same bed. Well that night he went out and partied while I stayed and slept in the room alone. I was woken up by my Jaime getting in bed. He smelled like beer. He was shirtless and only had his jeans on. He got close to me and hugged me. I hugged him back. All of a sudden he started unzipping his jeans and pulled out his dick. He put my hand on it, telling me, "Juega con ell, mijo." (play with it, son.)
It felt huge in my hand with my small hand. It was wet with precum and hairy. He started fucking my hand and getting my small hand all wet with precum and moaning low moans. He put his hand on my head and pushed me to his dick. I took it in my mouth and almost choked he he.
He started taking off my underwear and playing with my hole. He contiued fucking my mouth and again I almost choked. He then pulled me back up and started kissing me and having me jerk him off until he was moaning in my ear, telling, "No pares mijo, sigele mas mijo." (Don't stop, keep going.)
I then felt his hot load all over my hand. He cleaned us up and we went to bed with him hugging me. If you want more stories about me and my friends email me guys.