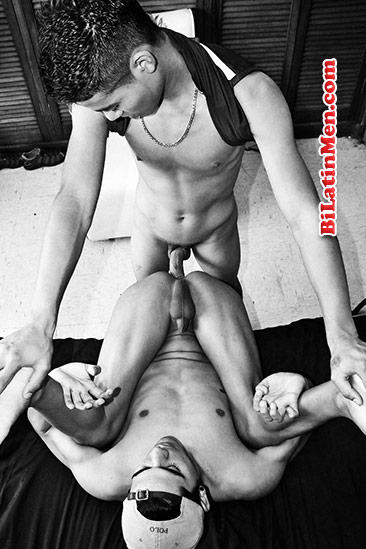 Please make this story anonymous.
S'up guys! I'm the one who wrote about my Roommate. His name is Juan. He is very tall like 6'2" medium built with dark skin and Mexican. He spoke a lil English but not too much. He was getting a divorce from his wife but had a girlfriend.
One day he decided to moved out to live with his girlfriend. We still kept in touch tho.
Well, one day he called me up to see if i wanted to chill. I told him it would be cool. So he came over with some meat to grill and other stuff to cook. I don't cook so he did everything. I helped him tho. Then he asked if I have something to drink. I always have beer and water in the fridge. He wanted soda. We headed to the store to get some sodas. I was about to pay when he threw a 3 pack of condoms.....the big kind. I was a little embarrassed cus this foo left to the car and the cashier looked at me funny. She didn't see him tho.
I got to the car and he was just smiling. Im like,"Este vato! No mames!" (dang dude!)
I got in the car and handed him the condoms. He said to leave them in the bag and then he winked at me. I was like,"Nah foo! That aint happening!"
He asked,"why not?!"
I replied,"Nah foo you're just too big for me!"
He just laughed. Then he said,"orale pues! Dejalos aki en el carro!" (ok then! Just leave them here in the car!")
We got to my house and he continued to cook. There he was with his soda and I had a beer. The soda finally got to him and he had to piss. He went to pee and on his way back he put his hand on my face. He was like,"Mira que rico huele mi pito! Quiero que le des unas mamadas!" (look how good my dick smells. I want you to suck my dick)
I had to admit that it did smell rather good. I still told him no. I asked him about his GF but he said what she doesn't know, won't hurt her. I told him no and that was final. He said it was ok.
He finished cooking but he said he was uncomfortable cus he was all smelly and dirty from cooking out on the grill. He asked if he could shower before we ate. I told him it was cool. He went to his car to get his clean clothes and headed to the bathroom. He went on to do his business as I waited in the living room, watching tv and drinking a beer.
I didn't noticed he was walking completely naked towards me. I was so into the show and my beer. He stood right next to me naked and slapped me. I turned around to see what slapped me. It was his huge monster of a dick that slapped me. His dick was huge. It looked bigger now than last time I saw it. It was about 11inches and fat!
He just stood there in front of me with his beast looking at me. He said, "Me la vas a mamar y no quiero pretestos!" (you're going to suck it and i don't want to hear excuses!)
I obeyed and popped that beauty into my mouth. Then he was teasing me saying," no que no cabron! Ya sabes que este pito es tuyo!" (that's what i thought asshole. You know this dick is yours)
I just continued sucking on his beauty. I didn't noticed when he took my clothes off. He ordered me to open my mouth so he could dip his huge dark balls in my mouth. Then he just ordered me to continue servicing his beast. He was face fucking me which was getting me to tear up and also making my jaw hurt.
Then the good part came. He asked me to turn around so he can eat my ass. I most certainly obeyed. He ate my ass for a while. I was so into the pleasure that i didn't pay attention as to what else he was doing back there. Then i felt it!!!
He had put a condom on and just started to fuck me. My ass was taking it quite well. I was in a little pain but not like the last time he fucked me which was unbearable pain. He was saying to me,"como extraño tu culito! Mi pito le gusta como tu culito se lo come todo!" (i missed your ass. My dick likes how your ass eats it all!)
I was like, "no me duele mucho esta ves! Damelo todo y mas resio!" (it doesnt hurt as bad like last time. Give it to me harder!)
He obeyed and fucked me harder. I was just feeling great and enjoying the ass pounding from my ex-roommate. He was just pounding that ass as if he never had sex. He was starting to breath hard and tense up so he pulled out, took the condom off and made me suck him off. It didnt take long for him to blow his load all over my face. Before he could finish cumming, i got that beast and popped it back into my mouth. I felt his baby batter all over my mouth and throat. It was quite tasty and salty.
Then his was like,"que culito mas rico tienes! Ahora si podemos cojer seguido ya que tu culito aguanta mi pito!" (what a great lil ass you have there. No we can mess around now that your ass can handle my dick)
I told him it was cool. I still had my dick hard so he sucked me off till i came all over his face. We went to shower really quick and while in the shower he fucked me again really quick. He didnt last long that time.
We cleaned up again and headed to the kitchen to get our food served on plates. We headed to the living room and watched the soccer game. We ate and the game was over. He said it was getting dark that he should get going. I told him it was cool. He reached into his pocket for his keys and pulled out the last condom. Then he was like,"que pedo? Te animas hacerlo otra ves?!" (so what? Are you up for it to do it again?)
I told him i was a bit sore but he said, "andale!! Animate! (come on, let do it)
Then im like, "ok pues!" (ok then)
We headed to the bed room and this time he was quite rough. It was hot but a bit painful. His love muscle responded well inside my love hole. He streched that hole to the maximum with his love muscle. I was really sore but i liked the way he was fucking me. He was pounding that ass faster and faster til he let out a loud yell of pleasure. I just laid there all sore but satisfied.
He put his clothes on and said he was leaving but before that he said he was off on Friday so he would be by Thursday night to have some more fun. Hopefully by then I wont be too sore anymore. We used up all 3 condoms. Let's see how it goes.