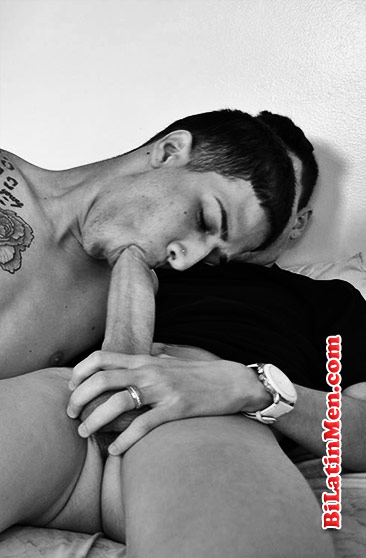 This happened back a few months ago. I've written a few stories before so I'm sharing again for anyone who enjoys a good tale. I'm 5'9", 175 lbs, a Black & Panamanian mix, bald, brown eyes, & I've got 6 inches cut.
I'm a cutie, at least I think so. My ex is 5'11, Black hair (keeps it shorts, near bald), 160 lbs, nice juicy booty, nice Carmel skin, & he's about 7 inches & he's gorgeous, us mixed guys usually are & he's no exception to the rule.
My ex & I had just begun to reconcile with each other after having no contact for about two months.
I was such a loser for him, I was literally that guy who couldn't stop thinking about his ex & saw his face everywhere I went.
He was the first to initiate contact with me because I had figured that he never wanted to speak to me or see me ever again.
I was surprised & delighted to see his name on my phone's screen again. He told me about how he missed me & how he wanted to see me again. Feelings were mutual. However, we had a lot of bad blood between us which needed to be addressed.

The day finally came for us to see each other. I gladly drove over to see him & how happy the drive was. I didn't even get upset when people cut me off.
I arrived at his place & let him know I was there. He came out looking as good as I always remembered.
There was no hug or kiss initially because there was still some tension but we did hold hands. He told me about his living situation at the time & his frustrations dealing with his friends.
Not the first thing you'd like to hear after a long break from being with the love of your life but I was just ecstatic to be hearing his voice & be in his presence. He said he felt like clubbing so he wanted to hit up 340 in Pomona. I was more in the mood for Hollywood. So we drove out that way. We listened to music & talked & all that good stuff.

We finally got down there & parked near the club we were gonna hit up. We talked a bit more & confessed to each other how much we love one another. I pulled down the sun visor for a little privacy.
We then started making out. I've always loved kissing his sweet lips since the first day I was fortunate enough to taste them.
We made out for a few good minutes all while feeling on each other's bodies. I love squeezing on that juicy round voluptuous booty meat he got back there.
He was rubbing my meat as well but the meat I keep in between my legs. Ooooh God, how much we (my dick & I) love it when he touches us there & the way he touches us is like no other. Unfortunately, there are no words in any language to adequately address the kind of way he makes me feel, that includes even the moments when he's nowhere near me
. He proceeded to unzip my black jeans & pulled my dick thru the opening in my boxer-briefs. He then began to make love to my dick with his mouth. He's definitely one of those guys that makes your eyes roll back while you're enjoying what does to you. Uhhhhhhhh how much I love him.

He paused & we climbed into the back seat to be closer to each other. We pressed play & he continued to slob on my knob. He's gifted with his mouth & surely knows how to please a man.
Meanwhile, I had my hand on that sweet ass of his. After a little while more of him sucking me, he put that booty in my face so I could return the favor & please him as well. I absolutely fucking love eating him out.
His ass has this distinct smell all his own that I crave & he keeps up with his grooming practices so he's quite smooth in that area. As I lick, bite, & caress his ass with my tongue, he holds & squeezes my hard dick.
I know he loves it as much as I do while he moans & says, "mmmmm hmmm." I think it's so cute when he says that & he makes the utterance in this unique tone that I'd still know it was him if we engaged in an orgy in someone's pitch black dungeon. I eat his ass like a sweet dessert, it's so indulging & tantalizing to me. As I finished my dessert, he turned around to place my dick in its favorite place, that divine culo that my lover is working with. He said, "This is a sample of what's coming later."
& mmmmm how great that sample was as he slowly bounced up & down a few times before he got off & kissed me some more.

We looked at the clock to see that we were there for an hour. We decided to park in a pay lot because the parking meter only allowed two hours & I was out of coins. We parked & drank some of the alcohol we had with us.
We walked down the street & posted up in front of these apartments to smoke a blunt I had. After we finished smoking we walked over to the entrance of the club to find out that it was 21 & over. He's 19 so his young ass was not getting in. I felt so bad because I used to party in L.A. all the time when I was his age & never had much of a problem getting into places.
I called around to the clubs in the immediate area to find they were 21 & over as well. I apologized to him about my ignorance since my dumb ass brought him to an area where he couldn't do shit. We just ended up walking down the streets & enjoying each other. I still had a great time with him tho.
After walking around for about 45 mins, we got some chicken nachos that I hastily enjoyed alone because he didn't want any. After that we left the area because we wanted to get back to his side of town.

The drive back was nice as it was obvious how happy we were to be together again. I was sharing the night with him like I was Dr. Hook. & just like them Hook boys, I was far from being lonely & I was definitely enjoying that night. We got back to his area & parked in a community near his home.
I figured this was the rest of what was "going to happen later that night," & it had finally arrived.
"I love you," he said, I replied with "I love you," and we began to passionately kiss each other. Oooooooh his sweet tasty lips, God, why?
It doesn't matter if the Lord did have an answer for me, I was too busy kissing my future husband. Growing up, I've seen bad examples of marriages all over the place & vowed I'd never make that contract of "love" & "forever."
But he made me feel starkly different about the whole marriage thing, I genuinely believed in marriage with him.

Mmmmm we kissed & kissed. We just couldn't stop. He pulled out my dick & began finishing what he started eariler. Mmmmm it was pure pleasure & from my lover nonetheless which made it all the more cherishing. "Oh baby, I love U," I moaned as he serviced me. He just continued doing his thing as I slapped on that booty & squeezed on it as I swirled my finger around his warm hole. Like before, we made our way to the back seat & once again, he put that candied ass in my face. It's so invigorating for me to devour his booty up, I FUCKING LOVE IT, almost as much as I love him. Mmmmm his hole is soooo succulent, I just love ramming my tongue into it & getting it wet, parting him like Moses did the Red Sea. It was so hott because my dick was rock hard as I was eating his savory hole while he said, "Mmmm one lick is all it takes," commenting on how hard my dick was.
As I finished my tongue
work on his precious naglas, he sucked up my dick some more. We both knew what was next & how eager we both were for this. I sat in the middle of the seat as he faced me & eased my meat up inside of himself.
Uhhhh what treasure it was, being inside of him is like sticking your dick inside of a super moist sauna. I loved watching as he slowly moved up & down while he was watching my dick enter & exit his hole. Maybe this sounds strange to some but it was such a beautifully magnificent moment to me.
The pleasure & love all wrapped up in one was overwhelming. He continued bouncing as we enjoyed loving each other.

Then we switched positions as he turned around facing away from me & rode my dick like that for a few good minutes as he kissed me. Mmmm, of course, I couldn't stop thinking about how much I love him & how lovely it is to be inside of my baby, just the place I've longed to be.
We switched positions again & we were in the doggy style as I got behind him & put my dick back in him, I knew that he wanted me to release inside of him & coat his walls with my baby juice. I pounded my babe as he pushed that ass back to get as much of my dick inside of him as we could
. I knew I was getting close & he knew it as well, he could feel that dick ready to explode. Mmmmm it felt sooo good as I kept stroking away, in & out, side to side with some winding motions as I got closer to climax & my bady said, "I feel that dick throbbing, cum in me baby."

I could not hold onto my juice anymore & I released it all up in my baby as he commanded of me, as he pushed his ass back onto my dick ensuring he got all of my cream into his hole. This release of passion & pleasure was followed by an exchange of "I love you" between the two of us.

Mmmmm we chilled for a bit together naked & talked about past & future. I couldn't help thinking how extremely fortunate I was to have found my true love in such a hopeless place like I was Rihanna. He just made me soooo happy to be alive in a World so cold. He was the first and only guy so far to make me so genuinely content, I truly love him, he was my babe.
We began getting tired so I took him home, got them kisses & a hug. Then I began the trek back to my place with a smile on my face all the way home that Heath Ledger's Joker would of been envious of.

I hope you enjoyed my story and please feel free to leave me some feedback at kariboi89@gmail.com.