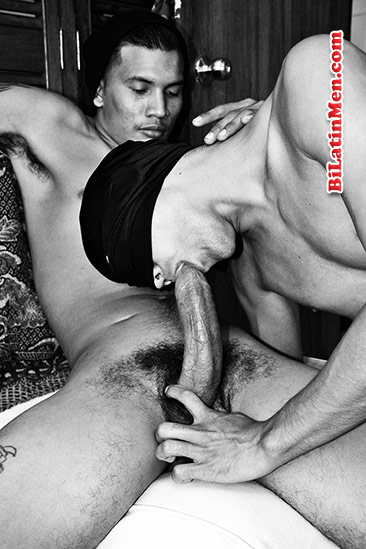 Next door lived a family of six. The family was originally from Mexico. The Mother was a single parent who had four daughters and one son, Miguel, who was 21. When he got home from work he would work out in his backyard. He wore a tight white wife beater shirt and these tight blue shorts. I would be outside and would watch him. As I watched my uncut dick would start to juice and I would put my hand inside my basketball shorts. I would get hard. I kind of knew he knew I was watching him but neither one of us let on that I was.
Sometimes he would turn around and bend over, showing me his ass. I was more interested in seeing his cock. He was reed thin so I imagine him being so skinny, he was all cock. What I wouldn't do to get on my knees and suck him. I would imagine deep throating his huge cock and hearing him moan.
This would go on for several weeks. I knew he had a girlfriend and I was jealous of her getting his big cock.
One night my parents were gone. I was alone in the house when there was a knock on the door. To my surprise it was Miguel. He was wearing a black tight fitting shirt and white basketball shorts. I quickly glanced at the outline of his protruding cockhead through his shorts. Miguel caught me looking and smiled. I smiled and invited him in. He walked over to me and put his hands on my shoulders pushing me down on his knees. I pushed his shorts down. He was not wearing underwear.
I was not wrong. He had a huge uncut and it was dripping with precum. His cock was 10 inches and lots of foreskin. I starting sucking him and he told me that guys suck verga better than girls. When I swallowed all of his cock and my lips were wrapped around the base of his cock, he moaned uncontrollably. I put my hands around his smooth small ass and he pushed inwards, wildly fucking my mouth. He yelled out he was coming and wanted to pull out. I didn't let him. I swallowed all of his cum which was a lot.
After he was done he pulled up his shorts. He was going to see his girlfriend. He did promise to come back when my parents weren't home again and fuck me.
As I watched him leave my tight 18 virgin hole twitched in anticipation!