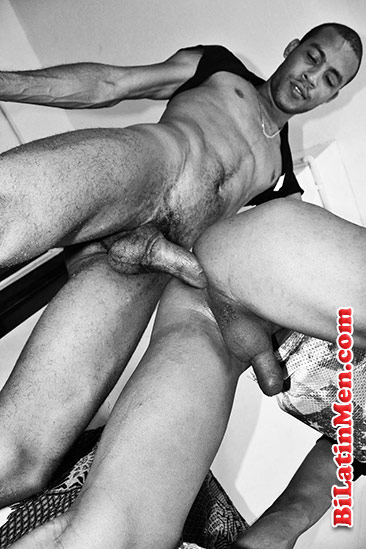 alright, my homie, Danny recently released from the state prison after serving five years in there. I met up with him at RT's place. he knew I was gay and I had sucked his dick before he got in the prison. So he invited another friend of his from there, Mikey. both of them were 30 year old now but with nice lean muscles all over their sexy bodies. Danny was 30 yr old, 6'1", with a 9 uncut dick. Mikey was30 also, 6'2", 190 lbs with a 10 inch uncut. neither of them had sex for years, so you know they had been holding up their man juice for some time now.
anyhow, Danny knew where I stayed and he came up with Mikey two months after they finally found their way to me. I brought them in and stayed with RT. at this time, RT is my bottom and does everything I wish for. so one day while the three of us were drinking, I asked if they will fuck me but they wanted to try with RT since they had heard stories that he was an excellent bottom.
we went into RT's room while he was taking a nap. I woke up RT but he didn't not want to have sex cuz his ass still hurt. well I didn't really care since all three of us were fucking horny. Danny grabbed RT from behind and pushed himself into RT's ass. RT shifted a bit but was unable to move cuz Mikey was holding on to his hands while Danny took his turn fucking RT deep into his ass. I was watching all these actions. I decided to fuck danny from behind. me fucking him made Danny get turned on even harder. then Mikey decided to join the party too. he fucked me from behind. now we all had one dick in between RT, Danny and Me.
Mikey then pulled out his dick from my ass and I did the same with Danny. two of us turned RT over and Mikey pushed his big dick into RT's ass when Danny's dick was still in there. I could see RT was in real pain that I had never seen before. I pushed my dick into his mouth and had him suck me a bit so he could forget about the pain. I even sucked on his dick while those two fucked RT. I got so horny that I decided to try to fuck RT so he could have three big dicks in his already full ass. I got in a bit but I couldn't fuck him, so I just waited for my turn to fuck RT.
well the wait was long cuz it took Danny and Mikey all day long fucking RT so they could release their man juice in his ass. they asked me to eat RT's ass after they came, and I love it cuz it tasted so yummy. after 5 hours of getting fucked by both men, RT just lain there in pain. We continued our fucks in the living room with me fucking my buddy Danny while Mikey watched us. he then joined me fucking Danny too.
when Mikey got tried, Danny decided to fuck Mikey with me. oh, Mikey was in pain cuz this was his first time ever being a bottom. he got two 9 inchers in his ass for 2 hours. then we pulled RT out of his room. I sucked it hard and have Mikey sit on RT's dick. oh boy, he ride it very good too like a pro. RT was able to cum in Mikey's ass after an hour of fuck. before you knew it, we are fucking RT again.