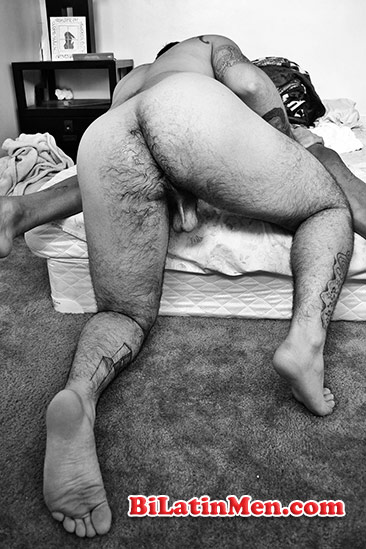 It was Saturday night...and I was bored. So I decided to check out the Noho Spa. I'm a black male but I love hispanic/Latino men. Their caramel color and
beautiful eyes just make me melt.
Anyways I checked in to the Spa and got a room. I got undressed and put on my towel. It was dead. A whole bunch of old guys tried to hit on me but I politely declined (I have nothing against older guys but I was looking for someone my own age).
I went to the Video booth and I saw this gorgeous tall Hispanic guy, bald head, about 6'2", nice body and he was looking dead at me. He was about 23-24 and I could see his hard dick under his towel. I sat next to him and I put my hand on his thigh. Then he pushed my hand on to his dick ....it was so big and thick. I could see a puddle of precum soaking his towel. He moved his towel and there it was. A big slab of caramel colored Cock pink at the tip.
"Suck it," he whispered and I complied. I licked the tip of his cock, and I sucked him. He tasted so sweet and the musk of his cock made me hard and drip so much precum. I swallowed his dick. He moaned. I used my throat to service his dick. I felt his dick tense up and he unleashed load after load of cum. It started to come out of my nose. His cum tasted so good. I swallowed and he said that he wasn't done with me.
"I want your ass," he whispered in my ear. I told him to follow me to my room. Once in my room he threw me on the bed and removed my towel exposing my cock. My cock disappeared in his lips. He sucked my dick like a pro. Then he sucked on my balls and made his way to my hole...I had never had my ass eaten....and it felt like heaven.
After ten minutes of pleasuring my hole, we started to kiss. His lips were so soft and he was rubbing his massive Cock on my hole. "Put it in me papi," I told him.
He spat on his dick and lubed up my hole and entered my hole. With my legs up in the air, he stretched my hole with his big dick...powerful thrusts in my ass. I could feel his balls smacking against me. He began to jack me off and I shot a massive load on his face. He loved it. He fucked me harder and harder. He pulled out and told me to lay on my stomach.
"Yes papi," I said. I laid on my stomach and he spread my cheeks and entered me at full force. "You like that Mexican DICK nigga" ...
"Yes papi," I screamed. Harder and harder he pumped in to my ass. He made me cum again.
"I'm bout to cum," he said. And he filled my ass with so much cum, I could feel it in me.
"Damn you cum a lot," I said as he laid next to me....his DICK still in my ass. We both fell asleep.
He woke me up by sliding his dick back into my ass, fucking me some more, shooting more of his cum deep into my ass.
He had to leave after that.
I did get his number. We fuck 3 times a week. He cums so much. It's my own protein shot ha ha ha.