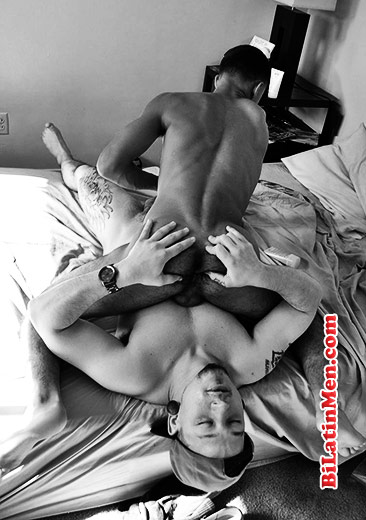 Sup, here is another story.
I m 25, 5'9", 180 lbs. of solid muscles with light skins and a big ass dick. I had always been a top when I hooked up with guys. Well, this is my first time being a bottom, not for one dick but two identical twins.
I went to an event a few weeks ago and met these two very good looking twins working as servers for the event. Jack and John, same age as me, a bit short but stocky, semi dark Latinos. We chatted a bit and I got their numbers cuz they were interested for another job that I told them about.
After the event, I asked them if they were hungry and wanted to grab something to eat and they agreed to join me after their job ends. So I waited for them after they cleaned themselves up. We were talking and found out that they were both still in school to become lawyers in the near future. They told me that they do everything together as one which to me was no surprise. After we grabbed something to eat, they invited me to their apartment just down the street from the event that I attended.
We arrived at their apartment and found one bed in the bedroom. They told me that they share the same bed and everything else in the house. So I was joking that they must share the same girlfriend in bed too. They nodded their heads and told me that they like guys more than girls cuz guys can suck dick before than girls.
Right in their living room, Jack and John had me sandwiched between them. Jack was touching my dick, kissed me and john was behind me, rubbing his hard dick on my ass. I got turned on so fast that I think I busted my nuts...lol.
We took off our clothing and kissed more. Wow, they both had sexy bodies too, nice 7 uncut dicks and very good kissers too.
I grabbed onto their dicks, sucking both of them at once. Two dick with four big balls. I was in heaven when Jack started to eat my ass and John was sucking my dick. I moaned and before I knew Jack was fucking me with my legs over his shoulder.
John turned both of us around and he squeezed his dick into my asshole too. I did not even feel the pain cuz they both were very gentle on me and fucked me very good. They both busted their nuts in my hole.
Afterward, both took their turns fucking me and busted their nuts over and over again inside of me.
I woke up the next day with the two of them. They still had their dicks inside of me hard. I asked them if they will let me fuck them. Well, they might, but I would rather have them fuck me instead.