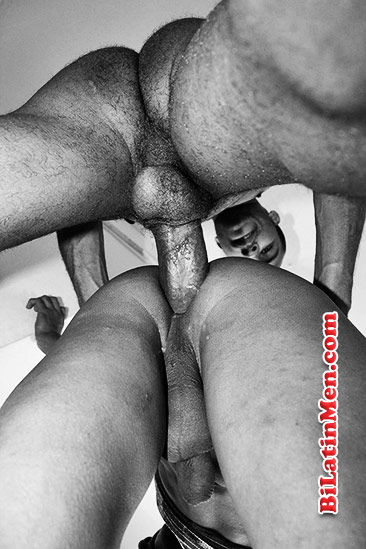 Hi, I'm a 19 year young Puerto Rican from new York, and wanna tell you what happened this week with my best friend. I was at my best friend's house who is also 19. I decided to spend the night to watch the tera nova episodes on tv.
Mid thru the show, he asked me, "Hey, have you ever been with a couple?"
I asked, "Couple? What you mean?"
And he told me, "You know chill with a couple, fuck the chick and the dude."
I said, "Whoa man, where you coming from with all this?"
He said, "I just wanted to know."
I said, "Well, it never happened but I'm up for new things."
When I said that his eyes lit up, and he said, "Oh, new things, right" with this big cheesy smile.
We left it as that. I began to roll a blunt and cracked open a corona. I made my bed in the living room couch, putting a sheet and pillow. I then laid down, still smoking. My best friend sat on the floor beside me, still telling dirty jokes and drinking.
I then fell asleep. I woke up later on that night and went to the bathroom. When I got back to the bedroom, my best friend was sitting up on his chest and his hard dick was sticking out of the hole in his boxers.
I laughed and said, "You crazy, foo. What you doing?"
He said, "Come here, foo. Let me suck that dick."
I said, "Stop playing."
He said, "Come over here and find out if I'm playing."
I didn't say anything, so he walked over to me, kneeled before me and started grabbing my shit through my boxers. After a little while, my shit got hard as fuck.
He pulled out my 9 inch uncut dick and started doming me up. I mean, he was so into it and felt great. He would wrap his lips on the head, tasting the dick, and I could hear him enjoying it.
I then began to hear the keys to the front door. We stopped. His mom was getting home from work. She got there and went straight to the bathroom.
I then grabbed my best friend by the back of the neck and told him, "Make me cum quick."
He started jerking me off, both of us looking towards the bathroom door to see if it opened. He then put my dick in his mouth, jerking it, slapping the head against his lips. I then busted a fat nut and couldn't stop. I came in his mouth, face and all over my blankets and his mom's new rug lol
I slept like a baby that night, and now am waiting for the next sleep over so I can try to fuck him bareback... ;)