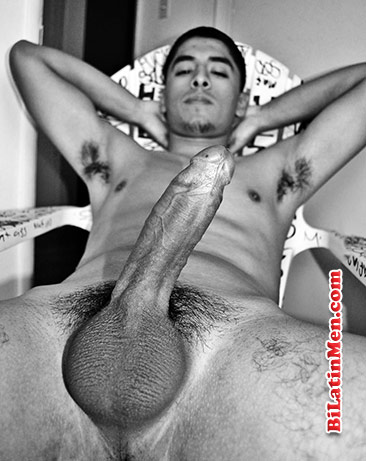 This was about 2 years ago when I was 18. I'm 5'10", light skin, uncut 8 inches. My tio was about 6'2", dark skin, tatted up, bald, 8 inches, also uncut.
It was a Monday morning, a school day. I chose not to go to school that day and instead watched porn and jacked off. At the time we were living with my grandma and tio.
No one was home, so I locked all the doors and went into my tio's room and grabbed his porn. I laid naked on my bed, jacking off slowly. My tio came home, but I didn't hear the door open.
He walked into my room at yelled.
Him: Pinche perro, what the fuck are you doing naked watching my porn!
Me: I'm sorry tio. Don't tell my dad please.
Him: Get the fuck out of my way & change!
A few minutes passed. I was so scared I didn't want to leave my room.

My tio called me into his room. He was naked and had a boner.
"Chupa mi verga nino or I'll tell you dad what you did perro," he threatened me.
I got down on my knees and started sucking, grabbing his hung hairy balls. I was sucking his verga for like 20 minutes.
He told me to bend over and open my legs. He shoved his verga in me. I yelled. It hurt so bad. He put my head on the pillow so no one could hear me yell. After that I was moaning, asking for more. He smacked my ass and told me I was a little bitch.
He said: Get on your knees. I'm gonna cum!
It was warm all over my face and tasted so good.
He then got on his knees and sucked me up until I came.
We both had cum on our faces and licked it off eachother.
We still do this time to time.