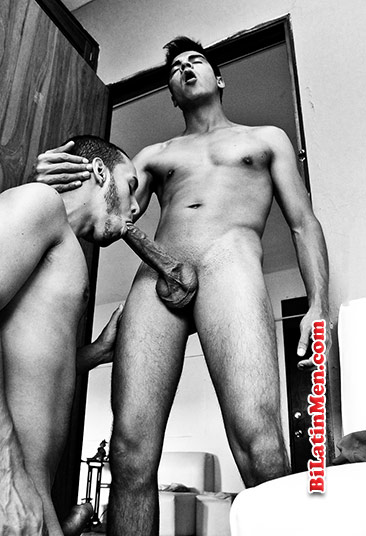 This is the second part to finding Bus Stop Luv. In part 1 I explained not in full detail but partial detail of my encounter with a bald homie at tha bus stop, waiting for tha bus and came upon a fine ass disgruntled boyfriend of a girl in need of sum special attention after a breakup.
Neways after I gave him tha best head he's ever had, we kept in touch. He left his girlfriend. We stayed together for bout a few weeks.
During the first week, I decided to give it up to him. Instead it turned out he wanted me inside him. So he calls me one night. I of course took a bus to tha Southside of San Antonio. I got to his crib. I immediately went straight to making out. He pushed me on to his bed with his big manly hands, caressing my ass while we kissed. Me on top of him, him on top of me, kissing for what seemed an eternity, heavenly.
I felt every wind again hit my face. I unbuckled his belt to his black dickies. He ripped off his muscle shirt literally!! His big uncut cock was sticking out of his boxers hard as a rock. I could hardly breathe!
He then took my clothes off as fast as he could. Then we laid on top of each other with just boxers on. His dick rubbing up against my dick. Somehow we had both our boxers off. While me on top of him, I thought he was gonna pop my virgin ass, but no it wound up that he wanted me in him instead. I was like fukk yea!!
So he threw not one condom cuz it busted but three. After the second we had to use a magnum condom cuz my cock is too thick for them regular condoms.
So he slowly directed my cock into his ass while I was in just total heaven. I couldn't believe it. He started moaning, telling me, "Ricky, never have I wanted anyone the way I want u. Not any female has made me feel what u do. So, baby, go ahead, put it all in missionary style of course."
His legs wrapped around my waist and me slowly watching myself enter his tight, sweet axe, sweet temptation smelling ass!! Gosh, this man is pure natural muscle man. In my mind all I thought was how lucky am I to enter such tightness, such a fucking manly man!!
As he got used to me inside him, he asked me, "Papi, get me doggystlye."
I said, "U sure?"
He said, "Fuck yea, ur my vato ESE."
That turned me on more. So then I got him doggy position, and it was over maybe about 10 jams in and out. While he reached over and grabbed my ass to ram my dick more into his ass. I busted tha biggest nut ever. I moaned so loudly that I swear I woke the neighbors.
When I came, I saw the heavens reach down for me. I then exited him and pulled the condom off and he licked every drop after. Man, I swear he licked me dry. I stayed hard, and he tried jacking me off to another nut and as hard as he tried to jack me off another semi nut came out of me...
He said, "Damn, babe, again."
I said, "That's all becuz of u daddy!"
He smiled, grabbed my face and kissed me and laid in bed naked and covered ourselves and talked till we fell asleep.
Later that week he got me. But that's another story I will post! Stay tuned!