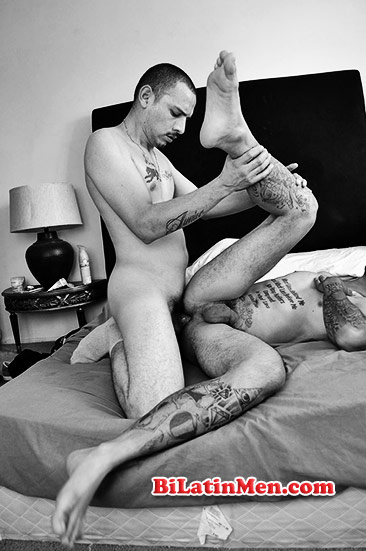 SO IT'S JAY. I'M BACK WITH ANOTHER STORY. SORRY IT TOOK ME A LONG TIME, BUT I WAS GOING THROUGH SOME PERSONAL THINGS.
SO I LEFT OFF MYSELF AND NICK GOING FOR ROUND 2, SO I CLIMBED ON TOP OF HIS LAP AND STARTED KISSING HIM. I STARTED TO SQUEEZE HIS NIPPLES AND WHICH MADE HIM CRAZY. HE ASKED, CAN I FUCK HIM? OH SORRY FOR THOSE WHO DON'T REMEMBER. NICK HE IS 6'4", 220, LATINO, BUILT, TATTOOS, BIG DICK TOP, WELL VERSE WINK WINK LOL.

SO I SAID, I WILL FUCK YOU, BUT I TOLD HIM I WANNA EAT YOUR ASS FIRST AND I ATE HIS ASS OUT GOOD. I LOVE EATING AND CLEAN ASS OUT.
HE WAS MOANING. I WENT UP, KISSING HIS BACK AND THE BACK OF HIS NECK. I SOFTLY BIT HIS NECK WHICH I LOVE DOING. I STARTED WITH A FINGER IN HIS TIGHT ASS HOLE AND WORKED TWO IN AND PICKED UP SOME SPEED. THEN HE LAID ON HIS BACK AND I SLIDE MY DICK IN IT AND IT WAS NICE AND TIGHT.
SO I STARTED GETTING ROUGH. OUT OF NOWHERE I STARTED SCRATCHING HIS BIG CHEST, PINCHING HIS NIPPLES AND HE LOVED IT. I WRAPPED MY HANDS AROUND HIS NECK AND CHOKED THE FUCK OUT OF HIM WHILE POUNDING HIS ASS HARD.
SO AFTER A WHILE I WAS CLOSE TO CUMMING AND TOLD ME TO CUM IN HIS MOUTH AND OF COURSE I DID. HE SWALLOWED IT, SO I WAS STROKING HIM OFF AND HE SHOT HIS LOAD IN MY MOUTH. THAT'S WHEN HE GRABBED ME AND STARTED KISSING ME WITH HIS CUM IN MY MOUTH.
SO WE ENDED UP FALLING ASLEEP TOGETHER AND THE NEXT MORNING HE LEFT AND I TOOK A SHOWER. RICARDO WAS STILL ASLEEP, SO I STARTED BREAKFAST FOR WHEN HE WAKES UP BUT WE HAD A HEATED ARGUMENT BECAUSE HE HEARD ME AND NICK FUCKING LAST NIGHT BUT IT WAS NEVER A PROBLEM IT BEFORE SO HE WAS PISSED THAT I FUCKED NICK AND I NEVER FUCKED HIM.
BUT ME AND RICARDO BROKE UP A MONTH AFTER AND I KEPT IN CONNECT WITH NICK. WE ARE JUST FUCK BUDDIES, SO IM HAPPY JUST BEING SINGLE SO THAT'S MY STORY GUYS. LET ME KNOW WHAT YOU THINK. SHOW MY EMAIL league_kappa@yahoo.com