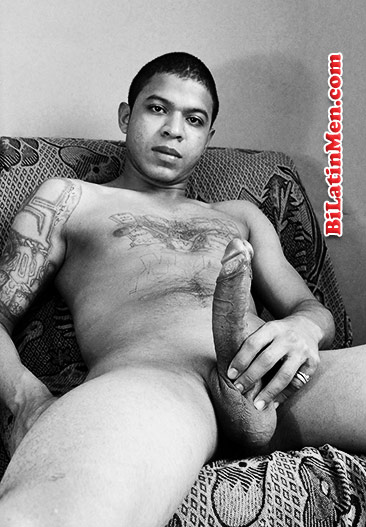 On a pleasure to trip to Vegas, I arrive at the hotel and the bellboy walks me and my bags up to room. As he drops my bags to open my room door, the door right across the hall opens and a sexy light skinned man walks out and behind him is a gorgeous woman. She had on an engagement ring, and I thought they looked happy. Just then the bellboy says, This way sir.
So I walk into my room. I had a long flight and just wanted to get in and relax before I hit the bar and casinos. I go in the room shower, get dressed, and pour myself a drink from the minibar. I see I don't have any ice so I grab my bucket and head down the hallway to get some.
As I am walking back, I see that gorgeous woman stormed out of her room, yelling something about she is leaving him and wish she never came to Vegas to marry him. She speeds pass me and he comes out the room and screams, "Well who needs you!"
She then turns and throws the ring, which went grazing pass my head. Then she walks onto the elevator. I spoke to the guy and he say, "women who needs them."
Then walks back into his room. I walk in my room and think that was crazy. I decide to drop the ice on the counter and go get a real drink. About 10 minutes go past, I gather my stuff and head out. I head straight to the bar and take a seat.
I order me a drink and my friend from across the hall sits down on the stool right next to me. He orders a drink and starts up a conversation. "You're right across the hall right?"
I reply, "Uh, yea!"
He starts spilling about how his recent ex slept with her old boyfriend while he was out of town on business. Telling me that she never really loved him and that he's glad he found out before their planned nuptials the next day. He then apologizes and says, "I'm sorry, I'm going on and on. My name is Kane." I replied, "RJ."
Drink after drink he kept them coming. About an hour went pass and he the 3 double shots of Yeager, 2 beers, he was really drunk. I was buzzing but was still ok. He almost fell off his stool when he decides he wants to go smoke a blunt. He asked me to help him back to his room. The whole time, he kept asking would I smoke with him. I didn't smoke but after his forth invite I just agreed to.
We arrive at his room and he shuffles to find his keycard. He can't find it so he invites himself to go to my room. We go inside and he lays on my bed and just stares at the ceiling. He then says RJ, can I stay here tonite?
I say, regretfully, Yea.
He then says cool and kicks his shoes off. I go take a piss and when I come back Kane is laying in his boxers and a t-shirt rubbing his dick. I ask, "Uhh, what you doing Kane?"
He says, Alcohol makes him horny.
As I stand there watching him rub his dick through his boxers, I start to get hard. He says, "RJ, I've never done this but I want you."
My dick instantly went brick hard. I play it cool and say, "What do you mean?"
He replied, I want to fuck you all nite long.
I say to hell with it. I strip so quick, I'm standing there butt ass naked; with my thick chocolate bubble butt wanting his dick in me. He then says, Come here.
I walk over to the bed and lay next to him and start to kiss him. As I am kissing him he moves one of my legs over his waist and grabs my ass. He then tells me he wants to cum all over my face. I agreed and told him he could. Then he guides my head to his thick cream filled banana. I go to work on his dick as he laid there. The only sounds in the air were slurps and moans. I lick his balls and kiss his inner thighs, and began to work on his dick again. He stops me and tells me to kiss him. I kiss him and we share his precum that laid on my tongue. He then lays me down on my stomach. He says, Where is your lube?
I pull it off the nightstand and he lathers his dick with massive amounts of lube.
Then with the same hand he slides a finger up my ass. I clinch tight and squeeze his finger in ecstasy. He started finder fucking me, opening my ass up for him. Then he stopped and I felt his dick lay on my ass then he thrusted inside me. I scream, OHHH!
He slow fucks me to open my ass. He kisses my back and my neck, and whispers in my ear to tell me how much you want this dick. I yelled out, I want that dick bad!
He then begins to speed up, yelling, Imma beat this ass up. Headboard knocking, me moaning and him talking. This was turning out to be a good first night. He flipped me over and pent my legs up in the air and resumed fucking me and scream out, Uhh!, Yes! Ohh fuck me!
Just then I began to cum from him stimulating my prostate (hell pounding my prostate). He continued for another 5 minutes and then pulled out and shot streams of cum all over my face, chest, and in my mouth.
Then he laid on top of me and licked his hot creamy cum off of my face. Kissing me and rubbing his hot sticky love juice all over my chest. He then gets up and puts on his pants, pulls out his door's keycard and says he will see me later, as he puts on the rest of his clothes.
As I sit there in amazement that he used me. (I didn't give a fuck that was some good dick) I said I guess I'll see you later. He said, You will. Remember I'm just across the way.
I laid there all hot and sticky, thinking to myself, well thanks for the dick. LOL.
Ohh to conclude, he showed up the next morning and let's say the story continues from there but that's for another time.