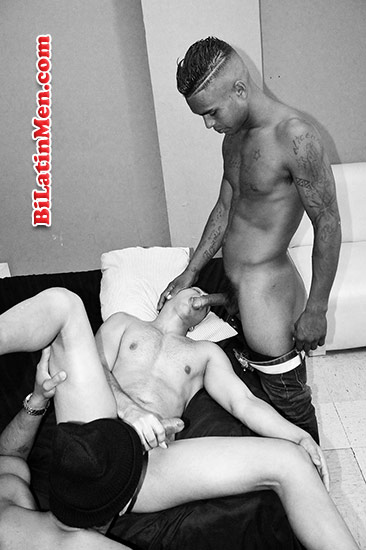 He was a well respected man among the farm workers. Well, he was their boss and the first to prove his loyalty. His alliance name was el Guero. He was the lightest among all, with a height of 5'11" and dressed up as a cowboy, vaquero style. 24 years old and with big balls. He was ready for anything and everything. He wasn't scared of shit. He knew what to do and how to do it. Especially with that big 8 inch by 7 cm long dick.
He was very masculine and man acting, them type of wife beaters that are rough and aggressive. That type of man that gets envied with the waves he curves, if you a body builder you get what I mean.
I never thought I'd see such artistic expression and especially never thought I'd get such seduction. I mean after all he was very hoeish and had a girl every night.
One early morning Josue had ran out, he was on his way to the United States. I knew why he was going and for what was he going. But yet I still don't know why he took the brand new car I had bought him. As he was crossing 300 keys and the unregistered vehicle I described above. Those were his charges and that was his end to the company.
Anyway, when I woke up, I woke up to a rose, a gift, and a rolled up blunt with marijuana from Colorado. Girl scout cookies...
The note was very short, as Guero wasn't too good at expressing feelings. Remember he is cold and heartless. The note read as followed,"A small gesture for someone very important in my life. I hope to see you tonight and I want you to wear this. With love, Josue."
I opened the gift and I see three more. A ring, a thong, and some diamond heels mix with leather and lace. But what was I supposed to do with the thong and the heels? I threw the ring on my finger and headed to the breezeway, just to find Guero walking towards the entrance of the ranch. I followed him without trace nor sounds of me doing so. I wanted to see what he was going to do.
Once he arrived to the door I saw two dudes, but whatsoever I never recalled seeing them. To me they looked unfriendly, they look like our rivals. So I pressed the alarm system to alert the workers and security that someone was trespassing my hacienda. Soon enough the two guys started to run, Guero got his gun and ran behind them. I ran for my gun and followed him, guess he saw me and he yelled, "Nooo, Cookie go home. They were looking for Josue. They are enemies. "
He is my man, because of him we are all here, he is my husband.
"Get the fuck out of here Cookie, if you die I must have to go right after."
For some reason I cocked my gun and shot one out and the other surrendered. (Don't shoot cookie, let them alive.) I heard my brother's voice and I knew better not to shoot them. After all his word is also an order. He is blood. (Take cookie inside, he doesn't need to be here.)
"Let's go baby, you can put your gun down," Guero said unto me. Grabbing my waist and my hips. His hand was so big it was curving right under my booty. "It passed baby boy, it's ok."
Entering my room he got to see the exterior part of it. "Hardly anyone enters," it was Guero's first time in it. "You have a pretty room. It looks very luxurious. Mind if I run it?"
No, by all means look at it.
"And this? Are you going to wear the heels?"
Dont be dumb, Josue gave em to me. I don't know for what.
"And this Thong?"
Read the note.
***
"Wow, take off your clothes and put it on. Show me your body."
Guero this is not right. You're my friend.
"And friends also play. And I want you to put it on. Please."
Ok. But don't tell anyone, Guero.
"I promise baby boy."
A little while later I go back to the room and am wearing the lace thong, no shirt, no pants. And I could see how Guero was looking at me and I don't blame him. "How sexy are your legs babygirl. They are soft, none hairy, and very smooth to be a guy."
Thanks.
"Put the heels on. Lay down. Put your ass in the air and spread out your legs."
Something about him made me obey as he pleased. It was like orders to be followed.
"Yeah, like that babygirl."
He caressed my booty and kissed it. Slapped my ass and told me he wanted to make me feel the pain. He was gonna be my daddy in the game. I responded by flipping over, hugging him, and kissing him. He whispered, "Now you're going to feel what is to be with a real man."
He starts undressing himself, am laying down watching him straight into his eyes and I can see he wants me.
He carries my legs, puts them in the air, and slides in. No lube, no spit, just dry.
"Ahhhhhhh mmmmmm ahhhhh Guero mmmmm ahhhhh not so fast."
How tight are you, it feels good.
He fuck me like he my man. Hard, deep, rough, aggressive and long. He makes me feel like a slut with blood and semen mixed together inside me.
"You bleed like a virgin, cry like a baby, and take it like a bitch, let me see your nipples."

Mmmmmmm ahhhh mmmm ahhh Guero .... Mmmm ahhh give me more...
He fucked me for a long time, hours had passed by and he was still hard as a horse. He fucked me like he never fucked pussy. He made my stomach hurt and he made me feel stretched. His dick was so big and fat he destroyed my ass. He made me yell none stop.
"What a nice piece of ass you have. My dick wants to cum in you."
Um daddy, cum in me...
"Mmmm.. Ahhhh... Take it bitch... Take that.... "
He fucked me so hard, so fast, so deep, I felt tears coming out. He finished in me and he filled me up. He came so much the thong got soaked in cum. He was happy ever after that he left his dick in me felt on top and kissed me.
He was the one who used the thong, the heels, and kept my blunt. As he didn't even share. But that night, he came back and of course he wanted more. But that's another story.
Cookie.