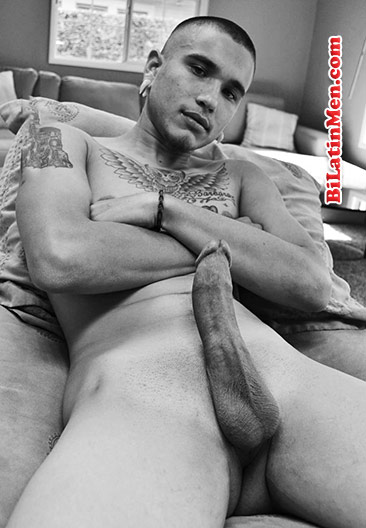 NAMES ARE NOT IMPORTANT JUST A REAL STORY.
I'M 5'11", 180 LBS, LIGHT SKIN COMPLEXION. I'M OKAY LOOKING, MEDIUM FIT WITH A BIG ASS. HE'S 5'9" ABOUT 200 LBS, BROWN SKIN COMPLEXION, DARK HAIR AND DARK EYES. WE'VE BEEN KNOWING EACH OTHER FOR QUITE A FEW YEARS NOW. WE BOTH WORK OUT, HE MORE THAN I.
ONE DAY ABOUT 2 WEEKS AGO, I DECIDED TO DRIVE AROUND AT NIGHT SINCE I HAD NOTHING BETTER TO DO. I MEAN GYM WAS DONE AND ALL OF THAT. AT LIKE MIDNIGHT I HIT HIM UP TO SEE IF HE WAS UP. HE REPLIES AND SAYS HE'S IN BED IN BOXERS WATCHING TV.
WE DO JOKE AROUND BUT NEVER HAVE WE DONE ANYTHING, SO I ASKED IF THAT WAS AN INVITATION FOR ME TO GO OVER. HE SAYS IT IS. I SERIOUSLY THOUGHT HE WAS JOKING ABOUT BEING IN NOTHING BUT BOXERS.
SO I GET THERE AND YES THAT'S ALL HE'S WEARING, TIGHT BLUE BOXERS. I DIDN'T MIND THE SIGHT, BIG MUSCLED, GOOD LOOKING GUY IN BOXERS. SO I WALK IN AND WE'RE JUST WATCHING TV TALKING ABOUT DUMB STUFF. ABOUT AN HOUR AND HALF PASSED AND I SAY I'M ABOUT TO GO AND HE SHOULD SLEEP. HE AGREES AND GETS UP AND YOU KNOW WE DO THE LATES BRO TYPE OF SHIT EVERYONE DOES. I DECIDE TO CUP HIM SINCE IT WAS KIND OF CALLED FOR. HE GRABS MY HAD AND TELLS ME I'M NOT GOING ANYWHERE. HE PULLS HIS BOXERS DOWN AND I SEE THIS BROWN BEAUTIFUL UNCUT COCK JUST HANGING WITH SOME LOW HANGING BALLS.
I'M STILL IN SHOCK AND HE MAKES ME KNEEL DOWN AND START SUCKING HIS DICK. HIM STANDING UP AND ME STILL ON MY KNEES. HIS DICK GREW TO 9 INCHES AND THICK WITH ALL THESE VEINS POPPING OUT. DAMN DID IT TASTE GOOD.
HE WAS ENJOYING EVERY MOMENT OF THAT. I ALSO LIKE TO EAT ASS AND PUSSY, BUT SINCE HE HAD NO PUSSY I LAYED HIM DOWN ON HIS BED. I KEPT SUCKING HIS DICK AND BALLS. HE WAS HELPING ME GET MORE COMFORTABLE BY LIFTING HIS LEGS IN THE AIR. IT MADE IT SO MUCH EASIER FOR ME TO EAT THAT SWEET PHAT ASS OF HIS. I HEARD HIM MOAN AND WHISPER FOR MORE. THIS WENT ON FOR ABOUT 30 MORE MINS OF ME SUCKING HIM AND EATING THAT ASS.
HE THEN GETS UP AND TELLS ME TO SHOW HIM MY ASS. I DO AS HE PLEADS. HE SMACKED MY ASS SO HARD IT TURNED ME ON. HE THEN STARTED FINGERING MY ASS AND AS I WAS MOANING, HE SLIPS A CONDOM ON. HE PUSHES ME ON THE EDGE OF HIS BED AND STARTS TO PUT HIS DICK IN ME. INCH BY INCH UNTIL IT ALL WENT IN. OH DID IT HURT BUT DAMN DID IT FEEL GOOD. ALL HIS ROUGH THRUSTS AND HIM SMACKING MY ASS AT THE SAME TIME, SAYING THAT WAS HIS ASS AND NOONE WOULD TOUCH IT ANYMORE.
WE THEN WENT TO THE FLOOR AND HE HAD ME DOGGY STYLE. HE POUNDED MY ASS UNTIL HE GOT READY TO TRY SOMETHING ELSE. HE GETS UP AND TAKES THE CONDOM OFF TO HAVE ME SUCK IT AND TASTE HIS CUM, WHILE HE STROKES MY DICK. I SEE HIM STARING AND ASKED HIM IF HE WANTED TO SUCK ME OFF TOO. HE SAID NO AT FIRST, THEN HE SAID MAYBE I DO AND PULLED ME UP AND STARTED TO SUCK ME OFF. DAMN, DID HE KNOW HOW TO PLEASE ME.
AFTER GOOD 15 MINS OF HIM SUCKING ME OFF, I WENT DOWN ON HIS DICK TO MAKE HIM CUM. I SWALLOWED EVERY SINGLE DROP. NOW I DIDN'T STOP AFTER HE BUSTED. I LIKE TO SUCK THE DICK WHEN IT'S SENSITIVE. AT THE END HE STARTED TO FEEL ALL WEIRD ABOUT IT SINCE IT WAS HIS FIRST TIME WITH A GUY. WE GOT DRESSED AND HE SAID THIS WAS THE END. I REALLY HOPE IT'S NOT, WISHING HE HAS MORE FOR ME IN THE FUTURE.