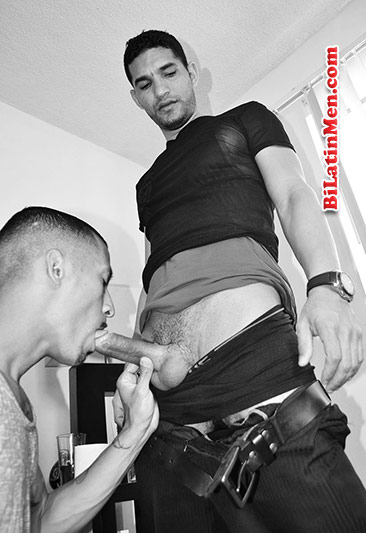 So to start off I'm about 5'4" and I weigh like 115 pounds & my best friend is about 5'10" and like 150 pounds and really hot and muscly.
Okay so it was like three weeks ago and I was at my friend Memo's house and we were laughing and eating pizza and watching titanic.

See like once a week his parents go out, and I always go over and babysit with him. Right, so it's like 8:30 pm, and the kids are already in bed and he gets a text from his mom saying that his dad is wasted and that they're just going to get a hotel.

So we're watching Titanic and the sex scene starts and Memo says, "No homo, but Leonardo gets me so horny." He said it in a low raspy voice and I started to tense up because he knows I'm gay and it was awkward.

The sex scene continued and he started to rub his hand on his crotch in slow circles. He kept doing it until it was visibly clear that he was hard and horny.
So then he grabbed the remote and tuned off the tv and leaned over to me and said, "So how do you know if you like guys?"

And I started to get nervous and really red. He grabbed my arm and pulled me closer to him on the couch and kissed me!!! He kisses me right on the lips and next thing I know he was taking off his shirt. His abs were nice and rough and rugged, and i slowly glided my hand up and down his torso. He smiled and looked right into my eyes and said, "Blow me right now."

I did exactly as i was told. I unbuttoned his pants and pulled out his 8 inch cock. It was so big and scary and hot. I slowly licked from his balls up to the top of his dick. As soon as I got there, he shoved mouth down on his dick, making me deep throat him. He then face fucked me. It was so rough, my eyes were watering and I could feel his dick start to pulsate in my mouth. So I grinned my teeth against him as he shoved my head all the way down and came into my mouth.

After that I went to the bathroom and brushed my teeth, and then we kind of haven't even talked about it, weird right ?