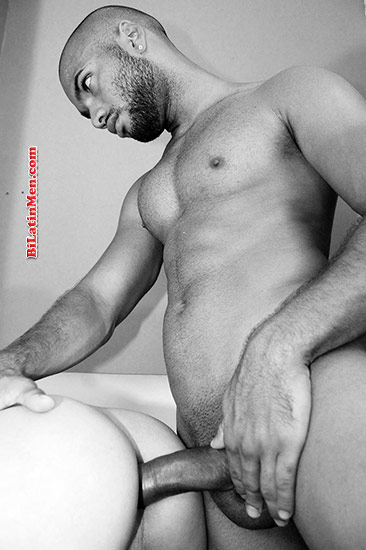 Hi, So I wrote a few weeks back about how I hooked up with this Fine ass Latino at a party(The Native and the Latino) and now I'd like to tell you all some more about what other little adventures i've had with my share of Latinos. Picture it San Diego one month ago.

So I am 5'9", short black hair, cute face and a nice ass. I weigh 157 lbs. I'm a bottom and I have played a lot of tricks in the book. The one that stands out the most is when I hooked up with one of the Real Estate agents from next door at my place of business.

It had been raining and I was soaking wet from the run across the parking lot to the Building. When I reached the top of the stairs, I noticed that a tall Mexican man stood by my office door. I said hi and continued to unlock my Door.

"Hey man, do you think it'll be cool if i chilled inside till my co-worker gets here with the keys to my office?" he said.
"Sure thing," I said with a smile.

"It's Raining hard eh? And that wind is cold."
"Yeah, it is. Too cold for Sunny San Diego. Oh by the way I am Cr3z." I said.
"Johnny, nice to meet you."

So we went in to my office and I ran to the ac unit to switch the Heater on. When I turned around Johnny was standing in the Foyer Dripping. I waved for him to come in and have a seat on the couch in the lobby while I ran in the back to get some beach towels.

When I returned Johnny had already had his shirt off and MY GAWD, it took a lot to not look at his sexy form and build.

You see Johnny stood at about 6'3", 34 yo, finely formed and built like a rock. He had a tattoo on his chest that went to his shoulder and down his right arm. (Fukn Hot) Johnny had just enough hair on his chest and a small happy trail that led down to a V shaped abdomen, and what seemed to be a lovely trimmed bush. His eyes were a dark brown with beautiful dark and naturally curled lashes.
He caught me staring and he smiled a crooked smile and looked down at the towels I had in my hand.

"Umm.." he said.
"Oh Yeah.. Right. Here is the towel and if you need to go the restroom is in thru that door. I am gunna go change my shirt in my office. You are more than welcome to stay as long as you want."

So the time went and his co-worker got there to let him in his office. He thanked me and went on his way.

So the day went on and I couldn't help but see him standing there with his wet shirt off and the rain drops from his hair dripping down onto his chest, training down over his lovely abs and into the finely groomed patch of pubes. Anyway..
I heard the main door open and close, so I got up to find Johnny standing there in the foyer. I let him in and ask if he had forgotten anything?

He just said yea I had forgot to give you this. He stepped forward and handed me the towel back. As I reached in to grab the towel he pulled it back and started teasing me. I started laughing like "Like C'mon.. Quit playing."

He rushed in and grabbed my waist leaning down and kissed me real hard and long on the lips.
To my surprise I pushed him back and said, "Woah! That's hot."

My Morals are thrown out the window and before I know it I am laying on the Couch in the Lobby of my office.

We start unbuttoning our shirts and i reach down and rub his now hardening dick thru his pants. His Verga was fukn huge. it looked only like it was about seven inches, but as soon as I got his anaconda out OH MY GAWD... It was 9 Inches with a thick girth and lovely velvety foreskin. I peeled it back and licked the small bead of precum from the piss slit.

Johnny moaned and that is all I needed to hear and I swallowed his whole 9 inches down my throat.

He screamed with passion. "No bitch has ever taken me like that on the first try."
I looked up and winked at him while. I swallowed him in again. I sucked on him for about five minutes.
He pulled me up and told me to face the wall. I did as I was told and leaned up against the wall. He spread my ass cheeks and started eating me out. At first I was like ewww, but the feeling and his long tongue was just enough to push back onto his face and slowly grind him.

He jumped to his feet and layed me down onto the couch. He spat on my hole and then his big dick.

"I want to see me slide in and out of your ass," and he slowly eased himself into me.
After about a good 20 minutes of him sliding in and out of me, his cock made my legs weak and I couldn't hold them in the air any more.
So we switched positions, and I had one leg up on the front desk and the other on the floor.

I kept turning around to see his face and watch him watch himself disappear deep in my tight ass. He fucked me so hard and good in this position.
I could hear his heavy balls slap against my inner thigh. Harder and faster he was pounding away when he yelled out that he was close to bustin a nut. I turned around with him still in me and lifted my legs onto his shoulders. He leaned down and slammed into me, making me scream like a lil bitch cause he hit my prostate.

I bit into his chest and he screamed out that he was coming. I felt squirt after squirt of leche going up my used ass. He laid on top of me for a few minutes then picked me up with his still hard dick in me and sat on the couch so that I was riding him. He bounced me up and down a few more times with my body limp and sweaty as was his.
But his cock remained hard and in me. He started to fuck me again. By now I couldn't even move or talk. Just muffled sounds came from my mouth. He Kissed me and started coming in me again.
Seven strong spurts shot up my cum filled hole. I was in such amazement that he came twice in me. Afterwards we got dressed and kissed. We exchanged numbers and have been texting ever since. We're going to meet up this weekend. I'll let you know how it goes.

-Cr3z-
feel free to share my email.