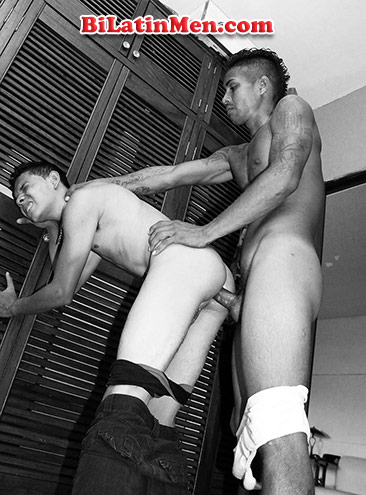 Hey guys, here is another story!
This story actually happened on valentine's day.
I have a fucking buddy. He is from El Salvador, 6 ft., 170 lbs.
I am thick, big ass, latino, 5'9".
So that day I had been busy all day working. When I get a text from Alex saying, "Happy Valentine, let's meet up"

I couldn't pass the offer. I told my workers that I had to run an errand very fast. It was my very first time I had sex on valentine's day.

When I got to his place everything was dark and quiet. He opened the door and took me straight to his room. In his room he had candles lit everywhere. Very romantic. First thing I did was to kiss him right on the lips. Then I started kissing his neck, behind his ears.

We then went to his bed. I was on top him grinding. I could feel his dick hard. 7 inches and thick. I took off his shirt and continued kissing his body. Until I made my way to his waist. The only thing stopping me were his basketball shorts. Those came off immediately. Once those were off, his dick popped out straight. Gorgeous! It was brown, uncut, big head, nice balls, clean shaven.

My mouth was watering. I went straight for the head first. Making it nice and wet. I could hear him moan. That was turning me on. From the head to the shaft. Slowly, Slowly before I deep throated it. When I started deep throating his thick vergota, his feet were curling. His moans had gotten louder.

He then told me, Let's fuck. I want you to ride me. He put a condom on and lube. I got on top of him and boom! I started sliding that dick in my tight hole. He was going slow. When it was in he started thrusting up. His dick felt amazing inside me. All of a sudden he said, I have poppers, do you want to try it? (I had used it once, but made me feel sick, so I felt a little ehh about using it.) But I was like what the heck I'm having sex on valentines. So when I took it there was an adrenaline rush, I don't know where it came from, but it made everything feel WOW!...

We fucked like 30 minutes until he came. He fucked me doggy style, then he flipped me on my ass, then he pushed me on my back, pusing my asshole open so much and making it all wet and sloppy. I was loving it. He fucked me so hard and deep like he was angry at me but in a deep romantic way. He was still hard after that marathon of fucking. What I did was I sucked him off even more. He shot his load right in my mouth. It was sweet.
When we finished we laid there for a moment. I was caressing his face and playing with his hair. I said Happy Valentine's and kissed him.
I got dressed and left.

Well, there goes my valentines story. I hope you guys like it. Feel free so send me comments or just want to talk. Go check out my other stories: "Bathroom Break" "Christmas Gift" and 'The Nerd."