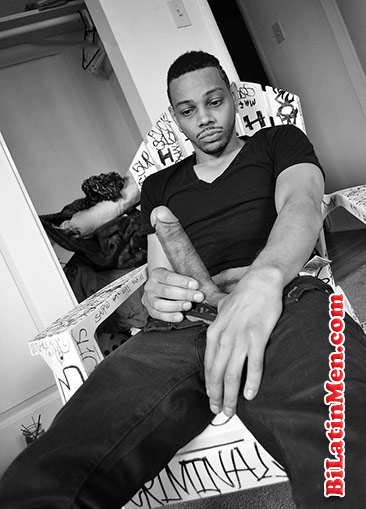 Sometimes men aren't like they tend to be, it takes a few shots and a few words to make them feel wanted and needed.

Josue was his name, he was in his late 20s, stood high at 6 feet and weighed about 180 with a 10 inch verga. He was very loving and caring even though his notorious lifestyle had forced him to be hard and aggressive.

Me on the other hand, am Ivehn, am 18, 5'7" and weight 205. I am a bottom, big ass, good head skills. We met at the party held by some banda and some nortenas. Weed and perico were placed in plates rather than food and appetizers. Tequila and Buchanas were served rather than wine and champagne.

He approached me with the excuse of asking who I was with. I told him some friends and some family. He wasn't very familiar with who i was and what influence I had. He just knew my name and who I came to see. And I knew he liked me, as his hand had still been holding mine and caressing it.
" What is a cute guy like you doing here? Shouldn't you be at home waiting on your man?" he said.

"What man? And why are you getting in my business? You to me are just a worker... Yo soy el patron. (I am the boss.)" I said.

"I'm sorry, I didn't know. As they told me you had no man nor liked women. I admire your beauty and foremost i admire that ass," he said.
"Thank you, you as well look good and very handsome," I said.
Holding me close and holding my waist he said, "sexy lips baby."

I grabbed my glass of tequila and a blunt, grabbed his hand and led him towards the stairs. He helped me up and hugged my waist, making sure every guy saw who he was with. And who he was going to seduce.

Once inside my room he threw my glass away and aggressively started to kiss me and took my clothes off. I started undressing him, just to find an 8 pack, muscles and hip piercings.

"Nice chest baby.." and he started sucking my nipples and biting my neck. He unbottoned my pants and revealed my soft skin. "Damn, that ass phat." And slapped it.

I started unbuttoning his pants and GODDAMN a fat verga came out. I immediately dropped to my knees and started sucking his dick up. "Ahhhhh baby, yeahhh mmmmm suck that pito puto.." he moaned.

After about 30 minutes of sucking and slurping, he stopped me and carried me. Threw me on the bed, slapped my ass two times, kissed my back, bit my ear, kissed my ass and threw his dick inside of me.

"Ohhhh, ahhhhh daddy.... Ahhh," I moaned with pain as he was aggressively beating my asshole open..

"Mmmmm damn your ass tight.. Just like a virgin pussy.. Mmmm," continuously he proceeded to fuck me hard and deep. Making me shake in pleasure and arousement.

"Ahhhhhhh dadddy... Ahhh go slower daddy, not so hard..," I moaned even loader, his dick was too much for me and the pleasure was driving me crazy.
After what seemed like hours he stopped and told me to ride him. I started riding him slow and deep, so I could take it easier on my ass, and enjoy his thick dick. He seemed not to like it, he wanted it rougher. So he grabbed my waist and started to hammer my ass open.

"Ahhhhh daddy.... Ahhhhhh.... Daddddddddddyyyyy!" I cried as the brutal dick went in and out of me real fast like a jack hammer.

4 hours later he came in me and told me how good iIwas and how good it felt. He crowned that ass his, and he owned my body intensely. He was the first to bust it open and the last to touch my body. He became my man and I became his bitch.

And till this day we have sexual intercourse and fuck harder than the time before...