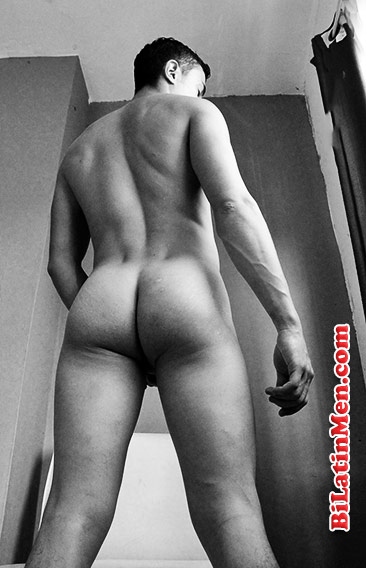 What's up. I'm Omar. Stay in Southern Cali, 25yo Latino, 5'9", 180 lbs., 7.5 inch dick nice n thick...So this is legit and it happen a while ago.
So I have a friend that lives in an apartment complex, and at night there's this fine ass security guard that works in the complex.
So every time I would see him I would get a boner no lie. This dude was in his late 20's, tall and lean swimmer type body.
He looked like he was part middle eastern, the point is he was fuckin hawt.
So this one late night I was chillin with my friend, getting high and I ended up leaving around 1am.
I was fucking horny as fuck, so I thought up some bullshit story that I was locked out my apt or that no one was home so I could have an excuse to talk to the security guard.

So this night it was really cold, so he was inside his car. So I went up and asked him if I could borrow his phone to call cuz I didn't have my key and no one was home. So I asked him if I could get in the car cuz it was really cold. He said yes.
So we stared talking random things. He told me he was married. He was asking me questions and I don't remember how it came up, but I told him I was bi. I was so horny and wanted his cock that I straight up asked him if he ever been sucked off by a guy. He said only once when he was younger. I took that as the green light and just went for it and asked him if he wanna try it again. I put my hand on his crotc,h rubbing his cock. He was a little hesitant but I convinced him.

I unzipped his pants and out came his big dick. It was around 8.5 inches. Right away I started sucking him off real good, taking it all in my mouth. Fuck, he was loving that shit. All I could hear was his moans as I sucked him off.

Since we were in his car, we didn't have much room so we took it to the rec room since he had the keys. We went in and went to the couch that was there. I had him naked in a second. Right away I was going down on him again, eating up his big dick. As I sucked him off I stared to get naked and I was rock hard and I was jerking off. Then he took over and started stroking my hard dick.

After a while of sucking him off, I told him to bend over and I started to eat out his ass. Fuck, his ass was perfect, nice and smooth and it tasted real good. I was so fucken turned on that I told him that I wanted to ride his dick. So he sat on the couch and I sat on his dick, slow a first but once it was all in he stared to pound that dick in me. We decided to change positions after a few minutes, now doing it doggy style.

Fuck, he was fucking me real good. I loved hearing him moan and telling me that I had a tight ass. His dick felt real good in me. After a while he got tired so I took over. I started to suck him off again. Then I moved down to his balls then his ass. He liked how I was eating his ass out. He was moaning real loud. I didn't give a fuck if anyone heard us.

Then I asked him to suck me off a bit, I thought he was going to say no, but he went for it. Damn, he was a natural at it. We laid on the couch 69 style, eating up each other's dicks. After a while I told him I wanted to ride him again
He laid down and I sat on his big dick. Damn, I wish we had another guy with us, so I could have been sucking him off while I was riding his big dick. So he was giving it to me real good, all you heard was our moans and the sound of his dick pounding my ass. After about 10 minutes I was going to bust my nut and I did shoot all over his chest. He kept on pounding my ass for 5 more minutes until he was ready to nut. Then he pulled out and I felt his warm load all over my ass.

He was rubbing his still hard cock against my asshole. I told him to put in me again. Fuck I could feel his warm nut as he was going in. He was fucking me nice and slow for a few minutes.

We laid on the couch for a bit and talked. Then I told him I had to go and he told me hope we could do it again. I was like, Fuck yeah bro whenever.
Every time I go kick it with my friend we meet up after and fuck around. Fuck, I'm so hard right now just thinking about all the times we hooked up.