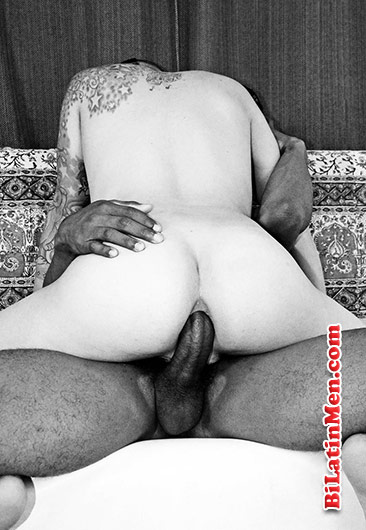 I never told anyone this story about me and my homeboy. Just let me describe us. I was 18, 5'11", 170 lbs., pretty boy style. My homeboy was 26 about 5'9", 180 lbs., with a 32 waits with perfect skin, short black hair and eyes that would make you smile.
My homeboy came to live with us for one month since he was having drama at home with hsi wife. I was coming home from school. I saw my homeboy waiting for me outside my house.
He came up to me, grabbed my hand, and hugged me and said, "Hola mijo, how are you?"
He then hugged me. I had a conversation with him. We talked a long time about the problems he was having with his wife, and asked if he could stay with us. I said of course because my dad doesn't trip, he lets me have freinds over.
We had 2 guest rooms, but since both were empty with no furniture, my dad said he would be sleeping in my room. I got a bit exited and walked to show him my room. I had some posters of guys in my room, so he quickly knew I was gay. He told me he always wanted a gay friend. I smiled and left while he unpacked.
For the first couple of night it was nothing existing. We would just sleep.
But one night, I got home a bit late. I walked thru the door, and my homeboy was sleeping. You could see he had a boner thru the blanket. It looked huge. I went to shower and got ready for bed in the bathroom. I came back into the bedroom, and he still had his boner.
While I was getting in bed, I woke him up, and he told me, "Ay mijo, ya me levantaste." (Oh son, you woke me up.)
We started talking about his work and about his wife. He told me, "Ay mijo, como quisiera que mi esposa a benido con migo para que me ayude con este que no quiere dormir." (Oh son, I wish my wife would have come with me, to help me with this one that doesn't want to go to sleep.)
He was moving his dick around, showing me what it was he was talking about. I told him, "Pues no soy tu esposa, pero talves te puedo ayudar." (Well, I'm not your wife, but maybe I can help you.)
We started kissing. I reached for his hard cock and dang it was huge. I wanna say it was about 9" and fat. He was getting pre cum all over my hand. I went down and started sucking on his cock and playing with his huge shaved balls.
After about 4 minutes he told me, "Hijo vente." (Son, come here.)
I went up to him. He took off my underwear and grabbed my ass. I told him it's been awhile since last time I was fucked.
He said, "No te preocupas mijo." (Don't worry, son.)
He began to kiss my ass and ate me out for 10 minutes. He told me, "Estas listo?" (Are you ready?)
I got on my back. He put his huge uncut cock in slowly. I couldn't take it. He tried again, and it went in finally. It felt so bomb. As I moaned, he said, "Mijo que culo rico tienes." (Son, what a delicious ass you have.)
He kissed me as I reached down to play with his balls. I could feel his cock fucking me, going in and out. We switched positions. I got on top and started to ride that Latin cock bareback.
He told me to slow down because he was about to cum, but he told me he wanted to have me with my ass in the air. So we changed positions. Once again he fucked my ass so good with that big cock. He would go fast then slow down.
Once he was gonna cum, he asked me if I would swallow his load. I said yes.
He pulled his big cock out, came up to my face and let his cum shoot all over my face. He had a huge hot sticky load. It was nice and warm. He let every last drop of cum from his cock fall on my tounge.
We went to shower and he said, "Tu eres my amigo favorito." (You are my favorite friend.)
I said shut up and hurry . He laughed. We went back to the bed, and the next morning he said, "Ya la tengo parada otra ves." (I have it hard already again.)
I smiled and I knew he wanted round 2. Good thing we were home alone this time.