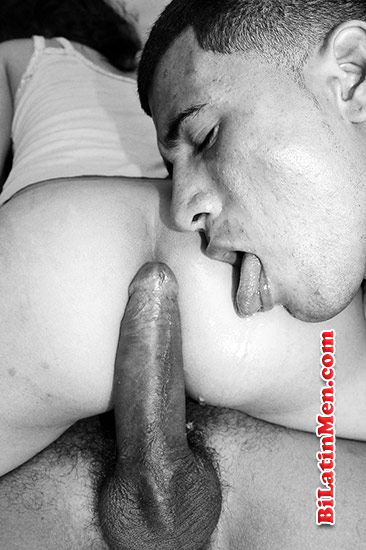 This occured in mid October 2014. I'm just writing about it because I feel like sharing. This happened with my ex Aaron who I was with for a little over a year. I was 25 at the time & I'm a 5'9", Black, Panamanian, White, & Japanese mix with 5 inches cut.
It was his birthday & he had just turned 19 years old. He's a beautiful young man with a nice body & a great heart. He's a Creole, Panamanian, & Columbian mix. He's 5'11" with a great body & a juicy delicious booty. He was also blessed with a gorgeous face.
I had planned to take him to a concert headlined by SBTRKT. I've been listening to them since 2009 when they first hit the music scene. They're from the UK & are still on the rise but I think they make invigorating music. My ex is kinda obsessed with Rihanna, but she was done with a tour by the time his birthday hit. In retrospect, it would of been much better to take him to a concert to music that he had a better connection with.
The venue opened at 8 pm, but the band didn't hit the stage until about 9:20 pm. As the nite progressed, I could tell he wasn't having much fun which made me feel bad because it was his birthday. Later he informed me that he wasn't happy because I didn't talk to him much. I found it a bit perplexing because how could he have expected me to carry on a conversation with him admist all the loud music?? But then again, there's nothing wrong at all with wanting to speak to your man.
After the concert ended, we left to get something to eat. We decided to hit up King Taco. It was my first time trying their food. I've had better Mexican food before but it wasn't half bad. We had a better time eating together than we did at the concert. All I kept thinking was that the next time I take him to a concert that I'll take him to see Rihanna & even hash out a few hundred dollars for some meet & greet tickets so he could meet that mean ass ho. I'm not hating on her because I do like her but she's mean as hell. I figured he'd enjoy that so much more & I just wanted to see his beautiful smile.
So after we finished eating, it was time to head to my boyfriend's house so I could drop him off at home. Before I dropped him, we parked in this church parking lot behind this community of apartments. The parking lot was separated by some tall hedges. We were right behind them & it was dark as well. I must say it was a good spot.
We started making out. I always loved feeling his lips on mine as his tongue massaged mine. His lips were not huge like Jay-Z's big ass mouth, but they were just the right size for some good kissing. Every time we kissed, I'd usually get hard, not just because it's usually a prelude to some good lovin but because he genuinely turned me on. It was always nice when he would begin to rub on my dick...we never really discussed it but he knew how much he turned me on. After rubbing & caressing on my dick, he'd pull it out and begin to feast on it.
I must admit that I was a man ho when I was younger so I've had a few blow jobs in my time that were incredible, but the way he sucked my dick was noticeably different than I've ever experienced before. We were in love with each other, so maybe that was the missing element from my past but whatever that spark was, it was incomparable. All I could do was smile from the pleasure he gave me. It was so sexxy because I could feel the erotic pleasure he received from making me & my dick feel so important & loved.
Every slurp & every time he pushed his head down to the base of my dick was mesmerizing. Mmmmm I couldn't help but say, "I love you," as he sucked on my dick. It was so hot when he let off the dick to reply, "I love you too," sounding a bit winded.
How could I not smile while watching this beautiful man take good care of me?? He wet my junk up real nice. He wasn't afraid to get a bit sloppy, but I loved it.
As he continued to devour my dick, I touched & squeezed on his beautiful ass. His hole was so sweet & so smooth. The way his ass was sculpted was amazing, a perfect plump booty that sent a nigguh into a frenzy. My baby boy sucked me off for at least a good fifteen minutes.
I asked him if he was ready for my dick to be inside of him. He was always eager when it was time for our bodies to become one and this moment was no exception. He lubed up my dick & lubed up his hole in preparation for us to do what we do ;).
We were in the front seat of my car so he just climbed on top of me and eased my dick on up inside of his warm tight sabroso culito. I never speak Spanish to people but on occasion, he just made me feel like speaking or writing in Spanish to him. He started off riding me nice & slow. It felt so right, making love to each other. I wish I could truly explain how ripe his sweet ass was, but I just don't have any words that would currently express the splendor that it was.
I've had great ass before him, but his ass was on a whole different level than those I graciously penetrated. Even my dick knew that this booty was something real special like a coveted jewel from a James Bond film.
Eventually, he was pounding his ass on my dick real nice & hard. The noise of his ass smashing into my dick was a pleasing sound to hear. Even my ears were aroused, just strange I know, but that's the power he had over me. I expressed to him how good his booty was and he let me know how much he loved my dick as he tightly clenched his hole on my dick like a tight hug from a loved one you haven't seen in years. Now, I've never had anyone do that to me before, and I must admit that my penis & I loved it.

I laid the seat all the way down so my back began to hurt a bit from the position because there wasn't much support on my mid back, but my boy's ass was so bomb that I just ignored it. We talked about getting out of the car & fucking outside. I was a bit apprehensive since I've never done anything like that before, but it was past 2 am in the morning, so I figured that no one would see us. So we agreed to get out of the car.
It was kind of a chilly night but when you're in heat like an animal in the jungle, you just deal with it. Aaron positioned himself with his ass sticking up with his head facing towards the car. Mmmmm it was so cute & hot looking at him bent over waiting for more of my dick.
I got behind my babe and pushed my dick inside of him. I began to pound away...it felt absolutely great. It would of been crazy if someone saw us, but I just doubt that anyone did but you never know, there's tons of voyeurs out there. He jacked off his dick as I made love to him. It was beginning to get increasingly hard to hold my juice because my dick let me know that he had been ready to bust a while ago, but I wanted to enjoy my man as long as I could.
I let him know that I couldn't hold my leche anymore & he said, "Cum inside of me baby."
I always loved when he told me to do that. It felt so good to finally release inside of him. Every squirt of cum was filled with immense pleasure as well as relief. I can only imagine how many of my babies he would of had if he was a woman.
Shortly after I was done cumming inside of him, he busted his juice too. It was glorious as I pulled out of him. My dick was still hard because well, simply put, my dick wanted more. But it was late & chilly...plus we were both tired so we put our clothes back on and I drove him home holding hands on the way there. We kissed good nite and expressed our excitement about seeing each other the next day.
We are broken up now. Life happens & sometimes relationships fall apart. I miss him, but life goes on as TuPac says LOL.
I live in So Cal so if you liked my story & would like to send me some feedback then please do so at:
kariboi89@gmail.com