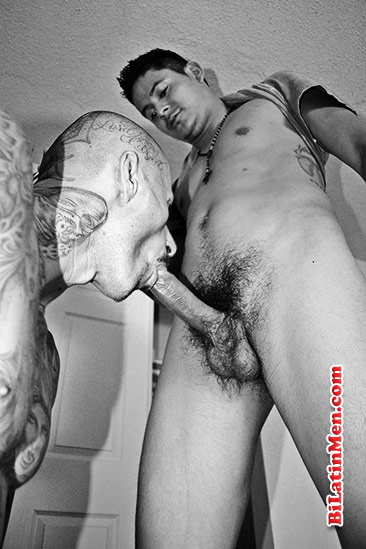 My name is Edwin. I'm Latino with a ripped bod and an 8 inch cock.
When I first went to college, I had roommate named Carlos who was so hot. He was light skinned with dark hair, 19, had a great body, bubble butt, and looked like he knew how to fuck so well. So I wanted to tear off his clothes and fuck him the second I met him. But the problem was that he was a Catholic who prayed every night, went to church on Sunday, read the bible, and worst of all have sex when got married. (The virgins are always hot).
So I kept my hands off him. I just enjoyed when we worked out together, went swimming, changed in the lockers, and when I saw him sleeping with nothing but his underwear.
This one weekend, however, I invited him over to my house by the lake because my parents were away. We watched football, drank some beer, and just had a good time. Later that night, I said that I was in the mood to go skinny dipping. He said that he had never done that before and was interested in trying. So we went out, took off our clothes and I saw his 7 inch juicy cock for the first time. We jumped in, and the water was nice and cool. We wrestled around a bit until we got out and ran back inside. We didn't bother to put our clothes back on.
We got into the house and just then, Carlos turned me around, pushed me against the wall, and he started kissing me. I asked him if he thought this was against his religion and he just said "Fuck it, I want you! I want you inside me."
So I took him to the bed room, pushed him on the bed, and got on top of him. We continued making out and I could tell he really wanted it. He even bit my lips. I kissed his bod and then sucked that juicy dick. He started to moan with pleasure. I got on my back and he started to suck my dick. The guy had some experience sucking dick.
I then pulled him in and said "I want that bubbly ass of yours" and he said "You can have it. Give it to me."
I started licking his asshole, started fingering it. He told me he wanted my big dick. I pulled out some condoms and lube from my bag and started to fuck him dog style. I went slowly in his tight ass for a bit, then he told me to go faster and even to spank him. We saw ourselves in the mirror and he said "we are so hot man."
I then flipped him over and started doing him missionary style while kissing him. He then flipped me over and started riding me cowboy style.
He then flipped me over, put on a condom, and started fucking me. His dick felt so good in my ass. I told him that he couldn't have been a virgin the way he was fucking me.
After fucking me doggy, missionary, and cowboy style, I told him I was gonna cum, and he said to cum in his mouth. So I let my warm load out on his mouth and face. He masturbated some more and squirted cum on his chest. The boy was covered in cum. We were catching our breath. I grabbed the towel and wiped the cum off his body and laid next to him.
He turned over and kissed me some more and said "you are the best roommate ever." We laughed, kissed some more, and went to sleep.
We kept our relationship a secret. He still went to church and thanked God (even during sex). His family still sees him as their straight, good-boy son. But to me, he will always be my hot naughty Catholic-boy.