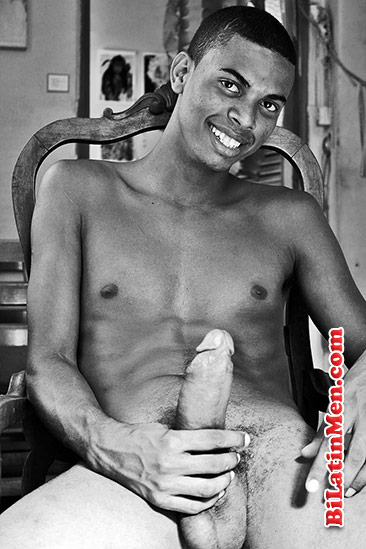 About two years ago I went to go visit my uncle in New York. He's really big into fitness, and every time I go down to NY we always work out together which is cool.
I was about 20 at the time during this visit. Walking into the gym I always get really intimidated or shy because of the other big guys in the gym, so I never really stare into anyone's face.
Well, at the time my uncle's fiancée was pregnant, and while we were at the gym she went into labor, and he asked if I would be ok at the gym while he went to take his fiancée to the hospital and I would meet them there shortly after.
It was a regular night in the gym, continued my workout and went about my business. About an hour and 30 minutes later, I called it quits and went to shower in the locker. By this time it was around 8:30 Monday night, so it was pretty empty.
As I walked in the locker room this huge 185 lbs Cuban mixed guy walked past me and kinda stared me down like he was mad at me. He had light brown eyes, chiseled body, huge feet, just a real huge Hispanic stud. I kinda just walked past him and continued to the showers.
I took a shower and it was around 9. I stepped out of the showers, and it was completely empty in the locker room. No one was around. For some odd reason I decided to take a tour just to check out the locker room.
When I reached the sauna, I opened the door and right in front of me was the huge buff Cuban guy stroking his massive cock! I kinda just stood there in shock as he gave me the dirtiest smile ever.
He said, "Come in and close the door. "
I had never been with a dude before, but for some odd reason I wanted to try it out. I guess I was feeling curious that night. He ripped my towel off and began to stroke my cock. I instantly got a hard on!
We began to give each other hand jobs. Both of us moaning and feeling on each other's chest. Sweat and precum dripping all over our bodies. He then motioned my head over to his dick with his huge hand. I instantly choked on that monster! I slobbered all over his cock, and he moaned and groaned as I watched his toes curl. His cock had to be about 9 inches!
He then moaned "fuck, papi's gonna cum."
I took my head up and fingered his ass just a little, and he shot all over his hot sweaty 8 pack!
I stood up, and he jerked and sucked my cock for about 10 min. I came all over my towel. We both sat and panted in silence for a good 3 mins. Then he looked over at me with those hot light brown eyes that almost made me cum again and said, "thank you papi " with a wink.
He smiled at me, got his towel, wrapped it around his waist and walked out....
I went back to the gym the next couple of nights with my uncle, but I never saw him again unfortunately. I wish I would have gotten his number or something, but till this day he's the reason why I am curious. I never told my cousin, my gf or anyone about this. Always a story I kept to myself until now I guess lol