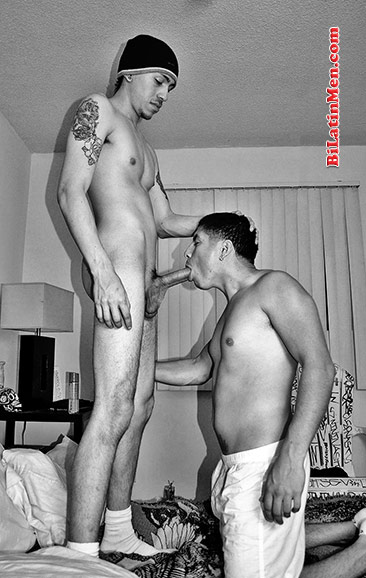 Hello,
This is my first time writing to you. I am a Native American from Southern California in the Diego area. I am 5'9", short black hair, cute face and a nice ass. I weigh 157 lbs. I'm a bottom.
I want to tell you all about how I fell in love with Mexican Dick. It all started way back when i turned 18, and I went to this big house party
with some friends. We were all drinking and having fun when this homie caught my eye. He kept staring at me and at my nice ass. I thought nothing of it and I continued to have fun with the girls I was with.
So this song came on and we hit the floor. We were dancing and having a good time. Well, someone bumped me from behind, and I felt a nice semi hard dick. When I turned around, lo and behold, it was the homie that had been checking me out. I was kinda shocked cause we were on the dance floor, but there were too many people around for anyone to see the growing member in his pants.
Ok, this homie's name was Felipe. Now let me tell you, Felipe was hot, 6'3", nice body, about 215 lbs. He was in perfect shape with nice brown skin and moderately hairy. He had a beautiful bright white smile and honey brown eyes with a piercing on his eyebrow.
So the song was still playing and the girls I was with were still dancing when I announced that I was going to go use the restroom. As I turned away, I noticed that Felipe was watching me and then he started to follow me towards the big house. I got to the restroom door, and he was right behind me.
"You scared me!" I said.
He said, "You got me horny as hell with your moves on that floor. Do you want to put them to work as well?"
I smiled and opened the door to the restroom, and we both went in.
I was a little nervous cause I didn't want to get caught, but instinct of Nature took over and soon we were making out. He was sooo tall, I loved it.
He picked me up and sat me on the counter and unbuttoned his shirt while he kissed me. He told me that we had to be fast cause we didn't want to get caught. He pulled my pants off, and he started licking my ass hole. I was in Heaven when his long tongue inserted into my tight hole.
Once I was lubed up, he stood up and unzipped his pants, and out of the hole in his boxers flopped a fat uncut Latino dick. I'd never been with a Latino, and this guy was huge. He was 8 1/2 inches long, and he had a nice thickness to him. I wanted to suck him right then and there, but then there was a knock at the door.
I panicked, and he just called out and said, "I'm busy in here!"
As soon as the person walked away from the door, he pressed his large Verga against my tight bud and started to push in.
And he whispered in my ear, "You're so tight. It feels so fucking good."
His accent alone made me want to bust a nut. We both watched as his cock slowly disappeared into my ass. Once he was in, he started to pull out and then back in.
I started to moan cause he felt so good inside me. I could feel and hear his big hairy balls slapping my ass as he was thrusting in me. This went on for a good 20 minutes till he said, "I can't hold it no more," and he started shooting globs and globs of his hot cum up my well fucked ass. As he shot in me, I started to shoot my own load all over his and my chest.
It was so hot. I was so dizzy from the climax, it took a minute to collect ourselves. When we did, there was another knock on the door.
"Hurry up, Felipe. Let's go!" the guy said on the other side.
"Aight fool, give me a minute."
Felipe slowly took out his now softening dick from my well fucked ass and all his cum slid out of me. I giggled cause it kinda tickled me as it did.
We exchanged numbers cause he wanted to take me somewhere special next time to have some fun.
Until next time…

Your native friend.
Anonymous please. Do not share my email address. Thank you.