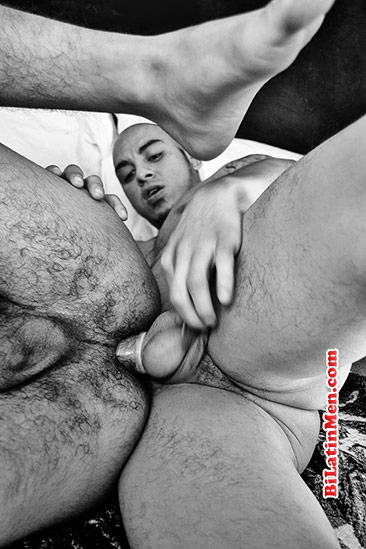 On a regular autumn afternoon I went out to get a pack of cigarettes when I ran into Mike. I had seen him several times on my block walking his white pit-bull. He was medium height, light-skinned and walked with amazing swagger. I always checked him out carefully, afraid that he would notice and lash out at me with his dog.
However, on this particular afternoon he stopped me to ask me for a cigarette. I stopped dead on my tracks and nervously opened the brand new pack of Newports. At close range, he was even more handsome. He was thin but athletic, and his voice was deep and course. His lips were juicy, and he had a killer smile. His dog was sniffing my pants and I was tense. I am not really a fan of pit bulls; they scare me.
He told me to chill, "she's a nice dog", he said.
I smiled and put out my hand so she could sniff me. She was indeed a nice dog. He said, "My name is Mike."
I introduced myself and was ready to walk away when he asked me if I wanted to have a beer at his place. I accepted and we walked toward his apartment complex. I wasn't sure what his intentions were but decided to take a chance. At first I was a little afraid that he might try to rob me (he did look ghetto after all) ha ha
As we walked towards his place I realized that Mike was a nice guy, not at all was he the hoodlum I believed he was. He said, "I've seen you around and you check me out all the time. What's up with that?" he asked.
I didn't know what to say, a sudden rush of panic invaded my face. It must have been obvious cause he said, "Relax, it's no biggie. I like when you check me out."
I was shocked; there I was standing in front of this hot papi telling me he was alright with me ogling him. We went into his apartment; he lived alone and asked me to sit down. A few minutes later he handed me a beer and sat next to me. He told me he was half Mexican, half Dominican. A dream come true.
We talked about bullshit topics, music, the weather, job, senseless conversation until he scooted over and sat really close to me; his leg brushing against mine.
It was difficult for me to breathe. I was so horny for him. He started rubbing my leg and said, "I've also checked you out. I have a thing for tall skinny guys."
I smiled and before I could utter another word, he was kissing me. His tongue brushing up against mine, his lips were soft, and warm. I could taste his tongue, a musky taste of beer and cigarette. He started caressing my face and got on top of me. I grabbed him by his firm, apple bottom ass. Then he got up. I could see a huge bulge pressing against his sweat pants. He grabbed his dog and ushered her to a room, locking the door behind. "I don't want any witnesses," he said with a smile.
He took off his hoody and I could now see how perfect his body was, wide chest and six packs that could put to shame any gym rat. He climbed on top of me and continued kissing me. He kissed my neck, my face, tongued my ears and I could feel his firm grip around the my neck. I felt my erection pulsing in my pants; I was at this point ready to do anything with this guy. He grabbed my hands and placed them on his cock. It was massive, thick, veiny and uncut. It throbbed like a beast, and his pre-cum lubricated the entire shaft.
I couldn't fight his firm hands pushing my head towards his cock until I felt it entering my mouth. It was warm and felt heavy in my mouth. It was what I call a mouth full. I heard him moan and felt him grinding his hips, pushing his cock in and out of my mouth. I would come out for air once in a while but not soon had I took a breath of air when his cock was already chocking me again.
We went into his bedroom and stripped down. He pushed me down to his bed and got on top, kissing me and caressing me. I felt his hard physique brushing against mine, his ass playing with my big cock, teasing it. I grabbed his ass again and pushed my middle finger inside. He didn't mind, he moaned and closed his eyes pushing himself up, enjoying my finger inside his ass.
He then got up and pushed my legs up. He ate my tight ass like a pro. His tongue fucked me several times, making my asshole warm and wet. He licked his fingers and pushed two of them deep inside my ass. I moaned in pain but I enjoyed it. Before I knew it he was inside me. His cock was even bigger than I thought. I felt a cold sweat running down my spine. He thrashed furiously at my ass as he kissed me. He turned me over and I got on all four, opening my legs for him. He slowing pushed his cock back inside me and throbbed slowly.
I was in total ecstasy. He was biting my neck, slapping my ass and pushing his cock deeper and deeper. I never really bottomed for many men before, but this guy deserved it. I felt him cum inside and he pulled out his cock. The condom was filled with thick white cum. I was still on the edge of cumming when he grabbed another condom and put it on my cock saying, "It's my turn now."
I fucked him hard, his ass was tight and inside it was warm and pulsated, making me even hornier. I fucked him every way possible until I came. We kissed and lay down on his bed for a while.
His phone rang and then he then asked me to get ready because his girl was coming home soon and didn't want her to find out his dirty little secret.