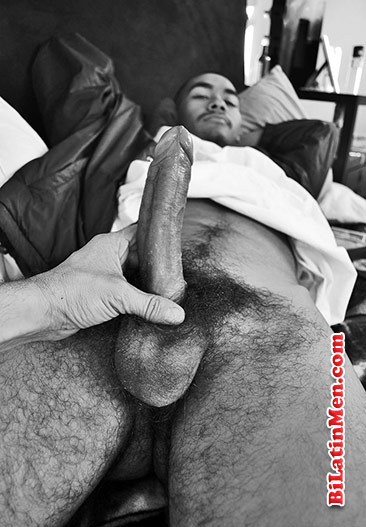 My fried Joel has been staying with me for a short time. He is Guatemalteco, 5'7", 145lbs, with a flat top haircut. He is a construction worker and fit. He has a slender body but his muscles show everywhere.
The other day he was taking a nap with gym shorts on and no shirt. I wanted to take a picture because he looked better than a lot of models. His is very sexy looking. He has no belly at all. He has a thick full moustache. His eyes are sexy kind of like deer eyes that are very tapered at the sides. He has a lot of admirers and gets looks any time we are in public. He is very down low. He has had several wives and claims I am the only dude he has been with. He says I am clean and he is not afraid of me. I am 5'11", 195lbs, with a fade, brown eyes.
I have played with Joe several times over the last several years. His cock is nice and always hard and it sticks straight up. He has decent girth and his juevos are always full of cum. Anyhow, he works hard and is tired when he gets off work. So we don't play a lot. Usually we fuck around when he has the weekends off and is rested up. He drinks beer when he isn't working. When I blow him he is okay. He measures about 6 inches usually.

He fell asleep last night and didn't even take a shower he was so tired. I let him sleep on the sectional sofa and didn't disturb him. I made the living room comfortable for him with the air on and turning off the lights. I didn't even turn the TV on, and I went to my bedroom earlier than I usually do.
This morning he came into my bedroom. He had his cock out and it was standing straight up, but it was huge! It was bigger than I ever saw it before. I had him lay down and I wrapped both hands around it and the head was sticking out. His cock was about 7.5 inches. I blew him for a minute and it made it even harder. I used some lube and he got on top of me. He slipped into my asshole easy enough and started fucking me. He was really going at it. It was about 9 days since the last time we had sex.
My state legalized gay marriage this week. It was almost like he had no inhibitions. Usually he seems reserved or like he is doing something wrong. He fucked me, driving his cock in full force and was thrusting as hard as he could. It felt so good, I was afraid he was going to make me cum. I had him slow down and push it all the way in my tight culo. He held it there and held his upper body up off of me so I could maneuver.
I squeezed his cock with my sphincter muscle and slid my ass up and down on his cock. I did this for several minutes then stopped, and I asked him if he came. He said that he did. I crawled out of bed and went to get a wet cloth to clean up with, and I brought it to him. The cold wet cloth made him jump. He said he didn't want to use the cloth. His cock was still rock hard even after cumming. He said, "quieres mas?" (want more?)
I said, "si."
He climbed back on top and started pounding my culo again. I had wiped most of the lube off of me and we didn't put any more on him this time. I could feel every inch of his hard big cock. It felt so good. I started rocking my body back and forth on his cock. He started getting into it, and he was making these little moans of pleasure which really turned me on more.
I started milking his cock again with my tight hole. He held it in while I pleasured him. He came for a second time. He gets up and goes to wash up. He was still hard. I followed him into the bathroom and asked him why his cock was so huge this morning. He said he didn't know. It was the first time I ever got his morning wood. I think I know why now his ex-wives were so jealous of him and liked his dick so much. He had to go to work. He said he had to go as he was going to be late.
I went and did my daily exercise and got a late breakfast. When I came back, he was in the driveway eating his lunch. He said, "hurry, go into the house."
I was laughing to myself. He was still horny. I asked him how long he had for lunch. He said he could take as long as he wanted and that today he didn't have to go back to work. There was no material.
So I went into the house and we got into the livingroom. I knew he wanted to fuck again, so I went on to the bedroom. He was talking all the time and followed me into the bedroom.
I quickly stripped off all of my clothes and laid on the bed. He was still talking and undid his pants. He wasn't as hard or as big as he was in the morning. But he definitely wanted to fuck me again. He slid his cock into my ass and pounded it fast and hard. I could feel every thrust and it felt good. I started milking his cock again the way he likes it. Pretty soon I felt like I was going to cum. I didn't care. I felt myself ready to cum and I let it go. I was milking him so hard with my ass that I did cum.
I was breathing hard, and he collapsed on top of me. He was breathing hard too. I asked him if he came and he said yes. We both came together! He told me that my ass wasn't as tight as it was this morning. He said it was probably because he already opened it up. I agreed with him. I didn't tell him that it was his huge morning wood that made it seem like I was even more tight. I just told him that he needed to fuck me every morning! LOL!
It was like it was totally cool getting fucked by him. I don't have no intention of getting married to him. But the gay marriage being legal made me not worry about anything. I let go and really enjoyed myself. He is laying beside me on the sofa as I write this and he keeps winking, thrusting his pelvis and making the sounds like a dick fucking a wet hole. I think I will give him some more of the attention that he keeps hinting at! LOL!
You can use my email, if anyone wants to send me an email.