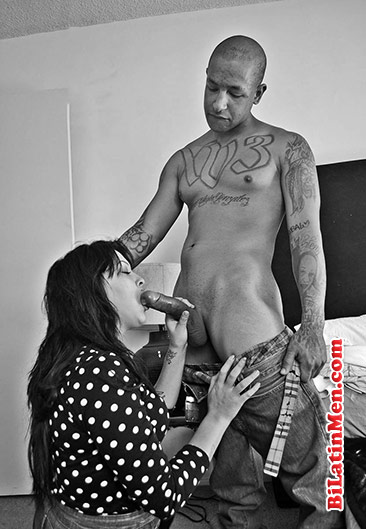 Last night was the most amazing night of my life. I live in Vegas, and I'm a VIP host at a local club.

Well, as I was filling the ice buckets, I felt a guy tap my shoulder, so I turned around and saw this sexy cholo with lots of tats looking at me. He wanted to know where the men's restroom was? I showed him and he was on his way.

Less than 2 minutes laterm he was sitting at the bar near the area I was working. As I was walking back to my spot, he was looking at me with a smile. I felt nervous cause I was in my go go uniform, but I smiled back.

As I was signing out, he asked me If wanted a drink. I said why not, I'm done working.

I sat next to him and we had a convo. He was telling me he didn't know this was a gay bar, only found out when he saw two dudes holding hands. I laughed and said yes.

Anyways, the night was getting late, I was tipsy and told him I was going home. He said, Let me come home with you? I laughed... He was serious. He said, I want to get to know you more mami. So I said, okay!

We got in my mercedes and drove to my pad, not far from the club.
He came in, and I made us some food and turned on some music. Awhile later, he got close to me and gave me a soft kiss. He said, "You're really beautiful, I feel special you brought me here."

Then we kissed some more and slowly he reached my boobs. He said, Mmm and took off my shirt... then he snapped my bra and started sucking my boobs and that made me feel super excited and horny.

He started to put his hand in my skirt and SURPRISE!!! He didn't feel a pussy, he felt a pito. (Lol) He stopped for a moment and was like, DAMN you're fucking pretty to be a man. He was like, I'm straight, now I'm curious....

So we kissed some more and he took off his clothes, and I took off my shirt and left my thong on.

We moved to the bedroom, and he got on top of me/ I felt his hard dick rubbing against me. He told me to turn around, so I did. He began to kiss me all the way down to my ass and pulled my thong to the side and said, Let me eat your ass like it's a pussy. OMFG! He knew what he was doing and had me moaning and gasping.

Then he slid his finger in my asshole, and began to finger me while he was stroking his hard meat. Then he stopped and I got up and started sucking him good and deep. I was deep throating him, swirling my tongue up and down and he too was moaning a little.

After a while he said I'm ready to feel how tight that boy pussy is... and slid in and we began to fuck like cazy. Every position imaginable!

I told him I was cumming, and he fucked me harder til he to busted. He laid down next to me and rested.

We got up later, took a shower together and cuddled back in bed. He told me he moved here from SGV two weeks ago and didn't know anyone until now. Newly single and a father of one, he said he heard about trannies but never met one in person. He said, he would date a passable one like me. That was a hint!

Towards the evening he said he was to go home and get ready for work. We exchanged numbers, and now we hang out a lot, trying to see if we're compatible.

Email me for more info papis @cortesb70@gmail.com