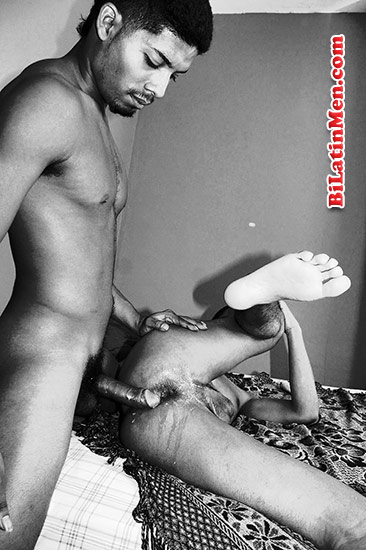 'm Puerto Rican, 6'1", 8.5 in thick uncut.
i've sucked a few cousins off growing up. things didn't get serious up until a few years ago when i had my older cousin Pedro move in with me bc he was going through a rough patch. he's 5'9", 8.5 uncut. tatted all over. nyc thug type.
before we fucked for the first time, he would only walk around in loose fitting boxers and grab his dick all the time. i would then walk around in a tank top and tight fitting boxers-briefs, to show off my ass. he would look and i would look, but we never said anything or acted out.
one night i came home from the club drunk. when i got in, it was obvious he was watching porn, but i ignored it and went to take a shower. when I got out he was still on the couch with a pillow in his lap. i said good night and went to bed.
i knew it was going to happen, but i had to wait till he put his porn on again, wait a little and then poke my head out of my door. and that's what i did.
He saw that i was standing in my doorway, but he continued to stroke his dick starring at the tv. i said "do you need a hand?"
he said "yeah."
i didn't need to be told again. i grabbed my cousin's big uncut dick and started to shove that shit down my throat immediately. he moaned and groaned. he grabbed my head and started choking me with his cock. i was in love. he flipped me over and started to eat my ass without me asking.
he spat on his dick and forced his raw meat in my hole. he came inside me almost instantly. he lived with me for about 3 months after that, and we fucked several times a day. we walked around naked, took showers together and when he finally let me fuck him raw, that was it.
we have a game now, who can hold the most cum in their ass. he'll fuck me and nut in my ass and then we flip. i'll load him up, and then we'll flip again till our asses are so full we are literally dripping with cum bc we can't hold anymore.
when my uncle Pito got involved, i was in heaven. my uncle is 5'7", 8 in uncut, tatted up. my uncle and i would blow each other when i was a teenager. i told my cousin this and he didn't believe me.
my mother is one of four. my cousin is the son of my mother's sister. so he is our uncle, not my cousin's father, though that would have been hot too.
when he got to my place we started drinking, and my uncle started sniffing his coke. he went to the bathroom to piss. That's when i grabbed my cousin and pulled down his shorts and started blowing him.
my uncle stepped back into the living room and was shocked, but he didn't get mad. he whipped out his dick, and said "I love my nephews" with a grin. i started blowing them both and rubbed their dicks together, putting both of them in my mouth.
my uncle stood me up and started blowing my cousin and me. we all dropped to the floor and formed a sucking circle. all of us with our cocks in each other's mouth. it was amazing.
i forced my unlce up and turned him over on the couch. he was on all 4s, and i started eating his ass out while my cousin ate mine. without warning my cousin slams his huge 9 inch raw cock in me and starts pounding away. my uncle just shoved my face deeper into his ass and said "come (eat), get that hole ready for your dick."
i was soo fucking horny. i was tongue fucking my uncle's hairless hole while my cousin slapped and rough fucked my hole. my uncle slid to his knees to suck me off and to get my dick wet, and he did a great job.
he hopped back on the couch and told me to stay still. it was kinda hard since my cousin was fucking me harder and harder. i just stood there with my fat 8 inch uncut dick at full staff. he slowly pushed his ass on my dick. i didn't have to guide it in and neither did he. i ate my uncle's ass so good that my dick just slipped right in, no hands, lol.
my uncle started to fuck himself with my dick, and my cousin continued to plow me. i was in total bliss. my uncle's ass felt so fucking good man, im pre-cumming just thinking about it. his hairless muscular ass felt like he's done this before.
my cousin stood still and i started pounding the holy hell out of my uncle while fucking myself with my cousin's cock. all my uncle was saying was "give me that dick nephew, shove it all the way in."
needless to say soon after we all nutted. my cousin busted inside me and i came inside my uncle. my uncle then got up and switched with me. without missing a beat, my cousin began to fuck my uncle senseless and my uncle shoved his fat ass dick in my ass and started to pound me good. my uncle finally nutted in me but we didn't stop. my cousin didn't stop fucking my uncle so i started eating my cousin's ass. my cousin soon said "yo, fuck me like you did unc."
my cousin is the puerto rican thug type, so hearing that made me rock hard again. he didn't have to tell me twice. just like he did me, i shoved my fat dick in him without warning and started fucking his hole like crazy. my cousin didn't expect that and he arched his back more and loosened up for me.
while i was fucking him, I could feel their nut already dripping from my ass which in turn made me fuck him harder. he kept saying "fuck me cuz, fuck that ass, give me that nut."
i couldn't hold it anymore and i came in his ass, and he busted another nut in my uncles ass. My cousin slowly took his dick out of my uncle's ass and i saw our combined cum spilling out of our uncle's ass. it was an amazing sight.
my uncle sat on the edge of the sofa with his hard on, and my cousin started to ride my uncle's big dick and i began to eat the cum that was dripping from my uncle's ass. my cousin was loving our uncle's dick. i started to fuck my uncle while my cousin rode him. i nutted in my uncle's ass and my uncle nutted in my cousin's ass.
we took a small break for shots of henny and then we went back at it. we fucked each other throughout the night and into the morning. all of our asses were sore, cum soaked and OPEN. we formed a circle again and started to eat the cum out of our holes. we took turns on each other again.
my cousin and i nutted in our uncle's ass again back to back. my uncle had to go and he said "I'm not letting go of my nephews cum. imma hold this shit in till i get back home."
after he left my cousin and i continued to load each other's asses. that was the only time that happened and i would love for it to happen again. only this time with both of my 2 uncles and cousin. that would fucking epic. we called my other uncle chubs, but he is thin and toned. i wonder if this whole time we were referring to his chunky dick and didn't know it. lol. i can't wait.