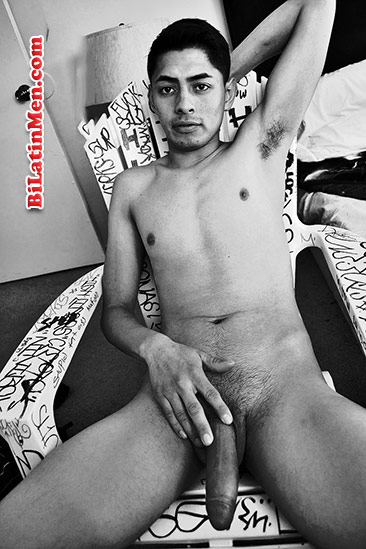 So it was a typical work day, and i was thinking about how i was gonna get through my shift. I was a closer, so it was only me and my manager who closed.
So i was stocking in the back, and I was bent over. He walked past me, and he accidently bumped into me, and i felt a huge bulge against my ass.

Now let me describe my manager: he's hispanic with a built body and with tattoos. He's in his early 20's and looks like a gangster.
Anyways, i turn around to see him smiling at me. He winks at me and slaps my ass, saying he's always wanted my "juicy ass."

He starts rubbing his bulge against my ass, and we hurried and finished our work and left. We went to a hotel, and then when we were there i started sucking his dick. He had a real thick uncut pito with a big bush of hair. His bush smelled so clean when I buried my nose into it when I deep throated him. He loved it. He fuck, "Fuck dude, I knew you were gonna be a good cock sucker. You suck better than my girl. Suck them balls too."
He mouth fucked me hard and moaned like a man. He was acting real horny like he hadn't fucked in days.

Then he stood up and took off his shirt. It revealed tattoos.
He got me by my head and started mouth fucking me. I could taste the pre-cum. I'm not kidding it tasted slightly like caramel, and it made me hungrier for him. I buried his cock deep in my mouth and let some of the precum drop into my throat. I was making my throat like a pussy for him to fuck, since he likes pussy. I was moaning like a bitch in heat. It was amazing.

Then he laid me on the bed and started fucking me doggy style without a condom. It felt great to feel his cock bareback in my asshole. I hadn't been fucked in months, so my asshole was tight, so that hard stiff cock felt so good in my tight wet tunnel. He kept spitting for lubrication as he fucked me. His dick was hard as fuck, like it was mad at me or something, I had never felt a cock so hard in my life.

He had me moaning like crazy, and he would slow down then speed up and then he told me to ride him, so i did.

I was jumping up and down on him and he would rub my ass a lot, grabbing it like a girl's ass. He told me, "I'm in love with your ass," and he rotated his hips so that his dick made circles inside my tight asshole. He was driving me crazy with his fucking super hard cock.

This lasted another 15 minutes, and he was going really hard, tearing my ass up, banging my head against the headboard of the bed, and i saw a vein in his neck, then he started moaning and nutted a huge long load. It was amazing.
Afterwards we messed around a couple more times, but then they transferred him, and we lost contact.