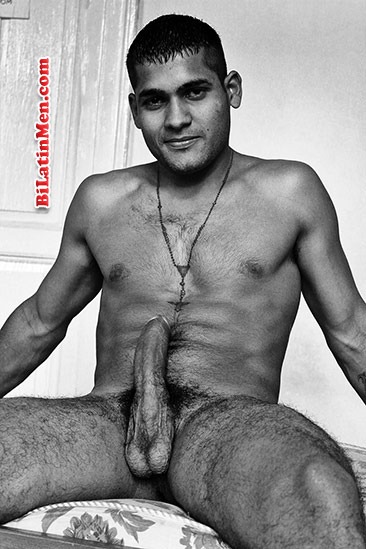 Juan and i continued to talk and became better friends. He called me up a couple of weeks later, telling me his wife left to mexico for 2 weeks and asked if i wanted to hang and have a drink. Juan is a very good looking man from Jalisco. He is tall about 6' with short brown hair, green eyes, a gotee, light skinned and in shape.
Anyways, I headed to his house with a 24 pack of coronas. It was all cool in the living room.We drank around 6 beers each when he asked if i remembered what we did a couple of weeks ago. How could i forget that?! It was an awesome dick!! I said i did but what about it?
He asked if i wanted to try it again. I did want to, but i told him no. He asked why not, and i told him cus what would happen if we get caught?! I only do this on the DL. He said we wouldn't get caught, and with that he got up headed to the door to make sure it was locked.
As he was walking back, he made a head gesture to follow him. As we headed to his bed room, he took his shirt off and unbuttoned his pants. We got to his bedroom and he just let his pants drop. He said for me to take my clothes off too and so i did.
He said," ven y quitame los calzones?!" (come here and take my underwear off)
I kneeled down and pulled his underwear down to reveal his beautiful meat just hanging there waiting to be serviced. I was worshipping this man stallion in front of me. He was about 9.5" or 10" just big, fat, juicy, hairy, with foreskin and a big pink head.
He said, "dale unas mamadotas ami garrote como el otro dia pues!" (suck on my log like last time!)
I didn't hesitate and just grabbed his manliness and started sucking it. His manly scent drove me insanely hornier. His balls were hanging low. I pushed him to his bed til he sat down. I told him to lay down and enjoy it. I sucked on his balls and gootch, then moved to his love tool.
He was saying, "que bien haces eso! Que pues?! Me vas a dar las nalgas?!" (you're so good at that. So what?! Are you gonna give me some ass?!)
I was thinking to myself, i thought you would never ask! I said, "Simon!" (yeah).
He got up from the bed and had me lay on the bed. He took charge and just had me with my legs up in the air while he looked for my lil pleasure-giving hole. I felt his fat dick head on the entrance of my lil pleasure hole. I felt my hole being invaded by a thick head forcing itself in. I was in a lil pain cus his head was enormous.
He was saying, "hora si te voy a meter toda esta verga estilo jalisco! Vas a ser mio y te vas acordar de mi cabron!" (now i will fuck you jalisco style. You're gonna be mine and you will remember me fucker)
I didn't reply. i was enjoying every inch he had to offer me. His hips started moving faster and faster, thrusting his love tool into me. He pulled out and put me on all 4s on the floor. This man stallion got behind me and found my slippery love hole and filled it back again with his giant love tool. He was really pounding me deep and hard which i liked. He was moaning loud and so was I.
I told him, "HAY QUE RICO COJES!! NO PARES DE COJERME. ESTA RICISIMA ESA VERGA QUE TIENES!!" (OH WOW YOU FUCK ME REALLY GOOD!! DON'T STOP FUCKING ME!! YOUR DICK IS JUST AWESOME)
It got him going harder and faster, making me squeal with each thrust. I would squeeze his dick with my ass which drove him hornier.
He was saying,"QUE RICO LO APRIETAS. YA QUERIA PROVAR UN CULITO ASI! MI VERGA LE GUSTA TU CULITO!" (OH WOW, YOU SQUEEZE MY DICK REALLY GOOD. I'VE BEEN WANTING TO FUCK A LITTLE ASS LIKE YOURS! MY DICK LIKES YOUR ASS)
I didn't reply. I just kelp pushing myself against dick, ensuring i got every inch in my ass for his pleasure and mine. He was going faster and faster, and i felt him tense up. I knew he was about to shoot his load.
Then he was yelling, "HAY TE VAN CABRON!!...... HAAAAAAYYYYYY!!!!!!! MMMMMMM....... HAAAAAAYYYY!!! QUE RICO ME VINE!!" (HERE IT COMES FUCKER!.....OOOHHHH!!! MMMMMMM......OOOOHHHHH!! I CAME REALLY GOOD!!)
I felt load after load of his love juice shot inside my ass. I was a bit sore from the nice ass pounding i got from this man stallion. I enjoyed every inch tho. I was still hard so as i got up to clean up. He kneeled and sucked me off. It didn't take long for me to nut all over his face. As i nutted, my ass also started leaking his love juice.
I cleaned up really good and headed back to the living room to watch tv and finish our beers. I fucked him every day (at his request) til his wife got back.
He asked me to fuck him once, but he wasn't able to take it. He said it hurts too much and since he is bigger than me, i couldn't hold him in place to show him. Every now and then we hook up while our ladies go shopping. The end