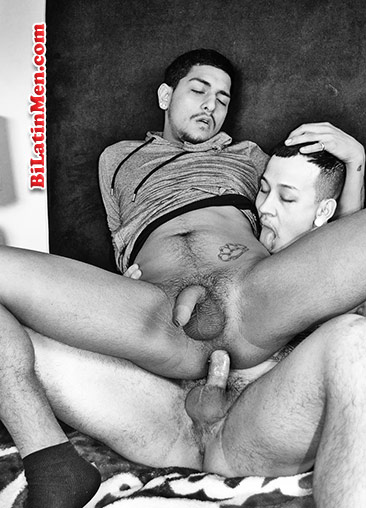 I met him at a friend's house at a party. We talked and had a couple of beers. His name is Juan, and he is from Jalisco. He is a very good looking man. He is tall about 6' with short brown hair, green eyes, a gotee, light skinned and in shape. He spoke very little english. He was perfect.
Well the party was coming to an end. He brought his wife, and i brought my GF with me. We became friends and exchanged numbers. I left the party with my GF.
The following weekend he texted me to go over for a cook out. He is a soccer fanatic and invited me to his house cus Mexico was playing El Salvador. I really don't like soccer, but i went anyways. My GF went to the cookout and we ate. Then my GF and his wife left to go shopping.
I took a 24 pack of coronas and just started drinking. They left and we were there drinking. Well, we were inside the house, watching the game, and i drank like 3 beers and i had to pee. I asked where the restroom was and he told me.
I went to pee and came back and got my beer. He wanted to pee now, so he left. He came back, sat down and again started to watch the game. He asked if i wanted another beer, and i said yes.
As he was coming with the beers, my GF texted me. I looked down at my phone in my hand, and i had the other hand raised so he could give me the beer. I was not paying attention, so instead of putting the beer in my hand he rubbed his dick with it. I freaked out and pulled it away.
I could see it in his eyes that the beer had gotten him horny. He didn't say anything, just unzipped his pants and pulled out a semi-hard cock. That dick was beautiful. It was big, fat, juicy, hairy, with foreskin and a big pink head. It was about 9.5" or 10" after it was fully awake. He said,"saca la tuya!" (pull yours out!)
I did pull mine out too, but it's not as big as his. Mine is about 7.5 thick, hairy and dark. He was telling me, "no le vayas a desir a mi vieja!" (don't tell my wife!)
I told him not to tell my GF either.
He sat down on the couch and pulled me down so i could suck him. I asked to stand up so i could unbutton his pants. I pulled them to his ankles. I was totally amazed!!!
He took his shirt off and he was completely naked. This man was a man stallion. He had everything in the right place and just enough of everything. His dick was just asking to be sucked. He stood in front of me with that nice cock just staring at me. He pulled his skin down, and his pink head looked so yummy. I got a wiff of his manly scent. I couldn't take it any more, so i grabbed his tool and stuck it in my mouth. It was so tasty
I put my hands around him and on his butt. He had nice hard buns. I would push him towards me so i would not miss an inch of his love rod in my hungry mouth. I tried my best to deep throat it, but i couldn't. I guess it was good enough for him cus he was just enjoying it and was moaning with pleasure. His eyes would roll back and his toes would curl with pleasure.
He was saying,"QUE RICO LA MAMAS!! MAMAME LAS BOLAS TAMBIEN!" (YOU SUCK IT SO GOOD. SUCK ON MY BALLS TOO!)
I obeyed. I was jacking off, but he told me to stop cus he wanted to try to suck dick too. He pulled out of my mouth and sank to his knees to service my cock now. He didn't know how to, but it was ok. Just seeing him with my dick in his mouth was HOT!! He did exactly what he told me to do to him. It was feeling good.
I was about to nut, and i pulled out but he said no just to cum in his mouth. He was like, "echamelas todas en la boca. Sabe bien chingona tu verga! Con razon tu novia esta contenta!" (Throw all your cum in my mouth. Your dick tastes really good. No wonder your GF is always happy).
I nutted all in his mouth. He swallowed it and stood up for me to finish on him. I got back to that baby maker and sucked the cum out of it!
He was screaming,"HAY TE VAN.....COMETELAS TODAS!!! AH... AH... AH... MMMMMM! HAY QUE RICO ME VINE!!" (HERE THEY COME....SWALLOW THEM ALL!!! OH...OH...OH...MMMMMM! I CAME REALLY GOOD!)
I swallowed his baby batter and made sure none of it went to waste. He was like,"te gusto la mamada?!" (did you like the blow job?)
I'm like, "simon que si! Estas buenisimo!!" (of course i did! You were great!!)
I pulled my dick back inside and zipped up, then i helped him dress like if he was a little kid. I was holding his underwear so he could just step in. I pulled them up and said good bye to it with a quick lil blow.
He said,"como que adios?! Lo vamos a volver hacer otra ves pero la proxima ves me vas a dar las nalgas por que ya vi que se te miran bien buenas cuando fuiste a miar!" (good-bye?! We will do it again but next time i want your ass cus they look really good when you went to pee.)
I said ok.
As he buttoned up his pants, his wife and my GF drove in the drive way. We continued watching the game and drinking. We finished the beer and i left. I was gonna go to bed when i got home, but my GF wanted the dick, so i showered and got lucky again.