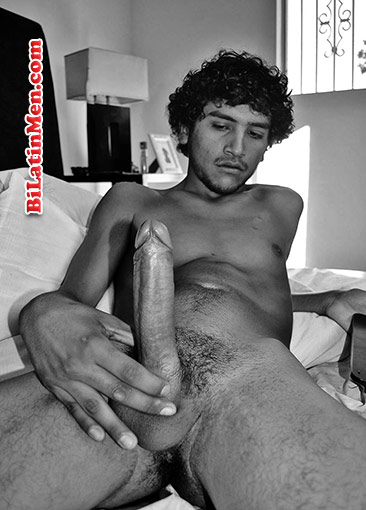 Don't post my address.
I met this fool at the bar through a friend that goes to the gym where i go. His name is Ricardo and he is Mexican, but not too good looking. He is thin, tall and very dark cus he works in construction. He has sad looking eyes, but a nice smile and a gotee. He is very friendly and likes to talk.
So we're drinking at the bar, just having a great time when he said it's time to go. He was somewhat drunk already and it was dark already. I had just gotten there maybe 30 minutes before, so he asked me to drive him home cus he was too drunk to drive.
As i was driving him home, he told me his friend (my gym friend) talked to him about me. He asked me if it was true and i asked him which part?!
He said, "dijo que mamas la verga bien rico y quiero saber si es verdad?!" (he said you suck dick really good and i want to know if it's true?)
I said i didn't know what he was talking about.
He said,"como chingados no vas a saber?!"( how the fuck are you not gonna know?!)
I was a bit nervous cus this fool was being ghetto and shit. He got my hand off the steering wheel and placed it on top of his dick still with his pants on. It felt kinda big.
He was like,"quieres verla?!" (you want to see it?!)
I was like, Yeah pull that shit out.
I turned the lights on inside the car cus there was no way i was not gonna see his baby making tool. His dick was nice, thin, long, hairy, and dark with lots of foreskin. It was about 7.5 maybe 8. Mind you, im still driving but now with one hand on his dick.
He told me to drive to this one place he knows where it's lonely and dark. As i was driving there, i was jacking him off. He just laid back and enjoyed the drive. We got to that place, and i put his car in park and turned it off.
He just got me from my hair, pulled me down to where his yummy part was. I had to unbuckle myself first. I smelled his meat, which to me a manly scent is a major turn on for some reason. I pushed the foreskin down to unhide his mushroom looking goodness. I made him pull his pants and boxers all the way down to his knees so i could have his balls too. His balls were average but also hairy.
I was teasing him by just licking the head of his baby maker. He was pushing my head down there just eager for me to suck it. I had to pull my dick out also. I was horny too. I'm about 7.5 and thick. I was just teasing him until i just started going at it.
He was saying," HAY! HAY! QUE RICO ME LA MAMAS! CHUPAME LAS BOLAS CABRON......CUPALASSSSSS!!!! HAY QUE RICO MAMAS!!" (OH! OH! YOU SUCK IT REALLY GOOD! SUCK ON MY BALLS ASSHOLE........SUCK THEM!!! YOU SUCK REALLY GOOD!!)
I went down to his balls and gootch while i jacked off. He was enjoying every second. I moved up to his dick which now he was face fucking me.
He was saying,"COMETELA TODA CABRON!" (TAKE IT ALL ASSHOLE)
I knew he was about to blow up so i continued to stroke and suck his yumminess. He was saying, "HAY....HAY....HAY....ME VENGO, ME VENGO!! COMETALAS!! COMETE MI LECHE!!" (OH....OH....OH....IM CUMMING, IM CUMMING. EAT IT!!! EAT MY CUM!!)
I swallowed and kept churning his dick to ensure i got all the goodness out if it. His cum tasted nasty cus of all the beer.
Around that time, i came all over his car. He was telling me after that,"no le digas a nadie que me la mamastes!" (don't tell anyone you sucked me off).
I told him too not to tell his (our friend) friend either. I drove him home and by the time we got there he was asleep. His wife thanked me which now i felt kinda bad but nonetheless it is what it is.