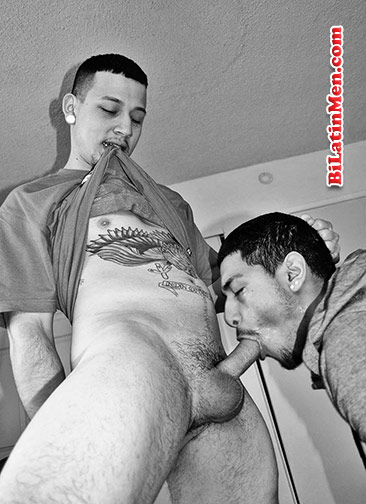 What's up guys. It's jay. I'm back with another story. I previously told two other stories. Check em out if you haven't already.

WELL ME AND RICARDO ARE STILL TOGETHER, AND THIS STARTED ABOUT TWO WEEKS AGO. HE TOLD ME THAT ONE OF HIS CO WORKERS TOLD HIM I HAD A FAT ASS.
WE JUST LAUGHED ABOUT IT BECAUSE IT'S NOT THE ONLY TIME WE HEARD THIS. SO THE NEXT DAY RICARDO GOES BACK TO WORK, AND THE GUY ASKED HIM, HAVE WE EVER DONE A THREESOME BEFORE.

HE SAID, YEA WHY?
HE SAID, I WANNA DO A THREE WAY WITH YOU GUYS.
BY THE WAY HIS NAME IS NICK. HE'S 6'4", 220 LBS., REAL BUILD. HE ALSO DID 6 YEARS IN PRISON. HE'S SUPER TATTED LIKE MY BABY RICARDO LOL, AND HE'S PACKING 9 INCHES, UNCUT HAIRY DICK AND BALLS AND A NICE ASS.

ANYWAY, RICARDO ASKED ME, WOULD I WANNA DO IT.
I SAID, YEAH.

SO HE CAME OVER SATURDAY NIGHT, AND WE STARTED TALKING SHIT, SMOKIN, AND DRINKIN. THEN HE WANTED TO SEE ME AND RICARDO KISS, SO WE DID AND THAT GOT HIM HARD QUICK.
HE ASKED, CAN I KISS HIM?

SO I MADE OUT WITH HIM WHILE RICARDO WAS BEHIND ME RUBBING HIS DICK ON MY ASS. WE TOOK OUR CLOTHES OFF, AND I STARTED SUCKING RICARDO AND NICK. THEY BOTH TOOK TURNS FACE FUCKING ME.

RICARDO GOT BEHIND ME AND STARTED EATING MY ASS OUT AS I DEEPTHROATED HIS CO WORKER. I STARTED LICKING HIS HAIRY BALLS THEN HE LIFTED UP HIS LEGS AND I STARTED EATING HIS ASS OUT. ALL YOU HEARD WAS MOANING AND SLURPING.

SO NOW RICARDO STARTED FUCKIN ME. WHEN RICARDO GETS HORNY, HE'S A BEAST.

SO NICK STARTED SUCKING MY DICK, AND IT FELT GOOD WITH A DICK IN ME AND MY DICK GETTIN SUCKED ON. SO THEY SWITCHED: NICK ATE ME OUT FOR A FEW MINUTES, THEN HE SLID HIS HUGE UNCUT COCK IN ME AND STARTED FUCKING ME LIKE IT WAS HIS LAST TIME FUCKIN.

HE STARTED SLAPPING MY ASS HARD WHILE RICARDO WAS FUCKING ME WITH HIS DICK, SLAPPING MY FACE WITH IT. I LOVED THE WAY IT WENT DOWN MY THROAT.
I WAS LOSING MY MIND CAUSE I BUSTED A NUT AND I DIDN'T EVEN TOUCH MY DICK AND THAT MAD THEM GO HARDER.

NICK SAID, RICARDO I LOVE FUCKIN YOUR BITCH.
RICARDO SAID, HELL YEA, FUCK THAT SHIT HARDER. FUCK EM.
IT WAS SO LOUD WITH ALL THE SMACKING,YELLING, AND MOANING.
THEN NICK SLID HIS DICK OUT OF MY ASS AND TOLD ME TO SUCK HIM. HE WANTED TO CUM DOWN MY THROAT. HE STARTED FUCKING MY FACE. MEAN WHILE RICARDO WAS SLAMMING HIS DICK INSIDE AGAIN TO FINISH UP.
NICK YELLED, I'M BOUT TO FUCKING CUM, SWALLOW IT. I LOVED THE WAY HE SHOT HIS LOAD.

I SWALLOWED A DAMN NEAR FUCKING GALLON OF HIS NUT, WHILE RICARDO WAS FUCKING MY BRAINS OUT. THEN HE BUSTED ALL IN MY ASS, THEN HE PULLED OUT, GOT UNDER ME AND TOLD ME TO SIT ON HIS FACE.
HE ATE HIS CUM OUT OF MY ASS, AND IT FELT GOOD.

SO WE ALL HEADED TO THE SHOWER, CLEANING UP.
WE WENT BACK TO THE LIVING ROOM AND NICK AND I STARTED GOING FOR ROUND 2, BUT THAT'S ANOTHER STORY
LET ME KNOW WHAT YOU GUYS THINK OF MY STORY AND E-MAIL ME AT league_kappa@yahoo.com
LOVE SOME NAKED PAPIS ;)