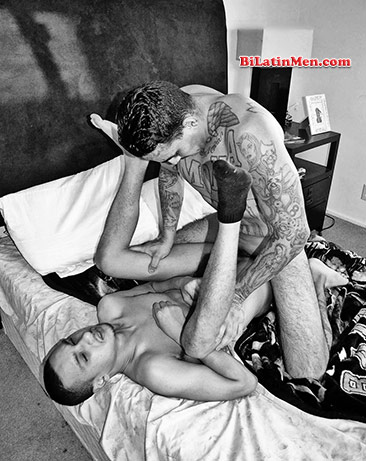 Please don't include my email address.
I've known this fool for a long time from my old job. He dresses and talks gangster, but he say's hes not gangster. But I think he is a cholo because he has a tear drop tattoo on his eye.
His name is Jose, but everyone calls him el Lobo. He is from El Salvador. He is a tall man like 6'2" or so, bald with tats on his arms and neck. He works out and looks good. He looks scary with all the tats, but he's cool.
So this fool got my number from one of our friends which was cool. He texted me, asking me what was up and shit. It really irritated me cus he couldn't text and I couldn't understand his ghetto writing.
He finally called and asked me to go pick him up and take him to this other fool's house. I did pick him up, but he asked me to wait so I can drop him off again. He did his thing, and we headed to his place but we stopped at the liquor store to get some tequila first.
I told him I was leaving, but he insisted for me to drink a couple drinks with him. I said, Ok. I really like tequila shots. I started feeling hot as it was summer outside and hot. I was watching tv while this fool did his business on the phone.
After he hung up, he started to drink. He drank 4 shots in a row. He felt the heat and took off his shirt. This fool was buff. He was tatted up, but his shirt covered most of them on his chest and back. I told him I was leaving, but he didn't let me leave.
I asked him, Why not, and he said, Cus of this, and kissed me.
I'm like, "WTF are you doing fool?!"
He locked the door and chained it, then he pushed me back to the living room. This kinda turned me on for him to be so dominating. Of course I was pretending to resist him, but this fool is strong. On the wrestling match we were having, he tore my shirt off. He dropped me on the floor and pinned me on the floor. His knees were on my arms so I wouldn't move. I fucken loved it, and my dick started pulsing. He unbuttoned my shorts and pulled them off, then tore my underwear off.
I was nude on the floor pinned by this fool. He was wearing some of those loose shorts. I could see it in his eyes he was somewhat drunk and a lil horny. I was telling him to let me up and what was his problem.
He said, "The only way I'm getting off you is by you sucking my dick!"
He pulled his shorts down enough to show me his love tool. It was a beauty and big too. His love muscle was about 9". It was light skinned as the rest of his body. He had a trail leading to some well groomed pubes with an awesome manly scent. It was thick and with foreskin. He pulled his foreskin down to unhide his big pink head. His balls hung low and were slightly darker than his dick. They were hairy too.
He noticed I got hard, and he started jacking my dick. Then he said, "You got a nice dick too. Thick and hairy!" Mine is about 7.5 and thick.
He asked if I thought about sucking him. I was happy but pretended I was pissed. So there I was on the floor naked with a huge dick hanging inches from my face. He got his dick and forced it into my mouth. He commanded for me to give him oral pleasure which i did.
I used my tongue, making him not concentrate on me on the floor. By then I managed to push him off me. My arms were hurting. He was like," Where the fuck are you going?!"
I said,"No where fool!"
I pushed him to the sofa and pulled his shorts and boxers off. He had tats on his thighs too. He spread them legs apart so I could continue giving him oral pleasure. His balls rested on the couch cus they were low hanging balls. I popped them into my mouth to make him howl like the "Lobo" he is.
He got me from my face and started fucking me in the face. He was so horny already and talking dirty to me! He said, "Suck this dick you hungry bitch! Yeah just like that bitch!"
He was so tasty and his manly scent got me going. He pulled his big verga out and stood me up. He just got my dick, kneeled down and started to suck on my love rod. I could tell he knew how to suck dick. He was just rough with my love tool. I was enjoying the blow with my head back and my eyes closed, when I felt some pain in my ass. He stuck 1 finger inside of me while sucking on my dick. It hurt but I was liking it.
Then he stuck in 2 fingers in my tight asshole. He was saying,"Yo bitch, it's time for your ass pounding!"
I said to him, "No, it's not fool!" But in reality I wanted that cock in my ass.
He got up and pulled me into the room. I pretended to resist again. I knew this fool was bigger and stronger than me and that it was gonna be his way (which I was happy anyways).
He threw me onto the bed and jumped on, forcing me to lay on my stomach. He sat on my butt while his arms were on my shoulders with his body weight so I wouldn't move. His hungry beast was trying to find my lil hole which he found. He forced his beast in my tight lil hole. He showed me no mercy and just fucked me hard and rough. I loved every inch in there, and the fact of hearing him howl like the Lobo he is, was a turn on.
He finally laid on top of me with his whole body weight. He was talking dirty to me and just pounding my culo, drilling his big hard dick in my ass real gone, stretching my ass, giving me the fucking of a life time.
I would push my ass up while he pushed his dick down. He was tensing up cus he was pounding me faster. I felt him shoot all his baby batter all inside of me. He was breathing hard and shaking, but still on top of me with his manliness still inside.
He was still semi hard when he pulled out. His love juice started leaking which he didn't want that, so he got back on me and pushed them back inside my asshole with his cock. I lovedthat shit.
I was still hard so he sucked me off. I nutted fairly quickly. I nutted in his mouth, and he spat it out. It look hot watching a masculine gangster with my cum all over his lips. It was just an awesome feeling hearing him telling me I had the best ass, compared to all the girls and guys he's been with.
We jumped in the shower to clean up, then we headed back to the living room.
I haven't messed with him anymore, but maybe soon I might.