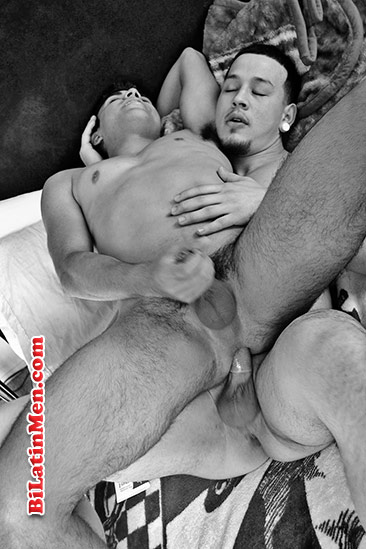 Hey guys, I'm back with another story.

This is the story about a nerd. He's Latino, 5'11", swimmers built, nice light brown complexion, 9 inch uncut dick.
A description about me, I'm 5'9", 200 chunky, light skinned, big ass.
Well, he hit me one day asking if we could hook up. And I decently said, Yes. We exchanged pictures, I saw what I liked. I picked him up from his house around 9 pm, and we were looking where we could play around for a while. So we parked in an empty lot next to a business building, and soon we were making out. (Making out is my turn on) he knew how to make out.
After having a good make out session, we got out of the car and we went behind some bushes next to a building and he started to eat me out. ( I have hooked up before but never had my ass eaten out). I was enjoying having my big ass eaten. I was giggling and moaning cause I was enjoying it. I turned around and got on my knees and started sucking on his huge uncut dick. First I was just licking the head, then the shaft, until I ended up deep throating his big ass chorizo. I could see his face of joy as I worshipped his dark uncut Latin monster.
He told me to stand up and to turn around again. So he started to put the tip of his big dick in my ass. OMG! That felt so good, but then he took it out and said, I'm just teasing you. I was so ready for him to fuck me.
So he said, Let's go to a motel where we can be more comfortable. When we got there, we got completely naked. His dick had gone soft, but not for long. As we started making out again, he started getting hard, all 9 inches of him, and I went down on him again like a sex starved animal. Licking his balls, making him very wet. Then I told him I was so ready for him to fuck me.
We started off with doggy style. So I was relaxed, as he started to put it in me bareback. He was saying, Relax, and he was grabbing my ass.
Once it was all the way in, he took the time so I would get used to the pain. Then he started fucking me slowly, working his way fast. He was going balls deep. I was breathing heavily, and looking at him in satisfaction.
After doggy we went missionary. We both had agreed it was one of our favorite because we liked to see each other. As he fucked me missionary, we were making out and he was going super fast and hard.
Then I got on top of him until we ended up in prone position. I wrapped my legs around him. He was kissing my neck, my back. We were both out of breath. We fucked for at least 2 hrs. No lie. Until he said he was going to cum, and I said, Cum inside me. And he did. I felt his warm load oozing out, running down my legs when I got up.
After we finished fucking, we went to shower. Drove him back home, we kissed.
I met with him once more, but that's not this story because it involved another person.
It doesn't have to be anonymous.