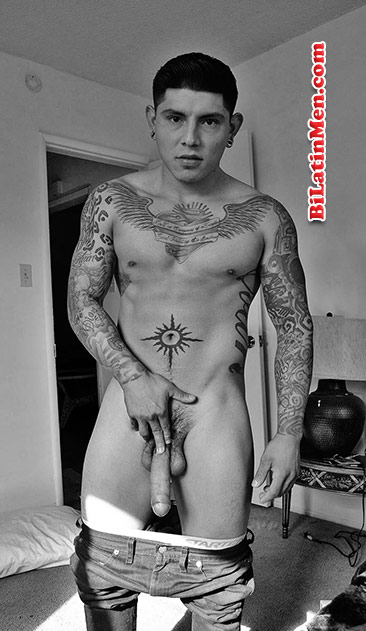 Please don't add my name.
I got into some money problem cus there wasn't any work where i work. I fell behind on my rent.
I was about to get evicted, but i managed to talk to my landlord. I told him the situation, but he said he would be by later on to discuss the payment. I was completely serious tho but seemed he had other plans of payment. I was only late 1 month, so i thought it would be ok.
My landlord is Mexican from San Luis Potosi. He is an older man who is married with grown kids. One of them was my friend. The landlord has gray hair with a thick mustache and brown eyes. He is light skinned and medium height. He is a man that likes taking care of his body.
So he knocked on the door. I opened it and let him in. We sat at the kitchen table to discuss the problem. He was like, "Mira muchacho, ami no me gusta andar con chingaderas. Tienes el dinero de la renta o que estas dispuesto hacer para pagar me?!" (Look young man, I don't like bullshit. Do you have the money to pay rent or what are you willing to do to pay me?!)
I replied, "No lo tengo todo pero lo demas te lo pago la proxima semana o me voy a trabajar contigo para cubrir el resto de la renta!" (I don't have it all but I can pay you next week or go and work with you till all the rent is paid!)
He said, "No te gustaria pagarme con algo mas para que dejes de batayar?!" (Wouldn't you like to pay me with something else so you won't have a hard time?!)
I replied, "Como que o con que te pago?! No te entiendo" (How or with what can i pay you? I don't understanding!)
He didn't replied. He just got up and unzipped and pulled his pants down to reveal a very nice piece of meat. He was a hairy man. His body hair had a touch of gray on it too. His dick was big, fat and very dark even tho the rest of his body was light skinned. It was around 8 inches and thick too. Foreskin covered his head and some still hung from the tip of his love tool.
He sat back down, just shaking his dick in his hand. He said, "Con darle unas mamadotas a esta vergota grande y dura, asi me puedes pagarme la renta! (Sucking on this big hard dick you can pay me the rent!)
I told him, Ok but I want a receipt of me paying rent. He didn't hesitate at all. He pulled out his receipt book and wrote it for the previous month and handed it to me. I compared it to make sure the signature was the same and it was.
I got on my knees in the kitchen while he was sitting down, and I popped that beauty in my mouth. I took it out and pushed the foreskin back to reveal his oozing head. It was full of yumminess but not for long. I sucked him clean. I was blowing this older man nice a hard. I have to admit that he had a nice love rod. His eyes were rolled back with pleasure. I tried to deep throat him, but I couldn't.
He got me from my head and forced me to deep throat that shit. I could smell his manly sent which drove me crazy. I sucked on his balls which he just loved. He got up from the chair while he sat me on the floor with my head tilted back so he could dip his balls in my mouth. His balls were hairy so they felt weird in my mouth but nonetheless I let him.
He sat down and grabbed me by my hair. He kept slapping me on the face with his yummy dick. He had me following it from side to side like a hungry baby looking for his bottle. I got ahold of it and started sucking on it again hard.
I could see his face with pleasure as i sucked on his love tool. He started saying, "Ay mijo, que rico la mamas! Me gusta mucho asi como lo haces!" (Oh son, you suck it really good. I love the way you do it)
I said, "Aue bueno!" (good)
I continued sucking him for about 10 more minutes. He was about to cum, I could feel it. He was face fucking me faster and faster until he pushed it all the way in to my mouth, making me gag. I felt his load in my mouth. I swallowed that shit up. I squeezed his dick from the base to ensure I got all his yummy cream out.
He pulled out and put it back in his pants and zipped up. He said that whenever I didn't have money to pay rent, he would take "this" as payment. He didn't take the money i had but the receipt was for the whole month. Lol.
I got a roommate now so I won't have to do that anymore. He still asks but nah....it's fucked up. lol the end!