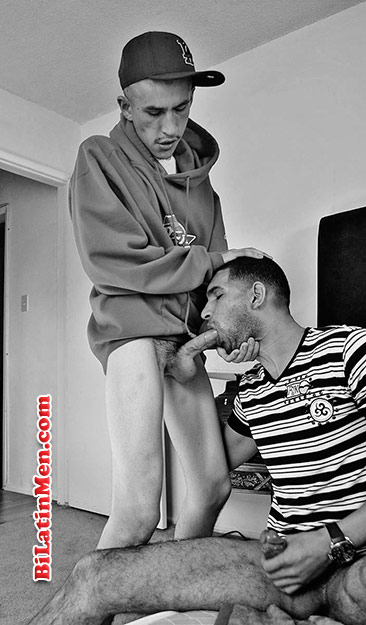 I don't want you to show my email address.
So at work, my supervisor moved me to a different area to work. This is where I met Jaime. He is from Honduras. Tall, with a swimmer type body. I'm Mexican American about 5'6",light skin with brown eyes and black hair.
So my story begins at work. Jaime began talking to me just about random things. Everyone told me not to talk to him cus he was really clingy. He seemed ok cus we talked, and he was married and with kids. We became friends, and I thought everyone was wrong.
One evening after work, he called me to go over to his house to drink. I got the address from him, and I headed to his house. I stopped for a 24 pack of beers. I got there and asked where everyone was at, and he said they went to the store to get some more beer.
We started drinking in his back yard, and at that time I didn't drink much. It was getting dark. I got tipsy with 3 beers. I remember him telling me to drink more there's plenty. So I drank.
After 3 more beers, I was drunk, but still knew what was going on. He was an experienced drinker so of course he knew what to do. I remember him saying, "Quiero miar!" (I want to pee).
He just took his dick out and started to pee. His dick was huge at least 6 inches when soft. It was uncut with a huge purple head. After he peed, he just left his cock hanging out of his pants. His back yard had a wooden fence so no one would see anything.
We started talking about girls from work. I was a lil drunk, and then he asked if I've been with a guy. I told him yes without thinking.
I noticed his dick started to grow as soon as I said yes. His dick grew to about 10". The swollen head was just asking to be sucked. He got my hand and put it on his swollen length. My hand couldn't wrap completely around his swollen manliness.
He reached inside my shorts and started to grab my now swollen dick. He said, Let's go inside, so we did.
I followed him to a room. There he started kissing me passionately and started taking my clothes off. I was shy and was asking him to stop, but secretly I wanted him to keep going.
After I was nude, he took his clothes off. He had a very nice body. Seemed like he was a swimmer or worked out. He has a huge dick that was fully erect. His uncut cock was at least 10" with a huge thick head and huge saggy nut sack. He had a little trail from his belly leading down to a big curly brown patch of pubic hair. I remember he bit my neck and left me a big bite mark.
He got on his knees, and I introduced my now fully erect cock into his hungry mouth. I'm not as big as him, but my dick is about 7.5 uncut and thick. He sucked my dick and balls with joy, and the more I moaned the hungrier he got.
He would try to get my dick all in his mouth but he couldn't. I started to face fuck him, making him tear up and gag while he played with my nut sack. He was sucking my dick and he asked me to dip my balls into his mouth. He would tongue my balls and suck on them then move onto my dick. He pushed me to the edge of the bed and said,"Levanta las piernas porque te voy a mamar el culito!" (Lift up ur legs cus I'm gonna lick your lil asshole.)
He licked my asshole really good. I love that shit. He stuck one finger in then two. I just moaned with joy. He did that for some time until he said to move up completely up in the bed. He sat on my chest while he fed me his now oozing dick. I couldn't fit it all in my mouth and he tried to make it fit. I gagged and teared up everytime he did that.
He said, "Mamamela rico! Sacame la lechita! Esta vergota va ser toda tuya!" (Suck it good! Make me cum! This big dick is going to be all yours.)
His words got me hornier, and I would suck it harder. He would squat on my face so I would suck on his balls and tongue his lil asshole. He had a cute lil bubble butt, and when he would squat I could see his lil asshole pucker up. He didn't let me finger him though. He would push his ass to my face and shake it every time I would tongue his asshole.
He asked, "Ya estas listo? Mi verga quiero culito! Te quiero dar una buena pisada. Ese culito que tienes esta divino y apretadito asi como me gustan!" (Are you ready? My dick wants some ass. I am going to fuck you really good. You got a really nice and tight ass just like I like them.)
Since I was really horny, I told him to fuck me really good. He spit on his dick and rubbed the spit on his long monster. He put my legs up on his shoulders and lubed my ass too. I didn't want to fuck like that, but he said he wanted to see my facial expressions as he fucked me. He knew he had a big dick, and he wanted to know if i could take it all.
I agreed to let him fuck me face to face. I felt the sharp pain in my ass as his huge head was introduced into my lil asshole. I started to breathe hard cus the pain was unbearable, but he finally got it all in. All 10 inches of hot Hondurean dick inside my lil stretched asshole. I told him to let my poor lil ass get used to the hugeness of a monster cock invading it. He just giggled.
He started to move his hips faster and faster, just pounding my lil asshole. He liked when I would squeeze his dick with my asshole. I could feel his dick go crazy inside of me. He stopped and pulled out completely and just rammed it in without warning. It hurt like a bitch, but I liked it. I was whimpering with each thrust of his baby making tool.
He pulled out again, but this time he made me lay on my stomach. He got on top of me and quickly found my hungry hole. He slipped inside of me easily now. I liked that position cus he would talk nasty dirty lil things into my ear and suck and nibble on my ear while he fucked me. The one that got me more was when he said, "Me gusta mucho tu culito! Quiero que sea mio y de nadie mas!" (I really like your ass. I want it to be only mine and no one else's.)
As he would push his dick down, I would push my ass up, just pounding myself into his hot manliness. All you could hear was the clapping of his pelvis into my ass. I would clentch his dick with my ass muscles which drove him crazy and got him hornier. All I could hear him say was, "Ay que rico culo tienes! Que sabrosura tienes! Donde as estado todo este tiempo? Sacame la leche! Esta verga es toda tuya! Que rico ases el amor!! (Hh wow, your ass is really good! It's awesome! Where have you been all this time? Make me cum! This dick is all yours! I like the way you make love.)
This just got me hornier and got him going too. I told him, "Ay que rica verga tienes! Cojeme rico papi! Asme el amor. Enseñame lo que es Honduras. Que ricas vergas vienen de Honduras!" (Your dick is really good. Fuck me good, daddy. Make love to me. Show me how Hondurean men do it! Great dicks come from Honduras!)
I told him I wanted to taste his cum, and I wanted to drown in his cum. He fucked me harder and deeper, making me squeal with each thrust of his dick. Finally he pulled out and he quickly jacked off. I sucked on his dick til all the yummy goodness filled my mouth. He moaned in satisfaction as I swallowed lots of hot thick salty cum.
I cleaned his dick, making sure i got every lost drop of his yummy cream. He said, "Te gusto? Que tal la leche? No quiero que le des el culito a nadie por que es mio!" (Did you like it? How was the cum? I don't want you to share your ass. It is now mine.)
I was surprised he said that. I told him ok. By then I wasn't drunk anymore. I was for his sole pleasure, and we fucked many times til I caught him with an Asian guy. I didn't get mad (I was way better than the asian guy), but now I had met someone else at the club and this was the perfect time to get rid of him.
We still talk, and he begs me to mess around, but I don't do it. Nonetheless he was a GREAT fuck.
The end