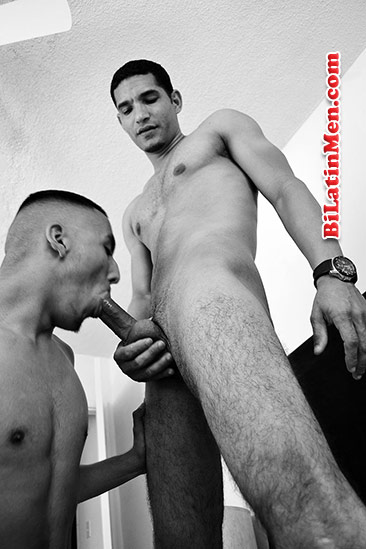 It all started the day that I broke up with my ex. My best friend at the time said, "It's Ok, you'll find someone better," and then her boyfriend Danny said, "If I was gay, I'd FUCK u kuz u have a nice ass;)" so there was my first clue that he was attracted to me.
As the days went on, I noticed that he was staring at me every time I bent over and when I looked up at him he would smile.
So one day it was my best friend's sister's birthday. We had a bon fire in the back, and we were all drinking. My best friend got cold and went inside as well did everyone, else except me and Danny.
It was kinda awkward for me, but while we were talking, he got closer and closer and finally he was next to me. My heart was pounding, but when he was talking to me, I could see me on my knees sucking his cock.
Let me tell u: Danny is 5'9", dark skin with light brown eyes and 7 1/2 inches uncut. He's sexy with a soccer player's body.
As he talked, he brought UP the fact that he would stare at me. When it hit 12 midnight, everyone went home except Danny. He was so fucked up that his mom kicked him out, so he came home with me.
We entered my house and no one was there. I thought to myself, "Hell yeah."
So when I went to my room to change, I heard the door creak open, and I knew he was watching me, so to tease him I took off my pajama pants and wore my tight little black underwear.
I told him that he could come in now. As he walked in, I noticed him checking me out, so I turned off my light and laid down and so did he.
As I started to close my eyes, I felt his hand feeling on my ass. Me acting asleep, I let him grab my ass. At first he just touched one of my buns softly, but as he got courage he started to grab my smooth ass harder and harder until his hand was going a little bit into my ass crack.
When I turned around to face him, he kissed me. I was HAPPY he did that. It felt like I was in heaven. I got on top of him and kissed him all over his hard body and when I hit his thick hard dick, he pulled it out and pushed my head down, making me deep throat him.
I sucked him laying down, then he stood up and fucked him mouth hard. His dick was real thick and super hard and real smooth. Somethings I would pull his foreskin back to focus sucking on his dick head real good. I loved him cock, and he loved the way I sucked him. He said, "Yeah baby, suck that straight cock. You like his pussy-fucking cock?"
I said, "yeah," and sucked even better, knowing I had to suck him real good to compete with the girls who sucked him. He just moaned and enjoyed the blow job, as I adored his cock with my mom and massaged his tight stomach and muscular legs with my hands.
After he came 3 times in my mouth, he put me on all fours he said, "Ima make u call me daddy !!!!!!"
It hurt so much, but felt really good. That thick cock was working my boy pussy so good. We fucked til the sun came up, and when we got up, he kissed me and said he liked me a lot and that he always wanted to be my "macho man" lol
So he broke up with my best friend and got with me lol
We broke UP awhile back, but we still fuck on a regular basis.