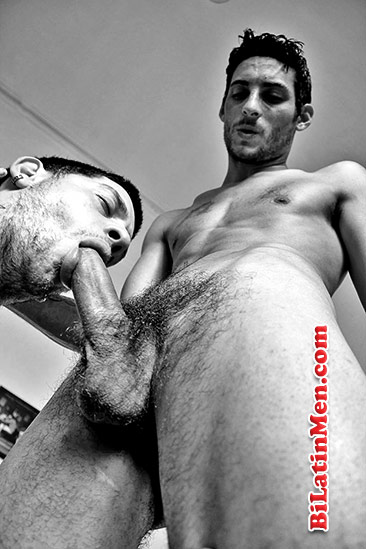 Please make it anonymous!!
So my story begins when I went to visit my dad. He would always have friends over for cook-outs and to drink. I was chillin' there at my dad's living room, watching tv and having a beer. His friend came into the house and asked if he could use the restroom.
I told him he could and that it was down the hall the very last door. I continued watching tv, and all of the sudden i heard him say, "hey can you help me turn the light on?"
I'm like, "Really dude?!" (in spanish)
He responded, "I'm a lil drunk and can't find the light switch!"
So I go and help him turn the light on! The hall way was dark so I couldn't see him. I opened the restroom door and turned on the light for him and left. He left the restroom and went to the living room and sat on the couch next to where i was at. We talked a little, but I was more into the show on tv.
My dad walked in and asked me, "Hijo no vas ir a comer?" (son, aren't you going to eat?)
I told him I would in a while. Then my dad asked his friend, "Y tu que estas haciendo aqui?" (And you, what are you doing here?)
His friend said he was talking to me. My dad went back outside. Then our conversation got interesting because we started talking about girls and boobs and stuff. Keep in mind this fool is a lil drunk. Then he said he was horny because we were taking about boobs and girls. I told him to go outside with my dad and the other guys out there, but he said no.
Then he started asking me if I had ever been with a man. I told him no, which was the truth. Never crossed my mind to be with a guy. Then I realized that he had other intentions. I was a lil scared, but I kept my cool.
Then he asked if i would like to try to be with a man. I was like, "I don't know, I've never done it."
So he stood up from the couch and unzipped his pants. I had never seen a real dick other than mine. Let me describe him. He had a big uncut dick, around 9 inches and fat like a red bull can, with a thick black bush and some low hanging balls. He's about 5'9", light skinned Mexican with hazel eyes and plump lips. He had a lil 6 pack cus he worked in construction. He would always wear his shirt open so everyone could see his 6 pack.
He was an older man too pushing 50 or so. So there he is with his huge dick swinging side to side inches from me. I was scared cus I had never done that. He was like, "Andale mijo, tocalo. No te vas hacer nada!" (Come on, son, touch it. It won't do anything to you.)
I didn't do anything. I just froze. Then he stood me up from the couch and started touching me. I'm mexican American, 5'6", light skinned, 170 lbs with brown eyes and black hair w/ 7.5 uncut dick. He unzipped me and started playing with my dick. I got to admit that it felt great.
Then he bent down and sucked my dick while he was jacking himself. That drunk man knew how to suck dick. It felt so good. I've gotten my dick sucked by girls at school too. He knew what he was doing. I faced fucked him and made him gag a couple of times. Then he said to me,"Ya ves! No es nada. La tienes bien rica!" (You see! Nothing to it. By the way yours is really good.)
I was nervous, but then I was like, "What the hell?!"
I opened my mouth and just tried to do what he did to me. I didn't know how to do it, but he was telling me.
Then he said it was enough for today. He said he was gonna ask my dad to let him spend the night because we need to practice some more. I told him ok. He went outside again, but didn't drink much again. Everyone left and dad went to bed and his friend slept in the extra bed in my room. We waited about 15 minutes to make sure dad was asleep in his room. I checked and sure enough he was snoring.
By the time I got back to my room, he was completely naked and sober. I got nervous to see an older man completely naked in front of me in my room. He walked towards me and started taking my clothes off. He guided my hand to his dick which was fully erect. I started to jack him off and he did the same to me. It felt good. Then he said to me, "mamamela!" (suck it)
So I obeyed. That dick was big and fat and in my mouth. He liked it because he was moaning. He commanded for me to suck his balls which I did. He moaned with delight. He made me gag and my eyes tear up as he face fucked me. I must say I enjoyed pleasing this man.
Then he said it was his turn to suck on me. I thought he was gonna suck my dick, but to my surprise he sucked on my nipples. I felt like if i was in heaven. He made his way down to my stomach and to my dick. I loved that!! No girl had ever done it like him. Then he pushed my legs up in the air and ate my lil asshole. That shit was awesome. I loved him eating my ass. He stuck one finger in there, then 2 fingers. He ate my ass for a good 15 minutes while he finger fucked me. I loved it. Somehow he managed to position ourselves so that I would keep sucking his dick while he ate my ass. I loved every minute of it. Then he said, "Ahora si mijo, ya estas listo. Te voy a meter esta vergota en tu culito!" (You're ready, son. I will now put this big dick in your little ass).
I freaked out. He had me on all 4s on the floor. I felt pain as he stuck the huge dick head inside of me. He was gentle because he knew it was my first time everything with a guy. He finally got it all in there and then started moving back and forth. It hurt for a bit but then it felt great.
He started going faster and faster, just pounding my ass. With each thrust of his love tool, I would moan which drove him crazy with pleasure. He was saying,"Ay mijo que rico culito tienes! Ya va ser mio de aqui en adelante!" (Damn son, you have a nice ass! From now on it will be mine!)
I started to tighten my ass hole around his big dick which drove him crazy with pleasure. He was tired so i started to move, just fucking myself with his love tool inside of me. I did movements that my girlfriend did on me while we made love. He loved it. He never kissed me until i started fucking myself with his love tool. It was weird for me, but I went along.
He started fucking me and kissing me at the same time. I knew he was about to cum cus I could feel him tensing up inside of me, and he was fucking me faster.
All of the sudden, I felt something really warm and slimy inside my ass. I squeezed all that goodness out of his love rod with my asshole. He let out a lil moan. We stayed in that position until his dick slid out by its self. I had all that cum running down my leg. I went and got some toilet paper to wipe.
When I walked into the room he noticed i was still hard. I handed him the toilet paper so he could wipe his love tool too but instead he grabbed my dick and sucked on it. It felt good.
He said, "No mijo, esta verga no se puede quedar asi!" (No son, this dick can't stay like that)
He sucked my dick and within 5 minutes I shot out a huge load which he swallowed every drop of it. He said, "que dulsita esta tu lechita mijo! Alrato me das mas!" (Your cum is so sweet, son. Give me more later on.)
I went to shower, and he put his clothes on and slept. He and my dad became better friends, so he would spend the night when I would visit my dad.
The following time I fucked him, but that's a whole different story. The end