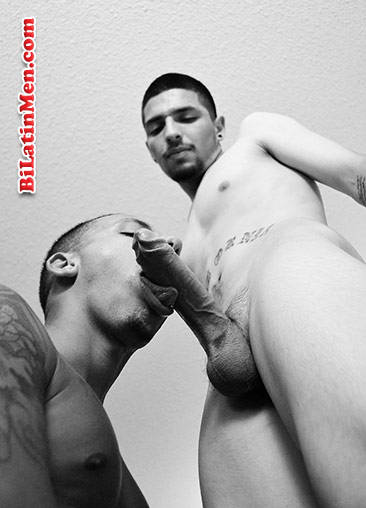 I will never forget that night. I was 18, and dad and his friend Ramon were chilling after work as they always did. However this night, my dad fell asleep, and Ramon kept hanging out.
My dad was snoring in his room while Ramon kept eating chips and watching TV in the living room. I remember one time Ramon telling my dad that his wife wouldn't suck his dick because it was too big, so I thought about that but I didn't think anything was gonna happen.
As I sat in my room, I played my video game. I could hear Ramon in the living room, watching the news.
A couple hours later, I cut off my game and went down stairs for a cup of milk. As I passed my living room, I could see Ramon watching TV while on the floor, laying on his back, the head of his hairy 10 inch big brown dick sticking out of his boxers. I called out, "Hey Ramon, I see your mail hanging out of the box."
Ramon just laughed.
As I got closer, I could see the view of his pretty brown dick. It was so fucking thick and uncut just resting soft. I could not resist. I got on the floor right next to Ramon and smelled his musky smell, the smell of a man. I had to taste it before I could stop myself. I kissed the head of his sweaty uncut dick.
Ramon called men a "Fag" and pushed me off him. Then he said he was gonna make a bitch out of me. Next thing I knew my Ramon was on top of me, pulling down my shorts, and putting his grow man dick up my butt hole. It hurt so bad. I begged him to slow down and put spit. He just spit in my ass and told me to take it. My asshole was stretching to the limit. I thought of his wife and thought, No wonder she complains it's too big.
It was too big, but it felt so good. He put that dick up my smooth ass. After a few minutes, I started to get real horny, pushing back on his dick, and begging him to fuck me slowly, not to hurt me. Sometimes he wouldn't listen to me and fucked me real hard, and at those times I moaned loud like a real bitch, like a girl like moan.
He slapped my ass loud and said, "Moan like a girl, moan like a girl."
So encouraged, I moaned more like a girl, trying to sound feminine. And I knew that the more feminine I sounded, the more turned on this masculine dude was. So I tried more and more to sound like a girl, so that this rough neck would enjoy me and fuck me better.
"Yeah, that's a good little faggot," he said, thrusting his big man size dick up my ass, spreading my little ass cheeks apart with his hands.
I was afraid my dad was gonna hear us, but then I didn't care when Ramon was getting ready to cum.
15 min later, I felt him nut in me until his hot cum ran out my ass and down my leg.
When he finished he rolled over, pulled his dick out of me, and told men to go to bed.
Then he told me in Spanish, "Te voy a cojer otra vez, pero no digas nada." (I'm going to fuck you again, but don't say anything.)