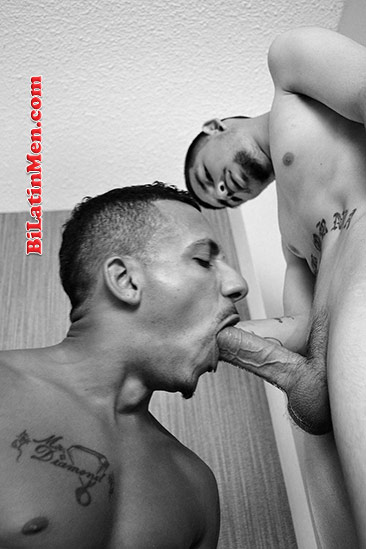 I met my best friend Fernando when he was 21, that was over 9 years ago. We were neighbors living next door to each other. We both drank a lot of beer back then. He still drinks, but not as much and I don't drink at all. When we first met, we both messed around and it was half hearted and kind of awkward. He was on the outs with his live in girlfriend. They had dated off and on for several years. I was divorced and had just started playing with men.
Fernando is 5'10" and was about 195. I was nearly 6 ft and about 195 as well. Fernando has a moustache and goatee. He has short textured cut hair mainly because he has a couple of cowlicks, so the textured cut accents these, and he uses gel to style his hair. He has a good kind of one of a kind haircut going on. He has dark brown eyes. I keep my hair short usually a fade. I have illuminated brown eyes that look like they have little lights in them. I had a moustache, but mine wasn't as thick as his. I have since gone clean shaven, but can get a decent 5 o'clock shadow, just thick enough to have that look.
Being 21 Fernando's dick wasn't all that long or thick. I know that a man's cock can lengthen and thicken a bit even in the early 20s. I am guessing his dick may have been a little over 5.5 inches, and I know it was fully hard because it stood up when he was hard. I had fun sucking him and being a little more experienced. I like to think that I can give head a little better. He used to cum every time I gave him a blow job.
I was never impressed by his blow job skills, but I didn't care because he is so hot. I am just happy to be playing with him. I did try to fuck him before, and he cried out in pain when I shoved it in after thinking that he was ready and loosened up. I had already put my 7.5 inch cock all the way in him a few times and was getting ready to pound him. This spoiled the moment and I quit trying. He has put his cock in my ass twice and never stroked it. This is why I say it is half hearted and awkward. He would put it in one time and then take it out. Over the years that happened twice.
Speeding up to the present day. About two years ago, I noticed that he seemed to be a little longer and thicker when I was blowing him. He has the ability to let me blow him for a long time without cumming. One time I blew him for over an hour straight. Then this year, I was blowing him and he was lying on the floor. His cock was standing straight up. I straddled him. I rode his cock for a couple of minutes, he didn't try to stop me. It felt so good to finally feel him inside of me for longer than just a little while. I got up off of him as I didn't want to scare him away. Good thing I did because he was insistent that he had to take a shower and go to work. He wasn't due to go to work for quite awhile. I fucked him before when he was pretty buzzed up. He claims he don't remember.
Last week Fernando showed up. He always likes to watch porn and of course I am always down as I know it might lead to enjoying his fine ass body. He never gives me as much attention or even expresses himself in a sexual way. I on the other hand am always the one hugging him, grabbing him, giving him a peck on the cheek, face, neck, and on rare occasions the lips. He is not a passionate make out person. He is kind of just so so. But like I said, he is hot enough and sexy enough that I will take what I can get! LOL! Not that I am not good looking. I have had my share of hot guys. I am very straight acting and looking. Very down low. So no one makes an issue out of it.
I developed a condition and have to take medication. As a result, I qualify to be able to get Viagra. I rarely use it and even threw out some expired ones. I have used it before and it is okay. I don't like it because of the head rush and it makes me feel weird. Anyhow Fernando shows up, drinking beer and we watch movies. Of course he wanted to watch porn after a while. I had to use my laptop for an online class. I told him that we had to go to my bedroom and he could watch porn on the desktop and I could put on my headphones and listen to my class. Earlier he talked about wanting to use Viagra.
We were in the middle of my class and him in the middle of his porn. He kept interrupting me and talking. I didn't want to spoil his buzz or his fun, so I didn't say anything. Pretty soon he really got to be distracting. It was a good thing that my class ended early. I sat there and he mentions Viagra again. I told him I had some. I went downstairs to get it. I give it to him and found another flick for him to watch on the computer. I laid down on the bed on the other side of him. I was actually resting as I was tired from concentrating on the class and keeping his pornos pulled up on his screen.
Earlier he said, "Look out Cody, I am horny."
I was still in the middle of my class. I was lying by him for about 20 minutes. The flick ended and I mentioned that the dick in the porn looked like his. It did. He looked and said, "Let me see your dick."
I undid my pants and he started blowing me. Like I said, he is not all that good. I could tell though he was really enjoying himself. I am about 7.5 inches and cut. Even when I am not hard I hang on the large side. He is more of a grower. He was really enjoying himself giving me head. He has a kind of shallow mouth and he kept gagging when he took too much of me too deep. He went on and on.
He took off his pants, and was in such a hurry he just ripped the top button off his pants! He undid his belt and just pulled the pants apart. The button popped off and the zipper came off and he kicked the jeans off. Pretty soon he got in the 69 position.
My roommate had come home, and I heard him moving around and he was running up and down the stairs. I was worried that he might hear the noise and open the door to my bedroom. I 69ed with Fernando for quite awhile. I got tired because our angles weren't right and I couldn't move him around to get comfortable and he didn't seem to mind at all that I wasn't blowing him like he was blowing me.
He loves the cum shots on the pornos. I know this so I came in his mouth while we were 69ing. It was the first time that he ever tasted my nut. He swallowed it after playing with it for awhile. I stayed half hard after cumming, enough for him to keep blowing me. That is what was making him moan with pleasure.
Pretty soon he got tired and finally laid down next to me. We were taking a break and I was glad actually. He was moaning so loud when he was blowing me, I had to remind him that the bedroom window was open and that the neighbors were outside.
I looked over and I couldn't believe my eyes. He had the biggest hard on that I have ever seen him have. I reached over and wrapped both of my fists around it and the head still was peeking out! He had a two fisted hard on. I was turned on like I have never been with him. He knew it. He wouldn't move over on the bed, so I barely had enough room to lie down next to him. I laid on my side and lined my ass up with him.
I quickly spit on my hand and rubbed it on my ass. He pushed his whole cock in with one stroke! I couldn't believe it. I didn't cry out in pain, but it was definitely up there with some of the really big ones that I have had. He started fucking me hard and fast. After 9 years of half hearted play, he was actually fucking me.
I wanted it to be good for him, and I started pushing back on his cock. I was holding on to the bed and I was about to fall off. He didn't cum, as he seems to not these days. I blame his beer, liquor, and cigarettes. It was the first time he fucked me and he had a hard throbbing thick cock.
I always sensed that he wasn't fully hard when I was blowing him. Mainly I sensed this as his size has varied quite a bit. He would be hard, but maybe even only 5 inches, then about 5.5 and 6. But this cock with the Viagra was thick and long and sticking straight up! I measured both my fists on the ruler just to make sure and it was just over 7 inches. I am about 7.5 inches when I am hard. I have a two fist with the head sticking out so it is close to 7.5 and thick as well. I measured his thickness with my thumb and middle finger and his thickness was just a little thicker than mine.
I have a new respect for Fernando after all these years. I have described him before as being 5 x 5 or 5.5x5.25. This time he was fully hard. I told him afterwards that he was as big as I have ever seen him before. He said, "It's because I care about you."
I said, "It was the Viagra."
He didn't say nothing. After we were finished, I took him to where he stays as he had to work the next day. I can't wait until he comes back. I will give him some more Viagra and take some too. Then maybe, finally after all these years we can both fuck each other and hopefully both cum. The day that happens, I will finally be able to call him a lover. I can't wait!